Monday, March 3rd, 2014
Celina native attains elite military status
Lonnie Appleget named commander of U.S. Navy helicopter strike squadron
By Kathy Thompson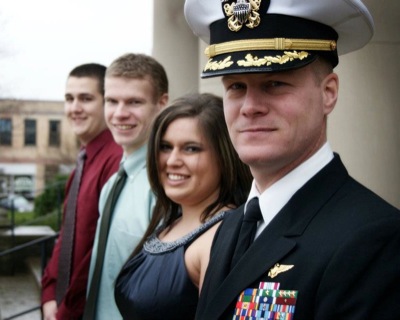 CELINA - Commander Lonnie Appleget is always ready.
Appleget, a 1987 Celina High School graduate, takes over as commander of the U.S. Navy Helicopter Maritime Strike Squadron 77 in April. Less than 10 percent of eligible Navy officers are selected to become commanders.
Stationed at a Naval Air Facility in Atsugi, just outside Tokyo, Japan, Appleget flies the MH-60R, a multi-mission maritime strike helicopter.
The helicopter crew locates and tracks submarines and surface ships and, if needed, attacks, he said. Other duties may include search-and-rescue, medical evacuation and logistics missions.
Joining the Navy after graduation was partly due to the influence of Appleget's uncles who had served in the Army and Navy. By the time he was 10, Appleget knew he wanted to join the Navy, he said. Another factor was his mother, Sharon Fischer.
"My mom was
a great influence, too," Appleget said. "She ran the house like a boot camp. We had a specific time to get up, specific chores at a set time. I liked that discipline. I knew what I had to do."
As Appleget advanced through high school, he also was influenced by several teachers who helped him build a strong sense of civic duty.
"Gary Hays, a teacher who had been in the Navy, would tell me stories," Appleget said. "He had a career day once and asked what I wanted to be. I immediately knew the answer - a Navy pilot. I don't know if he will remember me or even realizes how much he's had to do with where I am today."
During nine years as an enlisted sailor, Appleget trained as a shipboard electrician and in 1992 was selected as sailor of the year on the USS George Washington. He earned entrance into the enlisted education advancement program for top sailors. He earned an associate degree, and in 1995 was selected to a meritorious commissioning program and received his officer's commission in 1996. He has a bachelor of science degree in international political economy and a master's degree from the Naval War College in national security and strategic studies. He is working on a master's in business administration degree in finance.
His younger sister, Angie Gibbons, said growing up, her brother was a protector and her best friend.
"We always knew he was born to be a leader," Gibbons said. "Lonnie was always a fun, loving guy. He knows when to be fun and when to be serious."
Appleget believes that being a leader in the military is not far from being a coach in the sporting arena.
"A good coach is a coach who instills discipline, trust and work ethic," Appleget said. "He motivates his team toward a common goal and constantly drives them to accomplish that mission."
Corey Butterini, a school friend, said Appleget was someone "you could always depend on."
"He could always make you laugh," Butterini added.
Appleget said while being in the military has been hard on family life, there is a great feeling of camaraderie.
"We are all committed to what we do," Appleget said. "I miss my family very much and wish I could be home more than a couple times a year."
As for advice for young people interested in joining the military, Appleget said anything a person wants to do in life is possible.
"If you are looking for a job, this isn't it," Appleget said. "If you are looking for an experience that is exciting, new, rewarding, challenging and also feeds into a sense of pride in your community and country - then look no further."
During his career, Appleget has received the defense meritorious service medal; the Navy and Marine Corps commendation medal twice; the Navy and Marine Corps achievement medal five times; a good conduct medal twice; and several unit, campaign and service awards. In 2009, he was chosen as officer of the year and was awarded the 2009 RDML Paulson Award for inspirational leadership.