Wednesday, March 5th, 2014
Students become warriors
Elementary school turns out to support principal with cancer
By Doug Drexler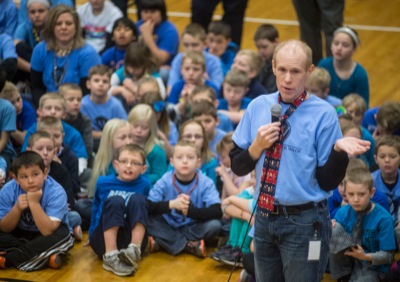 COLDWATER - Coldwater Elementary School students got a first-hand lesson in the fight against cancer this week.
Students clad in blue shirts emblazoned with the logo "Warriors for Wade" listened intently Tuesday as elementary principal Wade Spencer for the first time shared with them the story of his fight against nodular melanoma. His talk was part of the school's Pennies for Patients week supporting The Leukemia & Lymphoma Society.
"Thanks for all the blue. It's my favorite color," said Spencer, who was hired as principal in 2008.
His health problems began with a small mole on his knee, Spencer, 38, said. Looking back over family photos, Spencer determined the spot had been there at least since his 8-year-old son, Luke, was a baby.
"It started as a freckle," he told the students, noting he has lots of freckles. "As time went on, that one changed."
Spencer said he had the mole checked at a health fair in Coldwater March 19, 2012, and was told to see a doctor. Shortly thereafter, he received the bad news.
"I got a phone call that said 'we're sorry, but you have cancer,' " Spencer said. "I went to doctors and doctors," he told the more than 500 students who sat on the gym floor huddled around him.
He had a "big surgery" to remove the mass, he told the students. Surgeons removed 17 lymph nodes in July 2012, and he began treatment with interferon, Spencer said. He took the medication intravenously daily for four weeks followed by three days a week for 11 months, he said.
"It just made me really sick," he told the students. "It just made me tired."
He followed the interferon with Yervoy, an immunotherapy for melanoma. That was followed by radiation, he said.
Last August, he went to a doctor for a year checkup, Spencer said.
"Three days into school, my doctor was supposed to tell me I was done" with treatment, he said.
Instead tests found a spot on his liver and his lung.
He went to the University of Michigan in September to have the spots removed. Doctors there found his lymph nodes had joined together, a condition they had never seen, he said. After treatment, Spencer said he felt better than he had in a year.
"In November, I started feeling pain again," he said. Doctors found several more masses.
He underwent 10 days of radiation treatment in January to battle the melanoma. By that time, two masses were protruding from his body in his groin area, he said. The masses were so bad the only way to raise his leg was to lift it with his hands.
Fortunately, in talking to a doctor at the James Comprehensive Cancer Center at Ohio State, Spencer learned of a treatment just approved by the FDA.
He began treatment with Taflinar and Mekinist to shrink the masses.
"I'm taking that treatment," he told the students. "I hope it works."
The masses have begun to shrink, and he isn't feeling nearly as fatigued as he was under the other treatments, he said.
The children's support is the best therapy he's received, Spencer said.
"This is the part that makes me feel the best," he said, adding his faith has given him strength.
"God has been with me through this whole thing," he said.
The students' blue shirts refer to a Bible verse Spencer has been praying regularly - "If you believe, you will receive whatever you ask for in prayer," Matthew 21:22.
The married father of three said he has a plaque on his computer paraphrasing the verse and he repeats it often.
The new treatment has not exhausted him as the others have, and his cancer is in remission, he said.
"I'm feeling pretty good," he told the students, adding their donations will help research and create new medicines such as the two he now takes.
"Thanks is what I really want to say," he said.