Saturday, March 8th, 2014
Money for the taking
More scholarships offered; fewer applicants for some
By Amy Kronenberger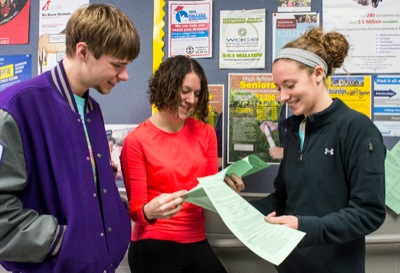 Scholarships for graduating seniors in the Grand Lake area are plentiful, and local guidance counselors are busy encouraging students to apply.
Despite the use of text messages, emails, social media, bulletin boards and one-on-one meetings, some counselors say they still have a difficult time getting enough applicants for all the scholarships.
Fort Recovery High School guidance counselor Amy Kaiser said she doesn't believe the void is due to fewer students seeking the funds, it is the increasing number of scholarships available.
"I don't see fewer kids applying, since I've been pushing it. I think more are applying, just not as many as I'd wish," she said. "The donors want applicants. It's disturbing how so few kids apply for scholarships."
Kaiser said it is possible students don't go after the money for college because of the time and effort involved. She said many kids are busy with school, sports and work.
"I always tell the kids that the essays and contributions they make to serve others are the most important part of their application," she said. "It should take time. If someone is going to give you $500, you should have to do a little work for that."
St. Marys Memorial High School guidance counselor Bill Cheslock also said the number of local scholarships has increased over the last several years. He has also noticed a decline in student participation.
"Scholarships don't seem to be as big of a deal even compared to three years ago," he said. "I suspect that a lot of students think that they are too busy - athletics, jobs, regular studying, etc. - to spend time on essays that won't necessarily pay off for them. In other words, I think that a lot of seniors go with what they know for sure than what they don't know for sure."
Fort Recovery High School seniors Mitchell Homan and Elizabeth Hipple said the application process is worth the possible reward. Hipple has completed information for three scholarships and is in the process of applying for two more. Homan has applied for at least 11, he said.
"You're not going to get anything if you don't try, so you might as well try," Hipple said.
"I completely agree," Homan added. "Just go for it."
Hipple, who plans to attend Mt. St. Joseph, Cincinnati, and major in athletic training, said she didn't find it difficult to work on her applications while balancing school work and extra curricular activities. She worked on them in small increments.
Homan hasn't decided on a college, but would like to major in pre-veterinary medicine. He said if students don't have the time to write essays or do community service required for some scholarships, they can apply for plenty of scholarships that don't require extra work.
"That way, if they don't get it, they didn't waste their time," he said.
A misconception that only kids with straight A's get scholarships also deters some students, Kaiser said. However, many local awards are for skilled trades, special service or work done, she noted.
"But no matter how much I try, I can't encourage many of those kids to seek out scholarships," she said. "They think only the 'genius' kids get scholarships. That is simply untrue. Most scholarships don't require a 4.0 (GPA), just evidence of hard work, dedication to something and a desire to achieve something great."
Parkway High School guidance counselor Mickey McConahay said she sometimes has trouble getting students to apply for the increasing number of scholarships.
"Parkway is very fortunate to have a large number of local scholarships," she said. "I think the community has offered more in the past three or four years... Getting students to apply does sometimes seem difficult."
McConahay informs her students about scholarships through text message alerts, emails, bulletin boards and through a monthly newsletter. Students must sign up for the text messages and emails, which limits the number of people reached, she said.
Kaiser also creates a monthly newsletter for students.
"It is a ton of work to organize each month, but I think it is the best way to get info to the kids," she said. "There are far too many scholarships to put on the PA every day, and kids just don't have the time, or the patience, to find everything they need passing a bulletin board in the hallway."
Jon Wade, SUCCEED scholarship committee member with Stolly Insurance, Celina, said the number of applications he receives in a year continues to climb, but they are still not at the level he would like.
"Regrettably, it's more difficult than I anticipated," he said. "Our scholarship application is one of the easiest I've seen, yet we don't receive as many as we'd like. By nature young students are procrastinators and few are likely to proactively seek out opportunity for scholarships that require extra effort without the prodding of their parents."
Stolly Insurance awards two scholarships annually for students interested in becoming business leaders. The company has been giving scholarships since 2004 and is looking into offering another scholarship because of an increase in applicants. Stolly received 200 last year.
Community foundations in Minster, New Bremen and Fort Recovery award numerous scholarships each year. The New Bremen Education Foundation last year awarded 75 scholarships totaling $73,350 and the Minster Community Scholarship awarded 87 scholarships totaling $82,100 in 2013.
Janice Fiely of the Fort Recovery Community Foundation said about 20 to 25 students will be awarded approximately $29,000 in scholarships this year. Last year, 26 students received a total of $28,000.
Mercer County Civic Foundation Executive Director Glenn Hux said guidance counselors' work is paying off; the foundation receives plenty of applications.
"The hardest thing is we have some (funds) that are one (scholarship) for the entire county, and we have students from six schools applying for that one," he added.
The civic foundation was created in 1960 and administers 52 local scholarship funds every year. Hux said the scholarship amounts have a wide range with an average of $750. The organization averages one new scholarship fund per year, he noted.
Scholarships handled by the foundation have varying requirements, including academic success, written essay or speech, community service, success in the arts, accomplishments in a certain subject or athletics. Hux said students always rise to the challenge to meet the requirements.
"I feel bad every year that we can't give out more because the quality of the applications is very good," he said. "And I know because I worked in education. It's difficult to try to determine who the top should be."