Monday, March 10th, 2014
Minster poet pens verse on envelopes
By Margie Wuebker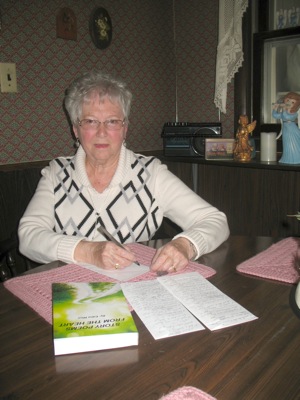 MINSTER - Edna Wise tells stories through poetry, filling the backs of used envelopes with verses from the heart.
Nearly 200 of the poems are in her recently published book "Story Poems from the Heart."
"Sometimes sitting down at the breakfast table an idea will pop into my head and in 10 minutes I can have a poem written between spoons of cereal," she said. "Then there are others that take weeks to complete."
At 85, Wise writes her ideas on the backs of old envelopes. A blank sheet of paper is a stumbling block to her creativity.
"With a blank sheet before me, I can't think of anything to write," she confessed with a smile. "Give me an envelope that's not so intimidating and the words begin to flow."
She finds promising topics in the simplest of things - a pesky fly buzzing around her head, gospel music, robins that build nests in the bird feeder, a gossamer cobweb, threatening thunderstorms, picking ripe peaches, raggedy tennis shoes, the dentist chair, a mammogram, burnt steak, and even a jug of beer and a deck of cards.
"Life is so full of topics," Wise explained. "You just have to open your eyes to all possibilities."
Sometime the poems spring from requests, such as the one Maurice Bornhorst requested following the death of his wife, Viola "Loggie" Bornhorst.
"Loggie and I were the best of friends," Wise said. "We were the shortest girls in First Communion class as well as the graduating class, so we led the procession both times."
The Bornhorsts married the week before Wise and her husband, Cliff, exchanged vows. The women often spoke about having large families; Loggie eventually raised 14 children and Wise had four.
"We used to double date; we always had fun but we never did anything wrong," Wise said. "Our tombstone is in one row at the cemetery and theirs is in the next row, so we will spend eternity together and possibly share flowers from time to time."
With her husband, four grandchildren, four stepgrandchildren, two great-grandchildren and a dog named Cubby, she has a ready source of future topics.
Despite hand tremors, she tries to write as carefully as possible. She relies on her daughter, Wendy, to do the typing.
"I have to write slow so she can translate my hen scratching," Wise added. "I have to watch what I write about her or she won't type them for me."
Self-publishing a book is not a new experience for Wise. At 78 she authored "Memories of a Farmer's Daughter During the Depression." The sequel - "What I Forgot the First Time" - followed a year later.
"I started writing poetry in earnest at the age of 79 and I wanted to share my poems with others," she said. "I first became interested in poetry as a young girl but I did not have the time or the inclination to pursue it at the time."
With at least 50 new poems written and dozens more dancing through her mind, she has no idea whether the future holds more books.
"I'm thankful God allowed me to live long enough to finish my first, second and third book," she said. "I don't want him to think I'm greedy."

Book signing:
A book signing for "Story Poems from the Heart" by Minster resident Edna Wise will be held 10 a.m. to noon Saturday at Francis J. Stallo Memorial Library in Minster.