Monday, March 17th, 2014
Wale is new police chief
By William Kincaid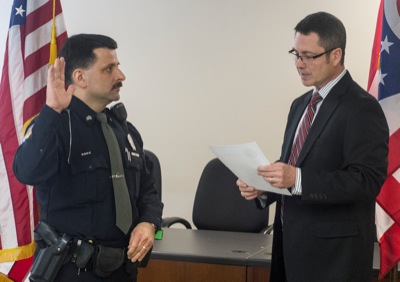 CELINA - Thomas Wale is Celina's new police chief.
Celina Mayor Jeff Hazel administered the oath of office to Wale this morning. The former sergeant was selected as the first new city police chief in 23 years after achieving the highest score on the civil service examination. He takes over immediately for assistant chief Cal Freeman, who had been acting as interim chief.
"I look forward to serving the city and the people of Celina," Wale told the newspaper. "I think we're going to be able to move forward from our past and make some really good strides."
His biggest goals are to make a stronger connection with the public to let them know the department is there for anything they need.
Wale has been a police officer for more than 22 years and a sergeant for over 20 years, all with Celina.
"It's been a good almost 23 years now," he said. "I look forward to several more."
Wale, 46, grew up in Celina and graduated from Celina High School and Wright State University.
"I've just been kind of here my whole life," he said.
Hazel said the Celina Police Department is starting a new chapter with a chief who will bring to the table a new sense of cohesiveness.
"We have a new chief at the helm now, and we're really looking forward to working with chief Wale," Hazel said. "We think that he's going to bring some new perspective to things as we go forward."
The city wants an efficient department that can reach out to the public in a different way than before, Hazel said.
Former police chief Dave Slusser is fighting for reinstatement of his job after being fired June 14 for alleged misconduct in office. Although the appeal ruling is pending, the civil service commission moved ahead with the examination to determine the next police chief.
The test, administered by Daniel T. Clancy and Associates, Toledo, consisted of written and oral portions. Freeman and sergeants James Stelzer, Wale and Kent Taylor were eligible to take the test; only Wale and Taylor did so.