Friday, March 21st, 2014
Answers sought for heroin epidemic
By Kathy Thompson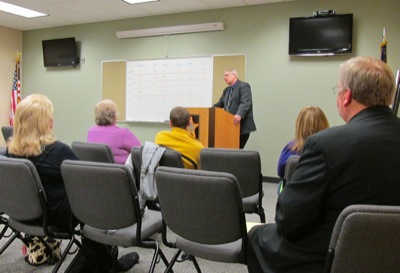 CELINA - Heroin is a problem in Mercer County and the sheriff is seeking public input to combat it and turn addicts into productive residents.
After seeing posts last week on a social media site regarding the local drug problem, Mercer County Sheriff Jeff Grey held a public forum Thursday night at his office. More than 30 residents from Mercer and Auglaize counties attended.
Grey said the forum was planned after he read comments suggesting his office or the courts weren't adequately punishing drug offenders. He wants the public to understand what his office is attempting to do with programs to keep addicts from returning to the penal system.
And he's seeking suggestions, he said.
"I believe this drug problem has to be solved with the entire community's help," Grey said. "This is an opportunity for everyone to become involved and not just understand exactly how serious a problem we and the entire country have right now, but to open it up to suggestions. We're more than happy to hear what others think the solutions are. We don't have a magic bullet. Maybe someone does."
Grey said 107 of the 153 durg arrests in Mercer County last year were related to heroin. In 2009, only four of 60 drug arrests were for heroin.
Those arrested for trafficking or using drugs are being punished by the legal system, he said.
"But once they get out of jail, and they will get out, then what happens?" Grey asked. "That's another issue we need to address."
He told the group an employer in the area has agreed to hire some inmates for a work release program; several are involved in the jail's new, experimental class for drug offenders.
Five men have entered the pilot program - facilitated by David Cahill, managing partner of Avanulo Consulting Inc. of Celina - to learn how to deal with life's issues by rethinking their addictions, philosophies and goals.
The program is still in the infant stages and there are no outcome statistics. However, Grey said he is hoping the program will help inmates find jobs, housing and additional counseling after they are released from jail.
"But we need the public's help," Grey said. "We need employers willing to take a chance with these guys. We need housing for them, not someone turning them away from renting an apartment because they have a felony record. And we need people out there to continue to support them."
Two of the men in the drug program spoke to the group. Jason Bollenbacher, 33, who has been in jail since November on drug-related charges, told the audience he has support from his family and is working with the employer Grey spoke about. But once he is released the "true test" will begin, he said.
"It's going to take a lot of work," Bollenbacher noted. "I want to stay clean and work. I'm in a much better place then I've ever been before. But without a job, without a place to live, I could go right back to the old life. I don't want to do that."
Eric Richards, 24, also in jail since November on drug charges, said no one really understands the addiction to heroin unless he or she's "been there."
"There's no feeling like it in the world," he said. "But addicts don't really want to be addicts. We're your neighbors. We're the ones sitting next to you in the movies. We're people, and without support, we have nowhere to turn."
Todd Ridder of Celina, and his ex-wife, Dawn Ridder of Coldwater, attended the forum because their daughter, Alyssa, 19, is currently an inmate at the Mercer County Detention Center on drug charges. They've tried for years to get their daughter help, they said.
"This is a horrible, horrible problem," Dawn Ridder told the crowd. "This addiction doesn't hit just the people who have problems or that no one loves them. It hits people from all walks of life, like my daughter. She wanted for nothing. She was, and is, loved. But she just can't seem to shake this."
Dawn Ridder said the only time she wasn't afraid for her daughter was when Alyssa was in jail.
"At least we know she's safe, off the drugs and not going to overdose," Todd Ridder said. "We've done just about everything we know how to do. We're looking for answers."
A huge concern among those attending and several offenders was the lack of in-house rehabilitation for addicts.
"We can go to Lima and spend three days in the hospital, but then after that we're right back on the streets," Richards said. "That's not a solution."
While there is counseling available in Mercer County, Grey said he knows addicts need more than just a three-day drying out period.
"That's why we're here," he said. "Let's put our heads together and come up with some solutions."
Deseree' McDowell, 32, of Celina, said as an addict she understands exactly what problems the others are going through. She spent 11 months in prison for possession of heroin and was released in April. Her sobriety lasted until the end of August and then she was using again, she said.
Clean for the past 27 days, McDowell said she wants to help any way she can.
"I'm sick of living the life of an addict," she said. "I want to be a mother to my two children. I just want the community to know they are going to need to step up and help. Take some responsibility and not turn a blind eye."
Grey said he would continue the forums but has not set a date for the next one.