Friday, March 28th, 2014
A passion for pipes
Local teen excels at organ, directs church music
By Shelley Grieshop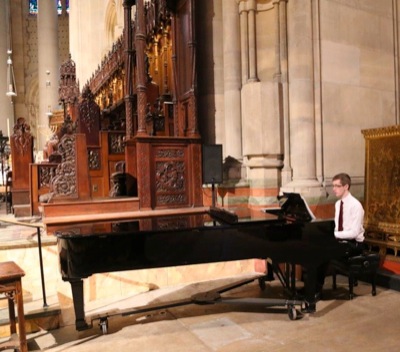 ST. HENRY - Kind words from a cute teacher sparked Jared Post's fascination with the pipe organ long before he could reach its pedals.
The high school junior was in second grade when his parents, Ron and Sandy Post, bought a piano for the family at Christmas.
"We hired a beautiful, young lady to come into our house and teach Jared along with his younger sister," Sandy Post said. "Jared loved to receive praise from such a pretty, young lady. He excelled."
By age 10, he was anxious to take organ lessons - a desire that led to his current job at the Catholic parishes of St. Rose and the Nativity of the Blessed Virgin Mary in Cassella. He was only 15 when he was hired to play several Masses each week and direct the churches' adult choir.
"Frankly, we didn't have any other applicants," said Sharon Kremer, parish life coordinator for the five parishes of the Marion Catholic Cluster.
Like others in the community, she was skeptical that a high school kid could juggle such a daunting task - playing at least four Masses each week and conducting choir practice. Then she attended Post's debut Mass.
"Are you kidding me?!," she recalled saying. "He's amazing."
Post was too young to drive so his mother took him back and forth to the rural churches, he said. Nearly three years later, he still enjoys the job. His favorite part is "improv" after the last song.
"I like to show off a little," he said with a grin.
Clif Perryman, a deacon and pastoral associate for the Marion Cluster, calls Post a "dynamic musician" with a maturity beyond his years.
"He clearly understands the culture and personality of the communities," he said. "I think he's very well accepted and liked."
Organ lessons began as a fluke when Denny Brackman, the former organist at Holy Trinity Catholic Church in Coldwater, misdialed one day and called the Post family's home by accident. Thinking it was divine intervention, he agreed - when asked - to teach Jared, Sandy Post said.
The young musician said Brackman was his "biggest cheerleader."
"He always had something positive to say," he said.
Ron Johnson, who eventually replaced Brackman at the Coldwater church, began teaching Post three years ago. The teen said he's blessed to have such an educated mentor.
"He's inspired me," Johnson said. "He pushes me and he's only a junior in high school. It's like working with a colleague; it's certainly not like teaching."
Johnson said Post freely expresses his opinion on organs and music. He has great potential, he added.
"The sky's the limit for what he can accomplish," he noted.
Post is one of the three youngest people in the U.S. to receive the National Association of Pastoral Musicians/American Guild of Organists Service Playing Certificate, Johnson said.
Post took the exam at his home parish of St. Bernard in Burkettsville. His performance was taped and sent to the NPM/AGO headquarters in New York for judging. To pass, Post had to play numerous compositions and hymns, and transpose one by memory. He also was required to learn a sheet of music in five different keys, play a pair of choir anthems and perform a piece to perfection after studying it just three minutes, he said.
Post has attended several prestigious organ and liturgical camps and looks forward to another this summer in Michigan.
"It's one of the few times I can 'geek out' about the organ and people know what I'm talking about," he said with a laugh.
He recently accompanied St. Henry schools' choir on a trip to the Cathedral Church of St. John the Divine in New York City. With prior planning, he was allowed to meet with an organist assistant and play for several minutes on "The Great Organ" of the cathedral, he said.
"My feet didn't touch the ground any time the next day," he said.
School activities and other interests also keep Post busy. He's a member of the National Honor Society, Academic Team, concert and marching bands, drama club, Spanish club, math-science club, the St. Henry Youth Group and the St. Bernard parish CYO.
Much of his after-school time is spent giving piano lessons to nine area students. Last summer he offered free lessons to a 9-year-old autistic girl in Burkettsville after learning youngsters with the disorder have a tremendous ability to play piano and comprehend music.
"I taught her how to play the songs in her book, but she taught me how to be patient, to continue to smile even when I don't feel like it, and that I didn't need words to communicate," Post said.
Following graduation, he hopes to earn a degree in organ performance with an emphasis on sacred music, he said.
"There's a high demand out there for organists. Most are retiring or dying," he said.
His goal is to become a full-time organist at a big cathedral like the one in New York. The location, however, isn't important, Post said.
"Wherever they'll have me," he added.