Friday, April 4th, 2014
Local program seeks to build self-esteem of troubled teens
By Kathy Thompson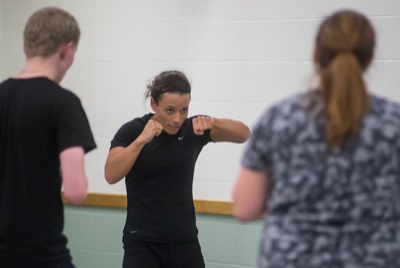 CELINA - Music begins to play and five teens start bopping their heads and tapping their feet while waiting to learn new kickboxing moves.
The Celina students - ages 14 to 16 - gather each Thursday afternoon in the high school auditorium for an hour each of exercise and counseling for behavioral issues. Each troubled teen is recommended for the pilot program by counselor Angie Moeller of Foundations Behavioral Health Services or the Mercer County Juvenile Probation Department.
Moeller said the goal of the free program is to help the teens "decrease their anger and build their self-esteem." The sessions start with a workout.
"We bring in an instructor from Innergy Fitness (Coldwater) who gives them an hour of physical workout and then I conduct a class that addresses their issues and needs," Moeller said.
Between five to 15 students attend the program each week. The school provides the space and any costs are paid by Foundations.
Angie Gehle, a probation officer with Mercer County Juvenile Court, said the teens typically aren't involved in any extra-curricular activities at school.
"These are the ones not getting a lot of physical activities," Moeller said. "They've got stress and self-esteem issues and are on probation for theft or being unruly. We want them to know that they fit in and acting out is not the solution. And some part of them has to want to be here and participate."
Sandy Dieringer, a therapist with Foundations who is involved in the high school and primary school, said she has seen a marked difference in the attitudes of the students in the program.
"This is some place they can come and feel safe," she said. "Many of them are dealing with terrible home lives. They have parents who have mental issues or drug issues or are using poor parenting skills. They get to dump their stuff at these groups and it makes them feel better about themselves."
Gehle said Moeller last year suggested the after-school program and asked if the probation department would like to participate.
"We agreed immediately," Gehle said. "There is a program, Expanding Horizons, that has been ongoing during the summer for the past few years for teens in these same situations."
Expanding Horizons steers the kids into running races - at no charge - in local communities with the goal to complete the annual Mercer Health 5K Challenge.
Gehle said they also offer the youth rewards such as bowling or trips to the zoo if they accomplish tasks such as seeking and obtaining jobs, getting good grades or performing community service.
The activities for all the programs are funded by donations to the Mercer County Civic Foundation. Donors can call 419-586-9950 for details.
Gehle said most people take for granted things these teens do without.
"These are the kids that don't get to go to that major league baseball game, don't get to go to the movies or the mall," she said. "These are the kids that don't even have a water bottle to bring to class."
A 16-year-old girl told the newspaper she attends the class to help her with severe depression and anxiety and urges she has to harm herself.
"I've made best friends here," the bubbly teen said prior to the class. "People in here make me happy. They're not forcing us to do anything. What I learn here, I take into my life."
The girl said she doesn't mind talking about family issues with the rest of the group.
"I know we're a team in here," she said. "We can talk to each other and help each other, not like the rest of the world that wants to bully us or cut us. Most of the people wouldn't be in here if they hadn't been bullied in some way."
One of the participants is a 14-year-old girl who has attempted suicide five times and cuts herself.
"I've learned to control my anger," she said softly. "I go home to a house full of hate. Here, there is no hate. I can open up here. I rely on this group."
A 14-year-old boy said he fights anger issues and attends the sessions for the exercise. He admitted he's very quiet and reserved during the group discussion.
"I don't usually talk," he said. "But I do think this has helped me with my frustrations and anger."
Dieringer said the boy "shines" during kickboxing.
"He's the type of kid that is really quiet and really stays to himself, but when the class starts, he just breaks out of that shell," she said. "That's what we're after."
Dieringer said the teens all are given self-esteem testing prior to the program and will be retested at the end of the year.
"But what we're hearing from them is that this has helped them so much. Those that have been cutting themselves to relieve their inner pain find they don't have that urge anymore," she said. "They've become more open and willing to share. I don't think the behavior issues are there as much at home, at school or out in the public."
Jenny McGowan, a physical fitness instructor who began teaching kickboxing two years ago, works with the class. The students appear to enjoy it as she guides them through strenuous kicks, jabs and swings.
McGowan said she's found the kids a "joy" to be with.
"It really has been eye opening for me," she said. "I don't know that anyone really understands what some of these kids go through each and every day. They have huge obstacles they have to overcome each day - drugs in the home, controlling parents, being faced with detention or probation."
Gehle hopes the teens will continue attending the program and join Expanding Horizons this summer.
"It helps them look forward to something," she said.
Celina schools superintendent Jesse Steiner said he believes any program that relieves the stress and everyday tensions students face is a positive.
"I'd love to see this program expanded," he said. "A program like this is always a plus for the teachers and parents and a fabulous opportunity for the students to improve their lifestyles and attitudes."