Saturday, April 5th, 2014
Pork prices set to increase
Hog virus infects U.S. swine population causing tighter supplies
By Nancy Allen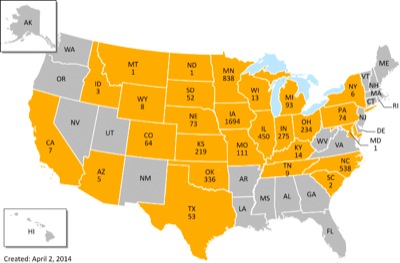 Consumers will soon pay more at the grocery store for bacon and other pork products due to a virus that has infected the U.S. swine population.
Porcine Epidemic Diarrhea virus - first detected in the U.S. about a year ago - has been diagnosed in local hogs. It causes diarrhea, vomiting and dehydration and is almost 100 percent fatal to piglets younger than 7 days old. The virus also sickens older hogs, but their survival rate is high.
The virus does not affect food safety, and humans and other animals cannot contract the disease from pigs. No effective commercial vaccine exists.
"The actual cost of this whole thing is going to fall on pork consumers," said Steve Meyer, a hog industry consultant and president of Paragon Economics. "I think we're going to start seeing retail prices go up this month or May for sure, and I expect them to break last fall's record retail prices."
Meyer said tighter hog supplies caused by PEDv will boost total U.S. pork revenue that will offset most of the losses from the disease. Producers are making up losses by growing their surviving animals larger, he said.
"When supplies are tight, total revenue goes up and that will be the case," he said. "Most producers will probably have higher revenues because their surviving pigs are worth way more."
The exception would be small producers, he said.
Last year, the June futures market price was $91.85 per hundredweight for hogs. Today the June futures market price is $125.75.
The increased costs should make everyone concerned, he said.
"It's going to end up costing consumers millions and millions in food costs," Meyer said. "So there is a strong public interest to keep these diseases out of the U.S and handle them appropriately when one appears."
He does not expect widespread numbers of hog producers going out of business due to the virus.
"Usually, if a farm gets it, all the pigs under 8 to 10 days of age will die," said local veterinarian Dr. Michelle Michalak, who services farms in a three-state area. "People are losing three to seven weeks of production in every pig barn."
The virus is spread by the fecal-oral route and from footwear, clothing, farm supplies and vehicles contaminated with manure, she said.
Most hog farms in Mercer County are finishing operations that grow pigs until they are taken to market, so the death toll has been less.
"They can still be a source of infection for everyone else, but there is not great losses," Michalak said.
Farm operators can help sows and their babies build immunity to the virus, she said. Once the illness is discovered at a farm, the intestines of infected baby pigs can be processed and fed to sows to build their immunity. The piglets of the sows then receive immunity by drinking the mother's milk, Michalak said. It takes two to three weeks for the sow's immune system to respond.
Older pigs usually can be brought through the virus by feeding them electrolytes and antibiotics, if needed, she said.
It is unknown how many local hog farms have contracted the virus. The Ohio Department of Agriculture does not keep county by county information on affected areas, spokeswoman Erica Hawkins said. Producers and veterinarians are not required to report PEDv and the ODA is not required to keep statistics on it, she said.
"I can say we have about 200 positive samples," she said.
Michalak said she has treated many cases of PEDv in the area and does not believe the virus has reached its peak.
"We have lots of cases in Mercer and Auglaize counties," she said, adding the virus is present in the entire region, including Darke, Shelby, Putnam and Paulding counties.
Local veterinarian Terri Specht said she's seen many cases of the PEDv in pig nurseries in Mercer and Auglaize counties. Nurseries house animals from about 3 to 7 weeks of age. Keeping the pigs hydrated and feeding them electrolytes and other medicines to combat any secondary infections is key to treating the virus, she said.
"Ohio is putting together a task force so we can monitor through veterinarians which barns are positive," she said. "The goal is if we know which barns are positive, we cannot move it from one place to another."
Farmers have ramped up their bio-security measures since the virus was confirmed in the area about a year ago.
"It's everybody's concern," said Maria Stein area hog farmer Mark Dahlinghaus, who raises pigs from about 3 weeks old until they reach approximately 55 pounds. "We don't have it and we want to keep it that way."
Dahlinghaus said he and others at the farm make certain they change into new boots before coming back to the farm from the feed mill, veterinarian's office or wherever. During a tour of his farm last week by top state ag officials, Dahlinghaus placed the hog barn off limits.
Michalak said recent information suggesting the virus is spread by a hog feed additive made of plasma from blood collected at hog slaughtering plants is inconclusive.
"We do not believe the virus is in the blood," she said. "When they harvest the blood at packing plants, the blood has been on the skin of the hog (so) it could have come into contact with manure. We still think it's the manure."
Michalak said the virus has been emotionally traumatic for hog producers with large mortality losses.
"There is psychological and emotional losses you face," she said. "Imagine your job is to take care of these baby pigs and they all die. It's tough."
The virus was first recognized in England in 1971, according to the National Pork Board. Since then, it has turned up in other European countries and more recently in China, Korea and Japan. The current strain likely originated in China's Anhui Province. It has been confirmed in 27 states in the U.S. and increased dramatically over the winter, the National Pork Board says.
Last month the National Pork Board approved an additional $650,000 for research into the virus to focus on feed research, feed-related issues with bio-security and breeding herd immunity. The money also will be used to learn how the virus and related viruses got into the U.S. and onto hog farms. It adds to the $1.1 million in supplemental research funding the board approved throughout last year.
The American Feed Industry Association, National Grain and Feed Association and other groups are joining the Pork Board and National Pork Producers Council in a PEDv research collaboration.
In the most recent data available, Mercer County ranked first in the state in 2011 among Ohio's 88 counties for income from hogs/pigs with $106.3 million. Auglaize County ranked third with $34.885 million.