Saturday, April 12th, 2014
By Gary R. Rasberry
Bulldogs sweep home Relays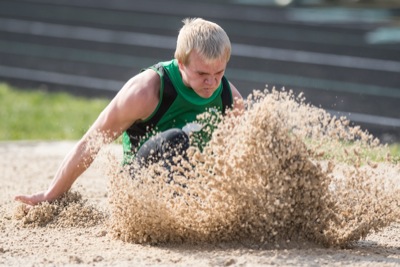 CELINA - Even in splitting their team, the Celina track team has the depth to dominate.
The Bulldogs' veterans, labeled Celina Green, swept the team titles at the Celina Walt Shreffler Relays on Friday at the Varsity Track.
Celina topped a league rival and a county rival in the standings. The Green boys won with 96 points with St. Marys second at 51 and Coldwater third at 48. Waynesfield-Goshen was fourth with 38 with the younger Celina White team scoring 25 and Parkway 11.
For the ladies, Celina Green tallied 100 points with St. Marys second with 70, Coldwater third with 56, Celina White 20 and Parkway 12 with Waynesfield not scoring.
Celina's numbers helped provide big wins in all areas. The Green girls won the high jump, pole vault, discus and shot put events, which had two participants in the pole vault and three in the other field events. Celina's Green boys also edged out Coldwater in the three longer distance events (4x400, 4,800 and 4x1,600-meter relays)
The boys also tied Waynesfield in the pole vault and outright won the the high jump and long jump.
"Of all our meets, this was probably our best overall effort," Celina coach Dan Otten said. "Our field event people had a really good day. Jack Hinders, first meet (of the season), went 20-10 1/2 (in the long jump), high jumped six foot, which was his career best. Sam Phares made 13-4 (in the pole vault). Bekah (Carr) has been consistent. Stefan Chittum in the pole vault. Both our shuttle hurdles broke meet records for sure. Boys 4x4, the Green and White battled like heck, so we had eight guys (in the event) run well. Distance guys did decently. Lauren McDonough keeps getting better.
"There was things that happened all over the place. That's the kind of progression. I told them that if we're happy with that, why go on? We have to get better as the season goes on."
The St. Marys boys picked up wins in the sprint relays while the Lady Roughriders mixed it up, taking the 4x100 shuttle hurdles and long jump team event.
St. Marys coach Rob Cisco was happy with his teams' efforts on the day.
"We're really excited. First time we beat Coldwater since I've been here and I've been here 10 years," Cisco said. "It's an exciting night in St. Marys. We're a young team and we're excited about where we'll end up."
Coldwater was buoyed by their strength in the distance events, taking the girls 4x1,600 and 4x800 relays while the boys finished behind Celina Green in the same events.
"I thought we did pretty well. The weather was nice," Coldwater coach Karla Kohler said. "We came here and did what we had to do. A lot of good success today. Distance was our strong point today. We picked it up when we had to."
All of the area teams except Parkway are back in action on Tuesday. Celina travels to Van Wert. Coldwater is back at home Tuesday hosting a three-team meet with St. Marys traveling to Marion Local.
Additional online stories for this date
Print edition only stories for this date
• Fired cop fighting to get job back
• Suspect pleads guilty to killing St. Marys man 32 years ago
• Homan's relief work leads Celina to win
• Muhlenkamp shuts down Flyers


Online Video

Photo Albums
Friday, August 29

Friday, August 29

Friday, August 29

Friday, August 29