Monday, April 14th, 2014
Experience with hospice motivates Wiss to help
By Gary R. Rasberry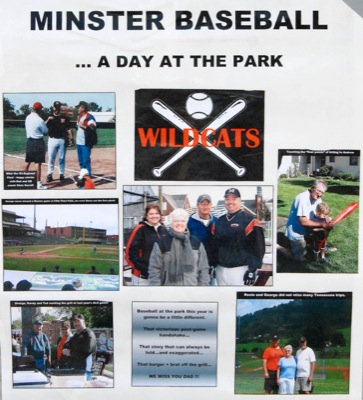 MINSTER - Using an experience that many people have gone through, Mike Wiss hoped to raise money and awareness
The Minster baseball team's three-team doubleheader with neighbor Fort Loramie and New Middletown Springfield on Saturday was a fundraiser for Grand Lake Hospice, raising at least $1,000 through 50-50 raffles and donations.
Wiss, the veteran Wildcats baseball coach, got to know first hand what goes on in hospice as his father George was in the end stages of leukemia late last year.
"Leukemia came up on Dad pretty quick," said Wiss as the Wildcats had a break while Fort Loramie and Springfield played. "When the decision was made that the hospital could not do anything more, Dad looked at Mom and said he wanted to go home. Obviously, you need someone to help care for him. Everybody said to call hospice.
"You heard the word, maybe know a little about it and find out you know nothing about it until you experience it. When the day came that they came in, we saw how things were going to work. The superintendent of hospice, Jane Steinemann, was very important to Dad. She was the one I went through to have this tent set up (on Saturday)."
George Wiss passed away in his home on Nov. 23. The work that Mike Wiss saw the hospice workers did to make his father as comfortable as possible before his passing gave him the inspiration to do something through his work with baseball.
"We did (a fundraiser for) ALS last year," Wiss said, referring to the Playing Hardball Against ALS game last year with St. Henry. "Between us, we got about $600-800 for ALS. I said well, not that we didn't want to do ALS again because it's a great cause, but this is it. It's something I can do for dad."
The Wildcats looked to have their fundraiser for Hospice during their annual doubleheader with neighbor Fort Loramie, usually a well-attended game. New Middletown Springfield, the team that Minster beat in 2011 for the Division IV state baseball title, came into the mix when the Tigers were looking for a game.
"We had a Friday off before the Loramie doubleheader," Wiss said. "I said to come down Friday (for one game), stay the night and we'll mix you in with Fort Loramie. " After a spring that has been soggy, chilly and sometimes both, the weather could not have been any better with sunny skies, a little wind and temperatures in the 60s.
Twenty-five cent hot dogs and 50 cent mettwurst were on special during the game. For years, George Wiss manned the grill at Minster baseball games in the spring and summer, which brought about a fond memory to Mike.
"The first year Minster hosted a district ACME tournament, we had an eight-team double elimination tournament," Mike Wiss said. "Coldwater came back the second night and filled the area (down the third base line, where George had his grill set up). This guy didn't want (George) to grill him a brat, he wanted him to grill a steak. I can't tell you who it was, but the guy brought Dad a steak. The guy ate steak back here because he knew George Wiss would be at the grill."