Wednesday, April 16th, 2014
Celina Insurance Group marks 100 years of service
Business has 170 employees, assets totaling $170M
By Doug Drexler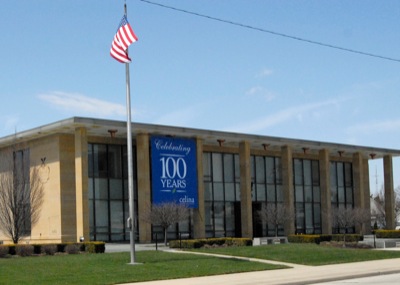 CELINA - Celina Insurance Group is celebrating 100 years of serving customers and the community.
In addition to providing jobs to residents, the company feels a responsibility to its hometown, chairman Bill Montgomery said.
"We're proud to be part of the community," he said. "My forebears took a real interest in ensuring a good quality of life in a small community."
When the company began in 1914, its first offering was fire insurance for autos because they tended to ignite easily. The original premium was $1, plus a $1.50 policy fee and 20 cents per $100 of coverage.
"At the time, the automobile was just coming into prominence," said Adam Bollenbacher, who is assembling a company history in honor of its centennial. "It was still a pretty young industry."
Most insurance companies at that time were based on the East Coast and charged customers according to risks in metropolitan areas, Bollenbacher said. Celina attorney Edgar Jacob "E.J." Brookhart saw a need for a cheaper policy for the lower-risk rural Midwest and founded The National Mutual Automobile Association, he said.
By 1915, the company had sold 8,000 policies all over Ohio, Bollenbacher said. As people grew more familiar with automobiles and their risks, the company added theft insurance in 1915 or 1916, and liability and collision coverage in 1919.
The company in 1917 outgrew Brookhart's law office at the corner of Main and Market streets and moved into the First National Bank Building on Main Street. In 1925, it built its own headquarters at 305 S. Main St.
The company weathered financial challenges during the Depression. It did not lay off any workers but cut pay by 10 percent, Bollenbacher said. At the time, the company would hire women only if their husbands did not have a job. Managers did not want to give one family two incomes when others had none, he explained.
In 1962, the company moved to its current location on Walnut Street at 1 Insurance Square. The Japanese-inspired building design features an enclosed courtyard in the center. The grounds received a landscape award from then-first lady Lady Bird Johnson, Bollenbacher said.
The business now has about 170 employees working at four companies: The National Mutual Insurance Co., Celina Mutual Insurance Co., Miami Mutual and West Virginia Farmers Insurance Co., Bollenbacher said. The group has $170 million in assets and 108,000 policies in six states, written by 500 affiliated agents, he added.
Montgomery entered a family legacy when he joined the company in 1988. Brookhart was married to Dora Montgomery. When he died in 1950, Dora Montgomery's brother C.M. "Chad" Montgomery (Bill Montgomery's grandfather) took over as general manager and secretary. His son, Don Montgomery, joined the company in 1953, became president in 1964 and led an aggressive pursuit of growth and innovation, according to company history.
By 1978, the company, then known as Celina Group, had expanded to include nine mutual companies, a stock property casualty company, a fire and casualty company, a life insurance company, two reinsurance companies, three inspection companies and a public financial holding company, according to history.
Bill Montgomery, who grew up in Celina, became president and CEO in 1990, and was named chairman in 2012. He has a set answer and chuckle when asked how he got his job.
"Let's just say I came to the attention of senior management at a very early age," he said.
Montgomery has a photo of himself at age 12 holding a time capsule as his grandfather speaks at the dedication of the company's headquarters in Celina.
"It's a daily reminder of the legacy and the heritage," he said. "I think I feel a sense of obligation, but it's also an honor. I feel very blessed to have the opportunity."
His youngest son, Scott Montgomery, 24, recently joined the company and will spend four to five years learning the business, he said. Bill Montgomery and his wife, Suzanne, also have two other sons.
Montgomery sees his role in the company as head coach.
"A coach doesn't win the games; the players do," he said.
He takes a personal interest in the people he hires, he said.
"I interview everyone from janitor to upper management," he said. "I know everybody in the company by name. I hope that means something."
He spearheaded an idea to set up small meeting spaces throughout the building's 90,000 square feet to encourage collaboration among workers. Under his leadership, the company sold off many of its divisions at a profit and cut back to the current four companies, putting renewed emphasis on property and casualty insurance, he said. The company picked its current name, Celina Insurance Group, to emphasize that focus, Montgomery said.
"We have been in a growth mode the last 10 to 12 years," he said. "Nothing's really broken here."
The company has survived on "determination and perseverance and wanting to continue the tradition. We don't give up very easily," Montgomery added.
A consulting firm has been hired to help create a succession plan to develop future managers, he said.
Celina Insurance Group has been closely involved in the community since it opened its doors. Montgomery's father was instrumental in bringing higher education to Celina. He convinced Ohio Northern to offer classes in the company's former headquarters on Main Street, Montgomery said. The demand soon overwhelmed the university's capacity. Wright State University eventually took over the program, which led to the creation of the local Lake Campus, he said.
The company sponsors Character Counts at Celina High School and helped establish the Mercer/Auglaize YMCA, the Celina Medical Center and Grand Lake Regional Cancer Center. Company officials also helped create a community garden and donates to the Lake Improvement Association, local food bank, OUR Home/Angel Tree program and Celina Combined Services Appeal.
Montgomery's love of baseball is evident in the company's support of youth sports, the Grand Lake Mariners and the Lake Campus' baseball teams. The company and family also donated $250,000 toward the synthetic turf at the Eastview Park baseball diamond, now named Montgomery Field.
To show its continued support of the area, Celina Insurance Group is funding the construction of an outdoor patio near the Grand Lake walkway to provide visitors a place to sit and enjoy the lake, he said. The highlight will be a long-overdue sign, Montgomery said.
"Nowhere around the lake was a sign saying 'Welcome to Grand Lake,' " he said.