Thursday, April 17th, 2014
Jacobs' pitching leads Redskins
By Colin Foster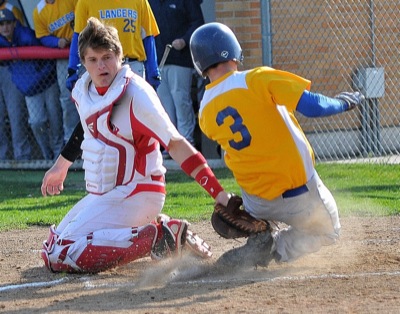 ST. HENRY - By early indications, Wednesday's baseball game between Lincolnview and St. Henry looked like it was going to be a pitchers' duel between the Lancers' Jalen Roberts and the Redskins' Jason Jacobs.
The duel, however, turned into more of a one-man show after the third inning.
The St. Henry offense came alive in the bottom of the third by scoring five runs on Roberts. That allowed Jacobs to keep his momentum the rest of the game as the Redskins run-ruled the Lancers 10-0 in six innings at the Wally Post Athletic Complex.
In the top of the first inning, Jacobs allowed a pair of infield hits, but no more after that. The senior struck out two batters and kept the Lancers off the base paths during his six innings of work.
Not bad for a pitcher whom St. Henry coach John Dorner considered to be the fifth starter in the rotation entering the season.
"Going into the season, we were looking at Jason being our Number five pitcher, our spot starter," Dorner said. "Then he throws a two-hitter today. When a five-starter's doing that, you know you have pretty good depth.
"He went out there and threw six innings of very good ball."
After stranding two runners in the first inning and then being retired in order in the second, the Redskins broke the game open with nine total runs in the third and fourth innings.
D.J. Kunkler led the third off with a bunt single, Mitchel Stammen walked and then Andrew Lundvall was hit by Roberts to load the bases. Three straight two-out hits by Briar Holloman, Garrett Stout and Ryan Mikesell gave the Redskins a 5-0 lead.
Stammen's double gave St. Henry its first baserunner in the fourth. Lundvall's double, two at-bats later, scored Stammen. Following that, Roberts walked two batters to load the bases again. Stout hit a fly ball to right field that was dropped by Cole Schmersal, allowing three more runs to come in.
James Jansen's single scored Austin Bills to end the game in the sixth.
The Redskins finished the game with 10 hits. Stammen went 3-for-3 with two runs and Kunkler ended the day 2-for-3.
"I thought we had good approach at the plate. I liked what I saw," Dorner said. "We had a lot of energy, a lot of enthusiasm, and hopefully can continue to carry that with us as we head into MAC play."
Lincolnview's biggest offensive threat came in the top of the first, when it put runners on the corners with one out. Austin Leeth tried to score on a pop up to Jeff Paul in center field, but Paul's throw beat him to the plate and St. Henry got out of the inning unscathed.
Roberts recorded five strikeouts and allowed seven hits in 3 2/3 innings. Six of the nine runs scored on Roberts were earned.
"They're a lot better team than their record shows," Dorner said. "I know it ends up being done in six innings, but they're going to get better. They're young, and they're going to be a good team."
The win improves the Redskins' record to 8-1. In the coming days, St. Henry will square off against two Western Buckeye League teams, before Midwest Athletic Conference kicks into full gear early next week.
"We felt like we could make a real good run this year," Dorner said. "I can't say (our record) surprises me. I also can't say you expect to be 8-1 after nine games. We play a competitive schedule, with the biggest part of it coming up soon. We know Bath, who we play next on Saturday, is an incredible team. We follow up with another WBL team, Shawnee, on Monday. Those are two very good programs, and then all of a sudden you're jumping into league play. It's like ready or not, here it comes.
"We've got to be ready. I like where we stand right now, and if we continue to improve, we should continue to put good numbers up."