Saturday, April 19th, 2014
Lifeline: Dispatchers stand ready for emergencies
By Kathy Thompson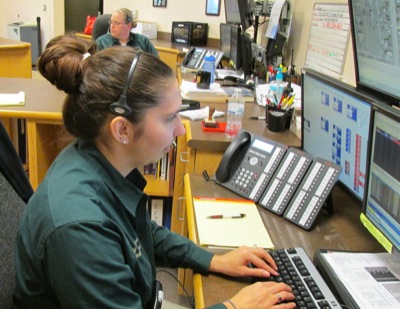 CELINA - Stephanie Stammen sits relaxed in her chair in the county's dispatch center Wednesday evening. Her eyes are fixated on maps and computers as she monitors radio traffic and ringing phones.
When she is alerted to a 911 call, her body tenses but she calmly answers. She knows any call could be a matter of life or death for the person on the other end.
Stammen, 27, has been a Mercer County Sheriff's Office dispatcher for almost two years. She is one of seven who field emergency calls from the public for four police agencies, four EMS squads and 10 fire stations. Dispatchers also handle communications regarding search warrants, domestic violence protection orders and research.
The county dispatch center received 19,450 calls of all types last year, according to 911 administrator Monte Diegel. About 10,000 of those calls were from the 911 system.
Dispatchers for the Celina Police Department have received more than 5,200 calls so far this year related to emergencies or incidents. That number does not include calls from police officers seeking information, such as running a license plate, or non-emergency questions from residents.
Dispatchers across the country this week were recognized during National Public Safety Telecommunications Appreciation Week.
Mercer County Sheriff Jeff Grey said dispatchers are appreciated every day of the year. "The dispatchers are an important part of the emergency response," Grey said. "They are the calming voice on the phone while at the same time getting emergency help where it's needed. They are the heroes behind the scenes that the public never sees, but we couldn't be successful without them."
A dispatcher's job can be emotional.
Diegel still gets tears in his eyes as he remembers a call he answered when he started as a dispatcher more than 20 years ago. It was a husband whose wife wasn't breathing.
"We were eating pizza at 3 a.m.," he recalled. "Very calmly I led him through the steps of CPR until a squad got there. But, sadly, she didn't make it."
Diegel said he felt compelled to go to the funeral home and pay his respects to the husband.
"When I introduced myself, he just grabbed me and hugged me," Diegel said, fighting back tears. "He told me I had been his guardian angel. I still have the kind card the family sent to me later. But that day, it changed my life. I knew then and there, this was the job for me."
Diegel also remembered a call he thought was someone having a heart attack.
"All I could hear was heavy breathing and this snorting sound," he said with a smile. "When the deputies got to the address, it turned out to be a barn full of cows who had somehow knocked the phone off the wall and were inspecting it. That one was pretty funny."
Stammen laughed as she told about a call she got from a little boy playing with a phone.
"He wanted to know what I was doing," she said. "I never did find out where that call came from because all I heard next was an older kid saying 'Don't tell Mom and Dad,' and then a hang-up."
Tiffany Homan, 27, who has been a dispatcher for about a year, said she also has taken calls from children.
"One wanted me to know he had just got a new blanket," she said. "But he called at the worst time possible. We had a fire going and squad runs we were trying to get to. He must have called about 20 times that night. All he wanted to do was tell me about his new blanket and a fire truck."
Law enforcement officers count on dispatchers to quickly and correctly get the information they need while keeping the 911 caller calm and responsive.
Mercer County Sheriff's Sgt. Lance Crum said dispatchers are the "bridge between the public and a crisis."
"They know how to ask the right questions so when we answer a call, we have a clear picture of what we're walking into," he said. "Several times a dispatcher has had my back and gotten me help when I've needed it the most. They are our right hand."
Celina Police Chief Tom Wale said dispatchers become very good at reading officers' tones and voices.
"They know when we're in a stressful position, but haven't been able to radio that to them yet," Wale said. "A number of times they've sent backup for me before I asked for it. And I needed it. That's a good dispatcher."
Celina patrolman John Barker said he relies on dispatchers' quick response.
"They have a difficult job and need to know the city like the back of their hand," he said. "They do it. They care about us on the streets and they care about their jobs."
The job is stressful and not one everyone can do, Diegel said. Hours can go by quietly, but then in a second the phones light up with 10 calls at once, each one demanding immediate attention.
"I've had people come in here and within days leave," Diegel said. "I respect that they don't waste my time when they know this isn't for them. It's a lot of stress, a lot of concentration, a lot of quick judgments being made. We need people that are calm, caring, courteous and have a lot of common sense. Things change in a heartbeat in this room."
Stammen has ways to relieve job stress.
"I'm the type that needs to get outside and walk the dog or go and spend time with my family," she said. "I talk to my sister about things that bother me. When you're in here, you're focused on the job. You need something when you get home to release some of that tension."
Homan said she releases her stress by helping her husband on their dairy farm or playing with her dogs. In the winter, she sews and does scrapbooking.
"But I have gone home and cried," she said. "There are just some things that really get to you. The stress. A fatality. A really bad accident."
They also must deal with calls that clearly aren't emergencies.
"People will call because their electric is out or a child won't go to school," Stammen said. "People do abuse the 911 system and there are legal remedies for continuing to do so. But we try very hard not to get upset with people. We just hope they understand that when we are in an emergency situation, the call about an unruly kid may have to wait."
Christy Shroyer, 38, has been a dispatcher with the police department for almost 12 years. She said she tries to put herself in the caller's shoes.
"It may not appear to be an emergency to me," she said. "But it's one to the caller. I just try to remember everyone is different, they all handle situations differently. I understand they are in a panic. We're here to help."