Monday, May 5th, 2014
NetDogs run table in WBL
Celina posts first undefeated league season since 1995
By Gary R. Rasberry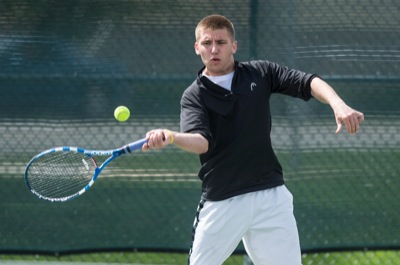 CELINA - Celina senior Alex Seibel came back from being down 1-4 in the second set and 40-love in the final game of the set to win his Second Singles match and clinch an undefeated regular season record in the Western Buckeye League as the NetDogs defeated Shawnee 3-2 on a windy Saturday midday at the Booster Club Tennis Complex.
The NetDogs head into the league tournament this week with a perfect 9-0 record, the first time for the program since the 1995 season. The loss was the first league loss for the Indians since 2008.
While happy for the undefeated record, coach Toma Hainline and the squad are not satisfied.
"It's still not over, they know that," said Hainline. "They've still got a lot of hard work to do Thursday and Saturday (at the WBL tournament in Lima). This is a big monkey off our back, going head-to-head (and beating Shawnee)."
"We're going to stay focused and try and get them again next week," senior Kris LeJeune said, referring to Shawnee.
Alex Seibel had a strong first set against Avinash Rajasekaran, winning 6-2. Rajasekaran got the upper hand quickly, leading 4-1 on the third switchover. Seibel and Rajasekaran split the next two games to make it 5-2.
"Avinash is a very tricky player to play, especially in this wind," said Alex. "I haven't given up a set this year and I wasn't going to give one up to him."
The comeback was swift, as Seibel won four straight games to go up 6-5. Rajasekaran countered by going up 40-love in the next game, one point away from sending the set into a tiebreaker. Seibel bounced back with three straight winners to send it to deuce and then won the final two points for the 7-5 win.
"The (final game) reminded me of the whole set," said Alex. "I got lucky."
"I looked at him and he looked at me. It was like 'I got this,' " said Hainline. "We talked after (the match) and the last game exemplified the middle part of the set when he had some unforced errors. ... Once he got down, he really kicked into gear and started going for his shots."
Celina had wins in both double matches. Isaac Elston and LeJeune remained unbeaten in league matches as they defeated Timmy Rutter and Carter Jones 7-5, 6-1 in First Doubles. The Second Doubles team of Hagan Kriegel and Joel Weitz had an easier bout against Ruthvik Avvari and Troy Brinkman, winning in matching 6-2, 6-2 sets.
Alex's twin brother Aaron nearlyforced a third set in his First Singles match against Jason Barton. Barton won the first set 6-4, but Aaron Seibel came back to take a 4-1 lead in the second set. Barton recovered and won the match in regulation 7-5.
Chris Mart picked up Shawnee's other win on the day by defeating Nathan Lutz 6-0, 6-0 in Third Singles.
Winning junior varsity doubles matches for Celina were the teams of Garrett Weininger and Matt Rable; Andy Ewing and Caleb Wenning; and Thomas Zender and Heath Laux.
The NetDogs' final regular season match will be Tuesday at home against Findlay starting at 6 p.m.