Tuesday, May 6th, 2014
Minster clinches share of first MAC title
By Robb Hemmelgarn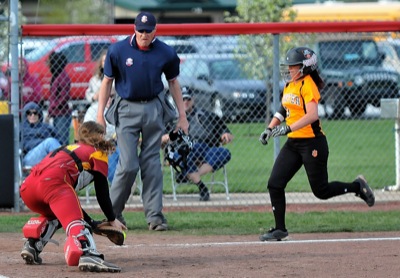 NEW BREMEN - Although Minster softball coach Scott Robinson has had plenty to be thrilled about this season, the Wildcats' 9-1 triumph over the Cardinals may have been the sweetest of his teams' 18 wins to this point, as the Wildcats clinched themselves at least a share of the Midwest Athletic Conference championship.
With only St. Henry standing between Minster and the first outright conference trophy in the history of the program, Robinson was quick to point out unfinished business still remains.
"We want the league title outright. The girls are hungry for it and want to put their name on that trophy," commented Robinson, following his sixth league win of the season. "I tell the girls all the time,though, that when you are on the top spot there is a bullseye on you, and I know St. Henry is going to bring us their best. If we go in and play our style, we should be okay, but they will be ready for us so it should be a great game."
The Wildcats ignited their scoring in the second inning when an errant pitch by Cardinal freshman Sophie Fox struck Regan Hahn in the side. Rachel Wehrman was called upon to courtesy run for Hahn and responded with her teams' first score of the game when right-fielder Kathy Prenger dinged an RBI single. The visitors tacked on two more runs in the third inning when Marissa Conrad and Michaela Goettemoeller drew a walk and smacked a single, respectively, in back-to-back at bats. Then Hahn stepped in and delivered a shot to the outfield that plated both base runners and awarded Minster the 3-0 advantage.
"It seemed like we started a little bit slow, but I was happy with how the girls hung in there and were able to pull away late," Robinson said. "We played outstanding defense tonight and did a great job of not giving them any hope. Kayla did wonderful work on the mound and Nicole Brandewie did great at first base, and we were able to keep them from making any major threat."
Unfazed, New Bremen returned a punch in their half of the third when Danielle Ahlers touched Minster pitcher Kayla Richard for the Cardinals' first hit of the game. She promptly swiped second base before heading home on an RBI from leadoff hitter Rachel Parker. Not to be outdone, the Wildcats responded in the top of the fourth with a two-out single by Richard. Rachel Heckaman then slammed a double to plate Richard before scoring herself following a single from Marissa Conrad.
Trailing 5-1, the Cardinals couldn't pull any closer over the next three innings despite getting three girls on base and one in scoring position. Minster put things out of reach with an explosive seventh inning that was fueled by three base hits and a pair of Cardinal defensive lapses, as the Wildcats tallied four more runs and left town with the eight-run victory.
"Minster got five of their runs today with two outs," New Bremen head coach Craig Griesdorn commented. "They managed to put the bat on the ball and put it in play at crucial times and that is what good teams do. I thought overall we played pretty good defense until the seventh inning and then it seemed like we were trying a little too hard. I thought Sophie pitched well today, but the couple of times she got it up a little high Minster was able to take advantage of it, so I give them credit."
Offensively, the Orange and Black were paced by Conrad and Goettemoeller, who connected for two base hits apiece, while Richard was solid from the hill once again by striking out ten and allowing four Cardinal hits. Danielle Ahlers picked up two hits in the loss, which dropped her team to 8-13 overall on the season, while they finished the MAC portion of their schedule at 2-5.
New Bremen heads to Sidney to take on the Lehman Cavaliers today, while Minster will look to make their historic clean sweep of their MAC slate when they tangle with the St. Henry Redskins on Thursday at the Wally Post Athletic Complex.