Wednesday, May 7th, 2014
Redskins nip the Cardinals
Paul's walk-off single provides only run of game
By Colin Foster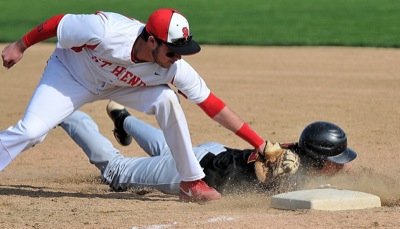 ST. HENRY - Jeff Paul had 27 runs batted in entering Tuesday's Midwest Athletic Conference game with New Bremen.
Number 28, however will likely be the most memorable for the St. Henry senior.
Paul's two-out single in the bottom of the seventh inning drove in Brian Kremer for the game-winning run as the Redskins beat the Cardinals 1-0 at the Wally Post Athletic Complex.
"He's made it happen all year," St. Henry coach John Dorner said of Paul. "He's leading the team in almost every category. That was RBI 28 on the year or something like that. That doesn't surprise me. That's absolutely who we wanted up in that situation."
The win gave St. Henry (18-2) sole possession of first place in the Midwest Athletic Conference at 6-0, as Coldwater lost for the first time Tuesday at Versailles.
New Bremen falls to 3-10, 1-4 in league, but coach Josh Bowersock is upbeat about the way his team is playing entering the postseason.
"That was a great ballgame," Bowersock said. "They're 18-2, second in the state in Division III. We're a 3-10 Division IV team. I mean, I hope that shows our boys what they're capable of doing when they step out there in the right mindset and do stuff the right way. They played real well on Friday (against New Knoxville) and I think this is just a continuation of some things we've got going right now."
"We didn't execute early," Dorner said. "Bremen's been getting better. They can make some noise in the tournament. The biggest thing was is we had opportunities early and we didn't cash in. But I don't think we carried that into the field. We still played solid defense."
St. Henry sophomore pitcher Mitchel Stammen and New Bremen's Jacob Gilberg duked it out all game long. Sure, each pitcher got into the occasional jam, but both managed to escape unscathed until the seventh. Stammen gave up two hits and registered 11 strikeouts.
"Mitchel had his game face on out there," Dorner said. "He throws a two hitter. He had lots of strikeouts and got ahead of hitters. That's what he's been doing. Mitchel was just a bulldog today."
"That's a nice luxury to have as your number three," said Bowersock about Stammen. "He's a number one on most squads."
Gilberg, who threw just 57 pitches through five innings, went 6 2/3 innings and recorded three strikeouts.
"He threw a great game tonight," Bowersock said.
Both teams, though, had scoring opportunities throughout the game. St. Henry put two on with no outs in the first but couldn't cash in. In the second, Stammen was caught trying to reach home on a passed ball and the Redskins stranded two more in the following inning. St. Henry had the bases loaded with one out in the sixth, but Gilberg rang up Jason Jacobs and forced a pop up for the final out.
The Cardinals had the go-ahead run at third with two outs in the sixth, but Stammen forced a ground out and recorded his final strikeout to escape the jam.
Kramer, whose single and stolen base in the seventh set up the game-winning hit, led St. Henry with three base hits. Paul finished with two.
"We hit the ball, we just didn't get it done early in the game," Dorner said. "Every once in a while in a season, you've got a tight game like that and you've got to win it. We were able to do that."
Sam Wisvari and Trent Bertelsen each had singles for the Cardinals.
St. Henry is back in action at Van Wert on Thursday, while New Bremen returns to the field the same day to host Parkway.