Thursday, May 8th, 2014
Cavaliers shut out Indians
By Colin Foster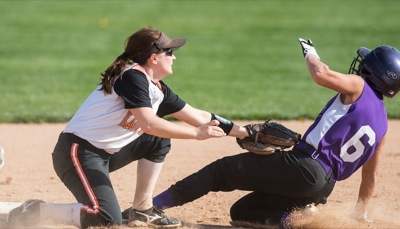 COLDWATER - It was a senior-dominated senior night for the Coldwater softball team Wednesday.
Pitcher Brittany Gillis threw five strong innings and the Cavaliers belted out 14 hits in a 10-0 five-inning decision over Fort Recovery in Midwest Athletic Conference play at Lady Cavalier Diamond.
Coldwater played seniors at all nine positions in field and all nine starters registered hits in the game. Five of the nine finished with multiple hits as the Cavaliers picked up their first victory of the season in MAC play.
"There's not many times when you can say you're going to start every position on a senior night," Coldwater coach Ken Fischer said. "I had talked to the juniors and I asked them, I said 'Hey, I would really like the seniors to finish this game tonight. It's their night. What do you think?' They were all for it. That's the team play they came in with."
Kelsey Koesters and Ali Dues got the Cavs started off right in the first inning. Koesters had an RBI single to score Joelle Hemmelgarn and Dues followed with a two-run homer. Koesters finished the game 2-for-4 with two RBI and Dues ended up 2-for-3 with three RBI.
Jenna Black had a pair of hits, including an RBI double in the third, Erica Jutte and Angie Klosterman each contributed two hits. Klosterman, who started at catcher, also threw two Fort Recovery runners out on steal attempts.
"I was very pleased with our hitting," Fisher said. "It wasn't a lot of bloop stuff. It wasn't a lot of easy stuff. We had some good solid hits tonight."
Gillis allowed five hits and struck out four in the winning effort.
For the Indians, the story was not being able to produce with runners in scoring position as they left seven base runners stranded in the game.
With two runners on and one out in the third, Jackie Fullenkamp made solid contact to centerfield, but Ashley Backs threw out the lead runner at third. Shortly after, Gillis forced a ground out to end the inning.
Chelsea Timmerman was walked, Fullenkamp singled and a passed ball gave Fort Recovery runners in scoring position with one out in the fifth. Two pop ups later, Coldwater was out of the inning.
Koesters' ended the game with an RBI infield single in the home fifth.
"I think Brittany Gillis pitched a very good game tonight," Fisher said. "I don't know how many she walked off the top of my head, but it wasn't many. There was a couple times where she dug herself a little hole, but she was able to dig out of it. I thought one of the big plays was when Ashley (Backs) caught that line drive in center and threw the girl out at third to get the force out. That was a big play. That could have been bases loaded there."
"We've got to make better decisions on our base running and we've got to know our situations, what we need to do on offense and defense," Fort Recovery coach Marie Osterholt said. "If we can start thinking and know exactly what we need to do, that'll help us a lot."
Senior Ashley Homan led the Indians at the plate, going 2-for-3. Fort Recovery (0-17, 0-7 MAC) returns to action at Bradford today.
The Cavaliers (9-11, 1-5 MAC) host Ansonia today.