Saturday, May 10th, 2014
Bulldogs use depth to sweep team titles
Mercer County Knights of Columbus Track Meet
By Bruce Monnin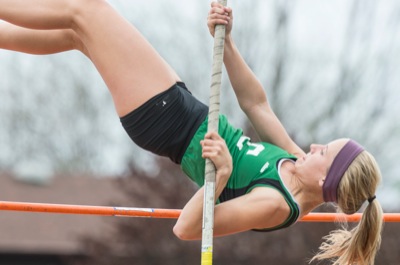 COLDWATER - Both the girls' and boys' portions of the Mercer County Knights of Columbus Invitational track meet featured the top three teams displaying a different set of team strengths.
When the final events were complete, Celina used their most important strength, team depth, to sweep to a pair of victories.
The girls' portion of the meet saw Celina total 186 points, which allowed them to pull away from second place Marion Local, who had 140 points and third place Coldwater, who scored 105. The Bulldogs earned wins in seven events which gave them a head start against the Flyers (6 wins) and the Cavaliers (4 wins). The Celina girls then pulled away thanks to their ability to score with three different athletes in six of the events, a feat that was only matched by Marion Local in Thursday's long jump.
One of Celina's first wins on the evening came from Autumn Brehm in the shot put. On her third throw, she reached a distance of 34-feet-6, only one inch short of her best on the season.
"If I would have taken a little bit off the top it would have really gone," described Brehm. "Maybe I can play add-on next week."
Brehm had set her previous best early in the season, but a shoulder injury forced her to take two to three weeks off. She now feels she is returning to top form just in time for the postseason.
Bekah Carr then put on a show, winning three individual events. She started by out-dueling Marion Local's Olivia Hemmelgarn in the pole vault. While Hemmelgarn's effort of 11-0 was enough to exceed her 2012 meet record of 10-6, Carr went six inches higher to claim the new meet record of 11-6.
Carr went on to sweep the hurdles winning the 100-meter hurdles with a time of 16.28 seconds and then set a new personal record while winning the 300 hurdles with a mark of 46.50.
The last three Celina wins came in the three relay races. They earned comfortable victories in the 4x100 and 4x200 relays, then survived an entertaining back and forth affair in the 4x400 to cap off the evening.
Second place Marion Local earned their third field event victory of the meet when Gina Kramer won the high jump with a mark of 5-4. A hoped-for battle with Celina's Michaela Wenning failed to materialize when injury kept Wenning from completing the event. After ensuring her win, Gina attempted to match the school record of 5-6, and just barely missed clearing the bar on her final attempt.
The Flyers went to sprinter Allie Thobe to keep them on the scoreboard. Thobe came through with the MVP performance of the meet. After winning the long jump on Thursday, she added wins in the 100, 200 and 400 dashes on Friday.
Fortunately for a busy athlete like Thobe, this meet marks the beginning of competitions being spread out over two days, giving Allie more time to recover between her events.
"It gets a little tiring sometimes doing four event in one day," admitted Thobe. "It can help a little getting a bit of rest between the races."
Third-place Coldwater turned to the distance events for their wins. Sarah Kanney was perhaps the co-MVP of the meet, as she combined being a part of Thursday's winning 4x800 meter relay with Friday wins in the 800, 1,600 and 3,200 meters.
Kanney not only performed well enough to win her events handily, she was also able to set a new meet record in the 800 dash. Her time of 2:18.48 was good enough to break a record that had stood for 19 years in the hands of Coldwater's Karla Klosterman.
After the top three, the gap widened to fourth place St. Henry with 69 points. Fort Recovery finished fifth with 11 points and Parkway rounded out the field with 6 points.
The boys' team competition was won by the Bulldogs by a wider margin, even though they only won the same number of events (seven) as second place Coldwater. Again, it was the Bulldogs' ability to score with multiple athletes in many events, including seven events where they claimed three of the six scoring positions, which proved to be the winning difference. Celina would rack up 220 points, plenty to overcome Coldwater's total of 143.
The Celina boys did not win any of the field events, but like the girls managed to sweep the hurdles' races. The winner of both was Stefan Chittum, a senior who is a first-year member of the track team.
"I was done with football, so I decided to try something new. I wanted to go out of my senior year with a bang," explained Chittum. "Now I regret not going out for track earlier. I am improving each week as I am learning."
Stefan had finished second in Thursday's high jump and third in the long jump. He was then able to win the 110 hurdles with a time of 16.33 seconds, before later edging out teammate Cole Stephens while setting a personal record time of 41.49 seconds in the 300 hurdles, the race Chittum prefers.
"The 300 meters suits my height and my endurance," Chittum explained. "Plus having a talented teammate running with me gives me an edge, because I know he is coming right behind me."
The Bulldogs received one other individual victory when Garret Winget edged out St. Henry's Matt Meier in the 400 meter dash. Winget was also very busy on the night, as he was a part of Celina's wins in the 4x100, 4x200 and 4x400 relays.
For the host Cavaliers, Justin Post triumphed in the discus, as his throw of 137-1 was over ten feet farther than all of his competitors. Nick Staugler brought the Cavaliers another victory when he edged Celina's Cole Mertz by half a second in the 800 run.
Coldwater received the largest chunk of points from Seth Dippold, who started the day on the right foot when he won the long jump with a leap of 21-7 1/2. Not only was this Seth's personal record, it also broke the Coldwater school record which had been set by Mike Kunk way back in 1979.
"It just felt good today," said Dippold with a smile on his face, "jumping with a nice breeze at my back."
When the running events started, Dippold earned another victory in the 100 dash, posting a personal record time of 11.54 seconds. Seth would round out the meet by edging Celina's Chad Temple in the 200 dash.
"The 100 meters is probably my best event, that and the long jump," Dippold said. "By the time the 200-meter dash comes around, I tend to get a little tired."
With the preliminaries always occurring on a different day than the finals during postseason meets, Seth has a chance to be fresher in all of his events the rest of the year.
Coldwater's other two event wins came courtesy of Jon Wenning. The junior started the day singing "Greased Lightning" in a school performance of the play "Grease", then ended the evening by setting new personal records while winning both the 1,600 and 3,200 meter runs, with teammate Dan Seas taking second in both races.
"It really helps having Dan there," claimed Wenning. "I am so competitive that if Dan speeds up, I go with him."
Wenning's winning time of 4:30.80 in the 1600 meter run was five seconds faster than his previous best, while his mark of 10:04.23 in the 3200 meter run was a personal improvement of 15 seconds.
St. Henry finished in third place in the team standings with 105 points, but all three of their event wins occurred in Thursday's field events. Marion Local finished fourth with 29 points while Parkway rounded out the team scoring with 24 points.
Celina will return to action Wednesday night at the WBL track meet at Celina. Coldwater, Fort Recovery, Marion Local, Parkway and St. Henry will all compete at the MAC meet at Coldwater on Tuesday.
In the junior high portion of the meet, the St, Henry girls scored 128 1/2 points to triumph over Marion Local (102 points), Coldwater (94 1/2 points) and Celina (73 points). Meanwhile, the Celina boys won by a wider margin, scoring 161 points to outpace St. Henry (99 points), Coldwater (80 points) and Marion Local (73 points).
Scholarship winners - The Mercer County Knights of Columbus councils presents $100 book scholarships to one senior from each county school. Earning the scholarships this year are Jacob Gilstrap (Celina), Seth Dippold (Coldwater), Elle Sutter (Fort Recovery), Monica Hemmelgarn (Marion Local), Shannon Joseph (Parkway), Courtney Kunk (St. Henry).