Tuesday, May 13th, 2014
Cardinals roll past Indians
Division IV Softball Sectional
By Gary R. Rasberry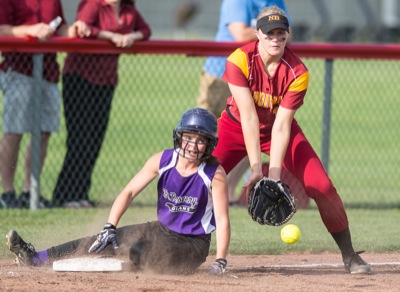 NEW BREMEN - The top of the New Bremen batting order set the tone for the day as the Cardinals advanced in the Division IV sectional softball tournament with a 10-2 win over Fort Recovery on Monday at New Bremen High School.
The win puts the Cardinals (11-13) into a matchup with state-ranked Crestview (14-7) on Thursday in Convoy with a trip to the Wapakoneta district tournament on the line. The Indians drop to 0-18.
The first four batters of the New Bremen lineup - Rachel Parker, Alyse Clune, Julie Brown and Debbie Paul - had eight of the 13 Cardinal hits, scored eight runs and combined for seven RBI.
"We hit the ball pretty well early. We had some opportunities early (but Fort Recovery) made some defensive plays," New Bremen coach Craig Griesdorn said. "We hit a line drive right at the third baseman with the bases loaded and left some runners (on base) early, but the kids kept going at it."
Parker led off the bottom of the first with a single and stole second. Clune brought Parker home with a single and later scored on a Melissa Thieman single.
In the third, Parker led off again with a single and stolen base. After Brown reached on a one-out error, Paul brought both runs home with a single and then scored on a passed ball.
Brown hit a solo home run in the fifth off Ashley Homan, who allowed just four runs in six total innings of work. Fort Recovery coach Marie Osterholt decided to lift Homan for Whitney Will in the sixth, but after Will allowed a single to Parker, back-to-back walks to Clune and Brown and a bases-clearing double to Paul, she brought Homan back in to close things out.
"Ashley did a nice job. (New Bremen) was hitting the ball hard but we were doing a pretty good job on defense," Fort Recovery coach Marie Osterholt said. "I thought I could see if I could change it up, but they hit Whitney hard, too."
"We had a few miscues tonight, but we were throwing to the right bases and making the plays that needed to be made," Griesdorn said. "We got some two-out hits. Those were big for us. If you want to move on, you've got to do those things."
While the Cardinals were in control offensively, Sophie Fox was in control on the mound. The freshman allowed just six hits in the game and did not allow a run until the fifth when Chelsea Timmerman scored on Homan's sacrifice fly to left field. The Indians plated their final run in the top of the seventh when Will scored on a wild pitch. Fox struck out six and walked two.
"She's done a lot of growing up," Griesdorn said of Fox. "Going from junior high to high school right away. She's handled it well. She's getting better and starting to think more as a pitcher more as the year went on."
"We did get some good hits, but we leave kids stranded. We've got to get more hits," Osterholt said. "They didn't give up. They battled to the end. That was nice to see."
Parker was 4-for-4 with three runs scored. Paul was 2-for-5 with five RBI. Melissa Thieman went 2-for-4 with two RBI.
Jackie Fullenkamp went 2-for-3 to lead the Indians.
While New Bremen is off until Thursday's tournament game, Fort Recovery travels to Wapakoneta today.