Wednesday, May 14th, 2014
Indians beat Bulldogs in 11 innings
Division II Sectional Softball
By Gary R. Rasberry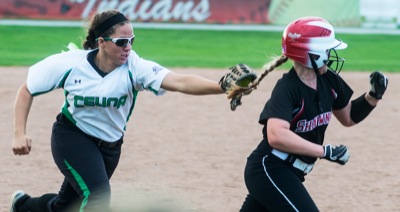 SHAWNEE TOWNSHIP - Kierstan Courtney's RBI single with two outs in the bottom of the 11th inning scored McKayla Wolff as Shawnee outlasted a determined group from Celina for a 7-6 win in the Division II sectional.
The Indians (19-6) make the short trek to Elida on Friday for the sectional final. Celina ends the season at 11-13.
As the game went along, Celina coach Nicole Driggs began to wonder if this was a flashback to the teams' 15-inning marathon four years ago in Shawnee Township.
"This is the second time we've done (extra innings) up here. My senior, Kaity Kuhn, was a freshman," Driggs said. "We have some memories (and) it's kind of a joke (of) 'How long will we go tonight?' Twenty-six innings between two games."
The game started as a pitching duel between Celina's Melody Donovan and Shawnee's Kay Shick. Through seven, Donovan allowed just three hits, but all three came in the second inning as the Indians scored three times to go up 3-0.
Shick kept Celina scoreless through five innings before Donovan doubled in Alexis Zacharias in the sixth.
In the seventh, Shick got the first out but walked Carly Post. Steph Walter grounded to third, but the force-out throw to second was late to put runners on first and second. Kuhn tied it up with a double and then came home on Callie Vogel's double. Shick left the mound as Alyssa Windau came on to get the final two outs.
"The seventh inning was a nice rally for the team," Driggs said. "We were stringing hits together, which we have struggled."
Donovan got the first two outs in the bottom of the inning, but Wolff doubled. Hannah Taylor sent the game into extra innings with an RBI single.
After a scoreless eighth, the Bulldogs looked ready to head home with the win with two runs in the ninth, as Zacharias's RBI double scored Vogel and Barga singled in Zacharias. Shawnee, though, kept the game going with two runs in the bottom of the ninth as Courtney tripled in Wolff and Shick.
Donovan, who has been hampered with a back injury that had limited her outings, kept on rolling with a scoreless 10th and a pitch count reaching near 180 pitches.
"It's interesting. You would think 'Okay, we have another pitcher (Zacharias).' Mel has struggled at times to get seven innings in," Driggs said. "But I know my defense was going to be at its best with (Donovan) on the mound. I saw her fight. She wasn't finished. The thoughts were there to get (Zacharias) ready quickly, but I felt (Donovan) pitched this far, let's see what she can do to finish this out."
"Both pitchers did well throughout the course of the game," Shawnee co-coach John Young said. "Through seven innings, that's a 4-3, 4-4 game. They (Donovan and Shick) pitched well. It was an advantage for us to go to another pitcher and give them a different look considering we faced them last week. ... It came down to Kay pitched a whole game, and then Alyssa pitched a whole game and Donovan had to pitch two (games)."
Windau kept Celina off the board in the top of the 11th as Donovan returned to face the top of the Shawnee order. Wolff led off with a walk, but Donovan quickly retired the next two batters to get to Courtney, who kept her at-bat alive by fouling off several pitches, the last one down the first-base line that was barely foul. The next pitch, however, stayed in fair territory as Wolff rounded third and tapped home plate to end the game.
"We've been battling all year to take it the other way (go opposite field)," said Shawnee co-coach Eric Truxal. "We've been working hard on it. It gives me satisfaction to see (Courtney) come through like that."
Driggs was proud of the team's effort.
"I asked them to lay their hearts on the field today, and they did that," Driggs said.
Seniors Kuhn and Barga were joined by Zacharias, Vogel and Donovan in collecting two hits each in the game.
Courtney was the lone Shawnee player to have a multi-hit game, going 2-for-4 with three RBI.