Monday, May 19th, 2014
Adams pitches Panthers to tournament win
Division III Sectional Baseball
By Gary R. Rasberry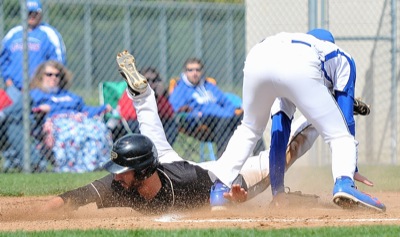 BENTON RIDGE - Austin Adams threw 6 2/3 innings of solid baseball as Parkway heads to the district tournament for the first time in three years with a 4-2 win over Liberty-Benton in the Division III sectional final.
The Panthers (14-13) advance to the Ohio Northern University district semifinals on Thursday at 4:15 against MAC rival Coldwater. The 2 p.m. semifinal has St. Henry taking on Ottawa-Glandorf. Thursday's winners return Saturday to Wander Field at 2 p.m. for a berth in the regional tournament.
"I couldn't be more proud of these boys," said Parkway coach Luke Clouse. "I've been saying all year that I'll take these kids against anybody. They're starting to play."
Parkway gave Adams an immediate lead by scoring twice in the top of the first inning. With two outs Jensen Riley at third and Wyatt Felver at first, Austin Dennison grounded to third, but the throw was wild, allowing Riley to score and Felver to reach third. With Ryan On at the plate, Eagles pitcher Alex Harter uncorked a wild pitch, allowing Felver to score.
"That's what's been happening to us," Clouse said, referring to errors leading to runs. "Today, we actually got to do it to somebody."
Harter pitched well despite the two unearned runs in the first. Through four innings, Harter struck out eight batters and finished with 10 strikeouts in six innings of work.
"He has a slider with some movement that made us look stupid at times," Clouse said of Harter. "He's a very good pitcher."
Adams worked through the first five innings without the Eagles (19-5) making any serious threats to score. Adams and the Panther defense allowed just one Eagle to reach second base through the first five innings.
"Solid performance again," Clouse said of Adams. "We're a good team when he's on the mound. He pitched a whale of a game."
Parkway added two big insurance runs in the top of the fifth. After Riley reached on a one-out single, Adams helped his own cause with a triple to the center field fence to make it 3-0. Felver brought home Adams with a single to make it 4-0.
"I've been struggling lately (at the plate), but that hit brought us around and cushioned the lead," Adams said
The runs became vital in the bottom of the sixth and seven innings. In the sixth, Liberty-Benton loaded the bases with two outs for Wyatt Young. Adams needed just three pitches to strike out Young to end the threat.
Clouse decided to let Adams go out to start the seventh even though Felver had been warming up. Adams was able to get two outs with just one runner on base, but walked Parker Lease and gave up an RBI single to Jared Neiling to break the shutout. Caleb Russell followed with an RBI single to score Lease.
Clouse came out and called on Felver, who needed just one pitch to get Harter to ground to third to end the game.
"I was nervous," Clouse said. "I have a lot of confidence in the guys. They did it."
"The end was a little frustrating, but it's a win," Adams said. "That's what matters. It's the sectional final. You can't ask for much more."
Riley and Felver each had two hits for the Panthers. Neiling was 3-for-3.