Tuesday, May 20th, 2014
Redskins hand Flyers 5-3 loss
By Colin Foster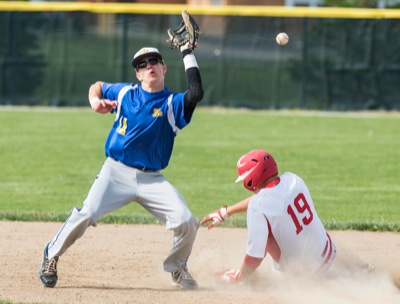 MARIA STEIN - The St. Henry offense went to work early and a quintet of Redskins pitchers held the Marion Local bats in check en route to a 5-2 mid-tournament tuneup victory Monday night at the Flyer Athletic Complex.
It was the final regular season game allowed for the Redskins and Flyers, as both are gearing for district semifinal appearances later in the week.
"It was important that we got out here," St. Henry coach John Dorner said. "We got five different guys out here to throw, which is what we wanted to do. We wanted to get some game situation at-bats."
"We came out and competed, never saw any let up. We definitely saw that today," Flyers head coach Dustin Woods said. "You schedule St. Henry because you know you're going to see good pitching, and that's what tournament is all about."
St. Henry's Jeff Paul slapped a two-run home run over the left field fence in the top of the first, scoring Andrew Lundvall, who doubled with two outs.
Redskin' pitcher Jason Jacobs threw the first three innings, allowing three hits and striking out in a winning effort. He was one of five St. Henry pitchers to appear in the game.
Paul took over on the hill in the fourth and allowed the two runs after dealing with control issues early. Austin Albers' bases-loaded fielder's choice up the middle scored one run for the Flyers and Cole Griesdorn's fielder's choice plated another to cut the deficit to 5-2. Paul got out of the pickle by striking out Ryan Thobe to end the inning.
Paul threw a 1-2-3 fifth and finished with two strikeouts. D.J. Kunkler (2/3 inning), Ryan Mikesell (1/3) and Brian Kremer (one inning) finished off the game. Kremer recorded save number six on the season and the ninth for his career to establish a new career saves mark at St. Henry.
The Redskins overcame four errors on the day, including three in the final four innings. Marion Local assisted in that department by leaving eight runners on base.
"The problem is the defense down the stretch," Dorner said. "That's what has kind of cost us in tournament the last couple years. We just want to get on a roll defensively. Occasionally, we have a letdown in the fourth or fifth inning. That will be our focus. That'll kind of be up to the coaches I think to make sure we keep that concentration."
Leading the charge at the plate for St. Henry were Lundvall, who went 2-for-2 and scored two runs, and Mikesell, who ended up 2-for-4 with a double.
St. Henry will play Ottawa-Glandorf Thursday at 2 p.m. at Ohio Northern University.
Blake Benton had a double for the Flyers in the first inning, and Duane Leugers finished 1-for-1 with a pair of walks and scored a run on a passed ball in the sixth. Blake Benton suffered the loss on the hill, giving up five runs on seven hits in three innings of work. Austin Albers pitched the final four innings, allowing two hits, no runs and striking out four.
Marion Local plays Crestview Wednesday at 7 p.m. at Coldwater's Veterans Field.
"Crestview traditionally has a very good program," Woods said. "I know they're very good this year. We're just going to have to go out there and take it one pitch at a time, like we talked the whole year. We're going to go out there and see where it ends."