Wednesday, May 21st, 2014
Koesters sets milestone for Cavs
Coldwater senior first to earn 12 varsity letters
By Gary R. Rasberry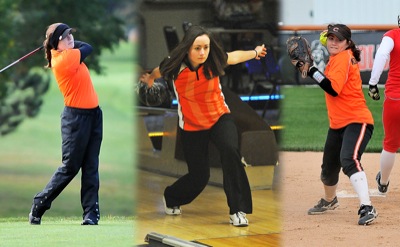 To earn four varsity letters in one sport is a tremendous accomplishment.
To do it in two sports is extraordinary.
At Coldwater, no athlete has ever accomplished the feat in three sports.
Kelsey Koesters became the first Cavalier athlete to earn the honor after picking up her fourth monogram award in softball this spring. Koesters also earned the four letters each in golf and bowling.
"I really didn't know until (athletic director Eric Goodwin) brought it up," said Koesters. "I always spent a lot of time practicing in the offseason or when I had free time. I enjoyed practicing and I enjoyed the sports I played. I practiced and got lucky to participate in varsity for four years in all three sports. It's a great experience."
Of the three sports, golf has been the one in which Koesters has really excelled. A two-time MAC Golfer of the Year, Koesters has finished in the top 10 at the Division II state golf tournament in her junior and senior seasons, earning All-Ohio honors. Koesters will attend the University of Findlay in the fall and play for the Oilers' golf team.
"I really enjoy golf," Koesters said. "I like playing the different courses, seeing different things and meeting new people. Really, I enjoyed (all the sports)."
"She always took the extra time on the range," said Bret Ayers, who coached the Coldwater girls golf team during Koesters' senior season. "She was never happy with how she played. She always wanted to improve. After matches, and even after practices, she always put in that extra effort to help herself get better."
Bowling has brought Koesters additional success as a member of two state championship and one runner-up teams in her final three seasons. Koesters was the individual state runner-up as a junior and was honorable mention All-Ohio this past season.
"Bowling, for sure, was more of a team sport," Koesters said. "It was a great time. We had a lot of fun. We made some great bonds. After our first year, we knew what we could accomplish. We pushed each other in the offseason to get to where we were. We had a lot of fun with it."
"She brought a lot of leadership," Cavaliers bowling coach Rick Hartings said. "She was one of our most dedicated athletes over four years. The biggest thing was her work ethic. She didn't mind practicing a lot to get better."
A three-year starter at shortstop, Koesters was a key offensive threat for the Cavaliers. This past season, Koesters batted .338 with six doubles, 27 runs scored and 10 RBI. Koesters earned All-MAC honors all four years, including first team honors in 2013 and second team honors in 2012 and 2014.
"I managed a couple of years in junior high and was able to see what the varsity was able to do," Koesters said.
"Kelsey is one of those players I like to say is quietly intense," Cavaliers softball coach Ken Fisher said. "She works hard and wants her teammates to work as hard as she does. She sets a good example, maybe by not saying a lot, but by her actions that she does in practice and games. She's set a great tone. She's a special girl. She's done wonders. Twelve letters, that's not an easy thing to accomplish."
Koesters appreciates everything her coaches have done to help her.
"The coaches are great. They're always fun. They try to make practice fun and make things go fast," Koesters said. "They always want you to have a good time and learn things along the way. All three are great. You can go see them on the weekends and they're very easy to talk to."