Friday, May 30th, 2014
Big third inning sparks Wildcats
Division IV Regional Softball Semifinals
By Colin Foster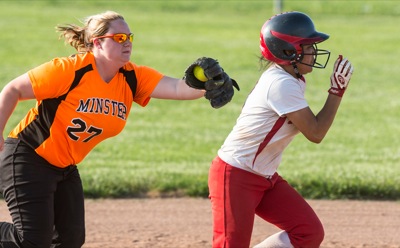 TIPP CITY - Days prior to his team's Division IV regional semifinal showdown with Felicity-Franklin, Minster softball coach Scott Robinson said the two teams were similar in makeup, but he thought his team had a little more pop in its batting order from top to bottom.
The Wildcats backed up his words Thursday.
Minster found itself in a 2-0 hole early, before busting the game open with a five-hit, seven-run effort in the third and then added some insurance runs in the following innings en route to an 11-6 victory at the Good Samaritan North/Upper Valley Medical Center Athletic Complex in Tipp City.
"In the (third) inning, we might have had six doubles," Robinson said. "So yeah, we have some pretty good pop in our lineup. The thing we did tonight, though, is we got a lead and we kind of sat back. We have to stop doing that at this level. There are too many good teams out there.
"You get teams like this who never give up ... They fought. They made it interesting. Hopefully, we learn from that."
The Wildcats advance to the Division IV regional final for the second time in three seasons. Minster will face South Charleston Southeastern (23-5) at noon Saturday in Tipp City. The Trojans run-ruled Delaware Christian 17-0 on Wednesday.
The two teams squared off in the 2012 regional semifinal and Minster came out on top with a 7-3 victory.
"They've got a lot of the same girls back (from the 2012 regional team)," Robinson said. "I know they can hit. I know they are pretty fired up, too, just like this team. We're going to have to come here with our A-game."
After stranding three base runners in the first two innings, Minster got hot in the third and didn't let up. First, Kayla Richard was hit by a pitch and then Rachel Heckaman followed with a bunt single. They moved to second and third on a coverage error by the Cardinal defense. Marissa Conrad's grounder to third was booted and Richard slid in safety at home to make it 2-1. Moments later, Michaela Goettemoeller ripped a two-run double to the gap to put Minster on top for good.
Later in the inning, Regan Hahn added an RBI double, Sara Hosey had a run-scoring single and Nicole Brandewie smacked an RBI two-bagger.
Hahn's second hit of the day plated another run in the fourth and Conrad drilled a two-run double to put the Wildcats in front 10-2 in the fifth.
Kathy Prenger, who led off the seventh inning with a double, was brought home on Heckaman's double for Minster's final run.
Rachel McConnell put the Cardinals in front in the first inning with a two-run double, but Felicity-Franklin was held in check by Minster ace Richard for the remainder of the game. Richard had consecutive 1-2-3 innings in the second and third.
Felicity-Franklin, though, loaded the bases on two hits and a hit batsman with no outs in the fourth but had nothing to show for it by the end. Lauren Mitchell appeared to bring home McConnell with a sacrifice fly, but Robinson appealed, saying the runner left early. The umpires huddled and ruled McConnell left the base early and was out. Richard struck out the final batter to end the inning.
The Cardinals scored one run in the sixth on Mitchell's RBI single and tacked on two unearned runs in the seventh, courtesy of three Minster errors. Prior to that, the Wildcats had a zero in the error column.
Richard finished with six strikeouts and no walks in her 21st complete game of the season.
"The funny thing tonight is Kayla had an injury from our last game against Crestview," Robinson said. "She jammed her finger in the cleat of the third baseman. Last night, she could barely pitch. So we just worked on a different grip at practice last night and it kind of helped. She threw pretty good today. I was a little worried about that to be honest. She came in and she fought through it and she pitched a good game. They've got some big hitters."
So does Minster, perhaps none bigger than Heckaman, who went 4-for-5 with two bunt singles, a double, two runs and an RBI to lead the Wildcats.
"She had a good game today," Robinson said. "She laid down some nice bunts and beat them out, too."
The Cardinal were led by McConnell, who finished 3-for-4 with two RBI, while Brittany Drake and Makalya Jacobs each went 2-for-4 with two runs.
The Wildcats have a chance to earn their first state berth in softball on Saturday.
"We're very excited," Robinson said. "I hope they're hungry enough to come in and play as hard as they can Saturday. We can't underestimate anybody from here on out."