Saturday, May 31st, 2014
'Good business' gets new meaning
Firms work charity into daily operations
By Doug Drexler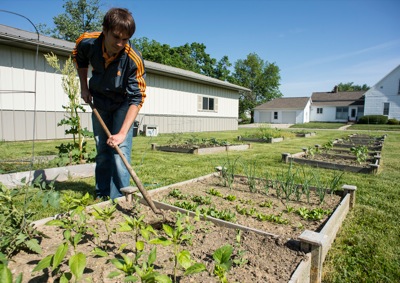 Some local entrepreneurs believe "good business" is an opportunity to improve the communities around them.
Many companies now integrate a social consciousness into their operations, according to Dr. Thomas O'Brien, founder and editor of the Journal of Religion and Business Ethics. Large corporations traditionally gave donations to groups such as the opera while their employees were totally unaware of the effort, he said.
"Now there are many businesses that are looking beyond that," he said.
Smaller companies operated by individual owners instead of shareholders are more likely to build social work into their structures.
"It's part of the business model," O'Brien said. "It's not some outreach or an appendage."
Several local retailers - all women - cited religious beliefs for their charitable contributions.
The owners of Merchant31, a women's clothing shop that began in Tipp City and has a satellite branch in Minster, use the business as a way to help women.
"Being a faith-based person, I believe it is essential to find avenues to pay it forward. We carry as many lines as possible - for example our Goodworks jewelry line - that donate a percentage of their profits to charities," co-owner Kyle White said. "It was logical to me, that in one bracelet purchase, a consumer can financially provide support to not one, but two different charities."
Goodworks donates to the L.A. school district's underprivileged students, and Merchant31 gives to Love146, a charity that fights child sex trafficking.
"Also being invested in small communities is important in that thought process. With two locations ... being invested in the local community allows the opportunity to know what local needs are," White said.
The owners also are supporting a local girl's efforts to get a service dog. On June 7, Merchant31 will donate 10 percent of the day's sales to 4 Paws For Ability to help buy a service dog for Emmalynn Turner, who has been diagnosed with Classic Ehlers-Danlos Syndrome, epilepsy and hypotonic cerebral palsy.
When 2 Sisters Sweet Shoppe opened in Celina, co-owner Rosann Rable saw it as an opportunity to educate people about fair trade principles. Winan's Fine Chocolates and Coffees supplies the store with varieties of fair trade coffee, which means the company offers fair market prices to suppliers in Third World nations and ensures they operate in an environmentally friendly way, Rable said.
"I can't tell you how blessed I feel to have the option of opening my own business," she said. "I feel that our business does many things. We try to educate the public about fair trade and sustainability. Many people aren't aware of what that is.
The company also donates to the Cystic Fibrosis Foundation.
"We greet each person that comes through our door with a hearty 'hello' and hope that maybe we can make that person's day a little brighter. Imagine if everyone made it their mission to do just that," Rable said.
Tax deductions likely aren't a priority over an owner's genuine desire to help, Rick Mosier of Mosier & Byers CPAs in Celina noted. Businesses can recoup a maximum of 39 percent of donations as tax breaks, he said.
"The tax break of it would be secondary, I think, to their desire to do it," Mosier said. "I don't think someone would donate $1,000 just to get the tax break."
However, donations may generate good public relations, he said.
"You can't really put a dollar amount on it," he said. "There's a lot of intangibles in the community seeing (business owners) sharing the profits in the community. The tax is probably the tail of the dog."
Many charitable business owners have a personal reason for their involvement, Mosier said.
Kimberly Oen, whose Just Breathe Health and Wellness studio opens Monday in Minster, said she gives 10 percent of her profits to the Cystic Fibrosis Foundation because her 17-year-old son, Cody, has the disease. He also helped spur her career interest, she added.
"He's an important reason I got into fitness and yoga," she said.
She hopes her efforts rub off on her customers and neighbors.
"Maybe it will motivate others to give to causes," Oen added.
Stephanie Harris of New Avenue Salon, Celina, sees a blessing in her opportunities and a responsibility to her community.
"I feel it has been a gift from God. I have been blessed in so many ways in my life," she said. "With that being said, I feel like He has laid it on my heart to pass on the blessings. Any time or any way I can make a difference in someone's life, I want to. It truly does my heart good and my hope is that they will pay it forward. The best way to bless someone is silently. I do not do it for show, I do it because this is what I am being called to do."
O'Brien traces the charitable notion to social consciousness - which he calls moral imagination - back to the early 1990s when Graneen Bank started offering micro-loans in Bangladesh. The successful program gave low- or no-interest loans on generous terms to poor people so they could start their own businesses and lift themselves out of poverty.
The bank earned some money and goodwill along the way, he said.
O'Brien, a DePaul University professor, is the author of "Good Business," a book on ethics that includes positive stories about philanthropic companies. One of his examples is local yogurt manufacturer Dannon's outreach to make cheap, nutritious products in Third World nations.
"In the fabric of our company worldwide is a dual mission," said Michael Neuworth, the company's senior director of public relations. "We're a food company dedicated to health.
"It's hard to tell if (the program is) a business or a benefit, because it's both," he said. "Neither takes a front seat or a backseat."
The business takes pride in supporting the local area, Neuworth said.
"Our role in the community doesn't end at the factory gate," he said. "That's a philosophy that's still very alive at Dannon."
Celina Insurance Group Chairman Bill Montgomery said his company sees a benefit from building a strong, caring community. The company encourages workers to be involved, which creates a positive attitude around the business and draws good, caring employees.
"There's a method to our madness," he said. "We believe in sharing our success. We want to make our little corner of the world as much of a shining little star as we can."
Montgomery cited the gospel of Luke: "To whom much is given, much is required."
A few of the company's donations include Montgomery Field, the recently built patio along Grand Lake, scholarship funds, and a community garden that grows charity as well as crops, he said.
The community garden started three years ago as part of the company's wellness program, communications manager Sara Harlamert said.
"The intention was to promote eating fresh, local, in-season foods. Along with the health benefits are those of building camaraderie and strengthening community ties," she said. "Each year, the company has added more raised beds due to the growing interest in gardening."
The company provides the raised beds and soil, a shed with gardening tools and a hose. Gardeners provide their own seeds or plants and can grow whatever they choose, Harlamert said.
"Some gardeners grow food for their own use, and others grow to donate to CALL food pantry," she said.