Tuesday, June 10th, 2014
2014 Daily Standard All-Area Softball Dream Team
Richard, Robinson sweep top honors
By Colin Foster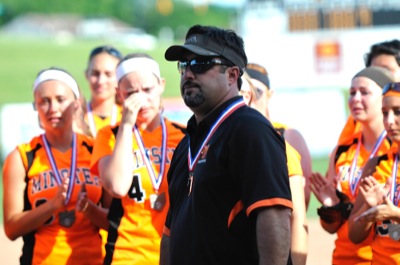 If you looked at the state softball rankings, the Midwest Athletic Conference standings or at the area leaderboard, you would find Minster Wildcats everywhere.
So it's no surprise that Minster senior pitcher/ leadoff hitter Kayla Richard and coach Scott Robinson have been selected as The Daily Standard Dream Team Softball Player of the Year and Coach of the Year.
"It's awesome," Richard said. "I can't think of anything better. It's such an honor to win that, especially with all the great players around here."
"It feels good," Robinson said. "It kind of puts a stamp on what you're doing a little bit. To get down to it, we brought in something that I believed in and the kids bought into it. They have to or else you can't be successful. A lot of that I owe to them and to my two assistants. Without them, it wouldn't have happened."
Last year, Richard was selected to The Daily Standard's Dream Team First Team as a pitcher, after she finished with a record of 20-8 to go along with 141 strikeouts in 176 2/3 innings. Additionally, she hit .505 with seven triples, 25 RBI and 39 runs scored.
Her numbers have been even more remarkable this season.
Richard ranks in the top five in eight categories on The Daily Standard's area leaderboard. During the regular season, she led the area in all pitching columns - including WHIP (.77), ERA (.91), strikeouts (153) and wins (21). Richard allowed one earned run through league play and one earned in two state-tournament mound appearances, a run that ended with Minster finishing as state runner-up. Offensively, Richard was tops in the area in triples with six and runs with 43. She also had a batting average of .460 and had 22 stolen bases.
"(It took) a lot of work," said Richard when asked about her duel-threat ability on the field. "A lot of it has been my dad pushing me to keep working on pitching, fielding and hitting all the time. He's the one that whenever I didn't feel like going out because I was tired or had homework to do, he reminded me that I needed to go out and work on it, because it would pay off in the end."
It certainly has for Richard.
She has been the ace for the team since her freshman year. During that time, Richard appeared in a state final, two regional finals and one district game and was a part of the first ever MAC title team in school history this season.
"(Winning the MAC) was so awesome, especially it being my senior year," Richard said. "I couldn't ask for anything better. These girls played their hearts out and I love them for that. It's such an honor to win it my last year."
Richard, who was also named MAC Player of the Year, will continue her education and softball career at Ohio Wesleyan.
Like great players, great coaches are always seeking ways to get better.
Robinson is a prime example of that.
He has been coaching softball for 16 years, spending the majority of his time as a travel coach before arriving at Minster.
"I got most of my experience with travel ball," Robinson explained. "I do know a lot of college coaches. I talk a lot to them. I go to a lot of seminars. I talk to the big coaches, too. Not just the local ones ... Tennessee, places like that. (I try) to find out what they are doing. What they're doing is what I'm going to do, because they're successful at it.
"I'm never going to stay inside a box. If I do, then it's time to give it up. If you can't change with the way kids are changing and with the times, it's just hard to be successful for a long time."
And Minster, a school known for its dominant running sports, has been successful since Robinson arrived on the scene four years ago.
During his tenure at the school, Robinson has compiled a record of 81-38 and has helped guide the Wildcats to their first state title game, their first regional title and first league title.
"Winning the MAC was our first big goal when I took over. We finally got it this year," he said. "The last three years we've been right there. Before I got here, (Minster) never had above a .500 record in the MAC. They never won the MAC. I think their best record might have been .500 in the program anyway.
"Considering it's tough to get kids from track, because the track program is so good, it is gratifying."
Aside from being named The Daily Standard Coach of the Year, Robinson also took home MAC Coach of the Year honors, which goes to the coach of the conference champion. The Wildcats finished the season with a record of 27-4 and were unblemished in MAC play.

The Dream Team

CATCHER
Regan Hahn, Minster
.427 average, 10 doubles, 29 RBI

FIRST BASE
Kayle Heckler, Parkway
.406 average, 4 doubles, 16 RBI

SECOND BASE
Mindy Puthoff, Marion Local
.473 average, 7 doubles, 28 runs

SHORTSTOP
Alexis Zacharias, Celina
.419 average, 6 home runs, 28 RBI

THIRD BASE
Marissa Conrad, Minster
.566 average, 39 runs, 41 RBI

OUTFIELD
Alyx Slusher, Parkway
.544 average, 10 doubles, 29 RBI

Rachel King, Parkway
.415 average, 8 doubles, 20 RBI

Michaela Goettemoeller, Minster
.364, 5 home runs, 26 RBI

DESIGNATED PLAYER
Julie Brown, New Bremen
.500 average, 3 triples, 32 RBI

UTILITY
Kaity Kuhn, Celina
.389 avearge, 8 doubles, 26 RBI

PITCHERS
Kayla Richard, Minster
21-3, 0.91 ERA, 153 strikeouts

Sierra Fent, Parkway
12-4, 2.00 ERA, 109 strikeouts

SPECIAL MENTION
Callie Vogel (Celina), Zoey Pond (Parkway), Jackie Fullenkamp (Fort Recovery), Ali Dues (Coldwater), Nicole Brandewie (Minster), Alexis Robinson (Minster), Taylor Siegrist (St. Henry), Kelsey Koesters (Coldwater), Ally Mikesell (St. Henry), Sarah Fesenmeyer (Marion Local), Sara Hosey (Minster), Sidney Rindler (St. Henry), Joelle Hemmelgarn (Coldwater), Megan Wendel (Marion Local).