Friday, June 13th, 2014
Daily Standard reporter retires after nearly 47 years at newspaper
By Nancy Allen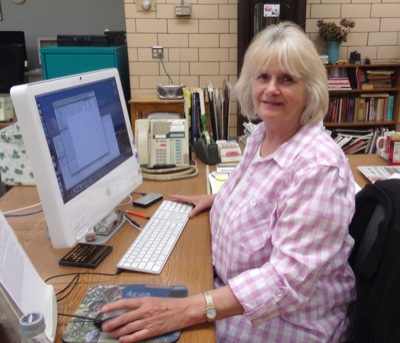 Longtime Daily Standard reporter Betty Lawrence retired today after almost 47 years at the newspaper.
She's witnessed a lot of changes in the business, she said. The full-time employee recalls an era when publishing the paper was a laborious job; hot lead was used to make plates for the press and air conditioning was nonexistent.
"In the summer we had big fans, and it was noisy with all the typewriters going and smoky," Lawrence said, noting most of the reporters at the time smoked at their desks. "You'd walk in, and you'd know you were in a newsroom with everybody pounding out their stories."
Lawrence worked as a proofreader the first few years and then operated a Fairchild, a hulking machine with a hot needle that engraved photos on celluloid-covered cylinders. Next, she operated a perforating machine that spit out long pieces of ticker tape with holes. Linotype machines read the holes - which represented letters and numbers - that would become printed state, national and world stories from the United Press International wire service.
About 24 years ago, she became the editor of the Town & County section, then called the society page. About 15 years ago, under former editor Steve Hallock, she began writing byline stories - articles published with her name atop.
Lawrence said the 1998 abduction and slaying of North Star resident Lynn Topp was the most troubling local event about which she has written. She earned a first place Ohio Associated Press award for the breaking news story.
"That is probably the story that sticks out the most ... Lynn Topp," she said.
Her two most exciting stories gave her the opportunity to drive the Fuji film blimp over Dayton and soar above Grand Lake in a powered parachute.
Winning back-to-back first place AP awards for stories about Topp and the Cancer Association of Mercer County branching off from the American Cancer Society was her greatest career achievement, she said. She won three other AP awards for stories she wrote about a local anthrax scare that turned out to be a hoax, a former doctor accused of Medicare fraud and a nature column.
Lawrence said the turbulent 1960s produced some of the most heartbreaking national news of her career.
"The late 1960s and early 1970s were a big time for newspapers, a tumultuous time," she said, recalling the civil rights movement, Vietnam War and the assassinations of Martin Luther King Jr. and Robert Kennedy.
The Space Shuttle Challenger exploding in 1986 and the Sept. 11, 2001, terrorist attacks also were unforgettable.
"I remember my son called me at work to say a plane had crashed into the World Trade Center," Lawrence said. "I can still see everybody gathered around the (breakroom) TV."
Some of the people she has written about and the activity in the newsroom have generated a lot of memories, she said.
"A guy stood at my desk one time and just started yodeling," she quipped. "He had brought me news articles."
Lawrence said you just never knew who or what would show up in the newsroom. Employees brought in infants to show off, stray puppies and one time an orphaned baby goat that was kept under a fellow worker's desk for a short time.
"Where else can you work and people bring in babies, puppies and goats?" she said.
Lawrence said the newsroom was never dull.
"It was a daily challenge, never boring and you learned a lot," she said. "That's what kept the excitement there."
She will cherish the family-oriented atmosphere at The Daily Standard, a philosophy former publisher Parker Snyder nurtured and his son, current publisher Frank Snyder, continues to embody.
"Frank drove to Mendon to pick me up for work in the snow when I couldn't get in one time," she said. "A co-worker used to babysit for my daughter when she was little. Whenever you needed something and you had tough times, they helped."
Frank Snyder has good memories of Lawrence, who he said was never afraid to tackle new roles at the newspaper. The publisher said he remembers times when the celluloid on the Fair-child machine Lawrence operated would catch fire.
"We had to use a CO2 fire extinguisher to put it out. It put out the fire and also cooled it off," Snyder said. "So there was some excitement at times."
Of the five editors during her tenure, Joe Lersky - who hired her and left the company in the early 1990s - stands out the most in her mind.
"He was one of the most brilliant men I ever met," she said of the New York City native.
Current editor Sue Gerker said Lawrence's contribution to The Daily Standard is immeasurable.
"She has taken on varied roles and performed all of them well. For more than 20 years she has been in charge of the Town & County section and has become the face of the newspaper for many people in the area," Gerker said. "The newsroom couldn't have a better representative."
Lawrence's dedication to her job is something to be emulated, Gerker added.
"We will miss her humor, sweet disposition and wisdom. We wish her all the best in her adventures in retirement," she said.
Lawrence said she plans to spend time with family, work in her flower beds, fish, ride a new scooter she purchased recently and volunteer.
"Things will be different when I retire; I will not be there when the news is breaking." she said. "I won't be a part of it. I will be on the outside looking in."
The loud noises of the newsroom have been replaced with quiet computers, and smoking is no longer allowed. But one thing will never change - the fond memories of her fellow employees, Lawrence said.
"When you've been with co-workers so many years, you become very close to them and they become like your extended family," she said. "I'll miss them the most."
Taking over as editor of the Town & County page will be staff writer Amy Kronenberger.

Farewell party
What: Open house to celebrate Betty Lawrence's retirement
When: 1-4 p.m. June 29
Where: Mercer County Fairgrounds Community Building, Celina