Saturday, June 14th, 2014
Mercer County housing starts increase
Decreased economic fears prompt people to spend on new homes
By Doug Drexler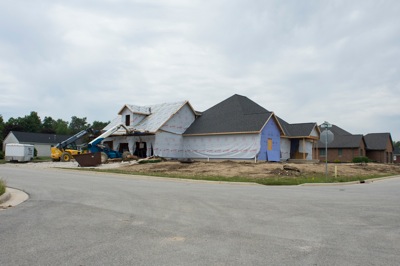 Mercer County residents seem to be shaking off economic fears and building homes.
The recent recession is blamed for a drop in new housing starts from 83 in 2009 to 52 in 2010. However, the number returned to a pre-recession level of 90 in 2013, and local officials expect it to continue to climb this year.
Mercer County Community Development Director Jared Ebbing said local people who put off buying homes during the recession now feel more confident they can find and keep good jobs. The county's unemployment rate has consistently been the lowest in Ohio for nearly two and a half years.
Younger people in particular appear confident in the local job market and are more willing to buy homes in the county, Ebbing said. However, the high demand for existing housing is making it somewhat difficult for businesses attempting to recruit employees from out of the area, he was told.
The good news is the demand is accelerating new home construction.
"There's high demand," Ebbing said. "I guess that's a good problem to have."
If the trend continues, at least 114 new homes will be started this year, Ebbing said.
And an increase in sales of household items such as furniture tends to follow home purchases, he said.
"The ripple effect of just a few jobs can be huge," he added.
Celina-Mercer County Chamber of Commerce Executive Director Pam Buschur agreed, adding business owners say they are really busy.
"They're buying carpeting. They're buying cabinets," she said. "If they're new people coming to town, they're helping with shopping and the local eateries."
"The demand is across the board, and you need the new starts to meet the demand," real estate agent Deb Borns said.
The rebound started last year and 2014 seems to be more of a normal year, she said.
"If a house is priced right, they're selling pretty quickly," Borns said, pointing out sales often occur after being on the market for 30 to 60 days if the home is not overpriced.
The county has a shortage of three-bedroom ranch-style homes with a basement in the $200,000 range, she said.
"Those are the move-ups," she said. "We need more housing."
She also noted a downsizing trend.
"Baby Boomers are looking to scale down," she said.
As people feel more financially secure they no longer want to rent a dwelling. They want to buy a place of their own or find a bigger home, Borns said.
"The local and the overall economy is doing better and that does affect the building industry," said Rod Hirschfeld, president of the Mercer County Builders Association, which represents nine local residential builders. "People have more confidence in their job security."
He agreed that new homes spread the wealth around the county.
"It helps all trades, lending institutions and retailers," he said.
Terry Selhorst of Selhorst Concrete said his company has already this year poured foundations for 40 homes - a 40 percent increase over last year, which was a good year.
"We're doing basically basements this season and we're busy," he said. "Every contractor I know is swamped."
Selhorst said he has seen plenty of growth in Coldwater and throughout the county. The strength of the county's industrial and agricultural sectors has fueled the rebound.
"Everybody's hiring people," he said. "Everybody's making money around here."
Celina, which calculates its housing starts differently than the county, had two in 2010, four in 2011, six in 2012, 11 in 2013 and four so far this year, Mayor Jeff Hazel said. He believes relatively low mortgage rates are one factor in the increase.
"That is reflective of not only interest rates, but the lowest unemployment rate in Ohio," he said.
The village of Coldwater also is experiencing growth in the new housing market.
"We have seven new starts this year already," village administrator/engineer Eric Thomas said. "I believe we will have at least a dozen by year's end. As always there are probably several factors: confidence in the economy, available lots and people (who) had delayed building the past several years. Also, I believe more people are able to work from their homes and can choose to live in a more rural area and commute a few days a month."
Tom Homan of Homan Real Estate, Coldwater, said he has seen a lot more sales of lots this year than in previous years.
The agency earlier this year sold the five remaining lots of a 13-lot subdivision in the northwest corner of town. Those sales all occurred suddenly, he said.
Homan attributed the sales to an increased demand for move-up homes, those larger than 2,000 square feet.
Coldwater, Homan said, is situated well for future subdivision development. There are a number of subdivisions that have the potential to be expanded.
St. Henry officials said all the lots within the village limits already are sold. A new addition - part of the Walnut Grove original addition - is underway west of state Route 118. More than half of the 13 or 14 sites to be created were sold in one month.
-- Daily Standard staff writer William Kincaid contributed to this story.