Tuesday, June 24th, 2014
Fair entrants look forward to competition
By Shelley Grieshop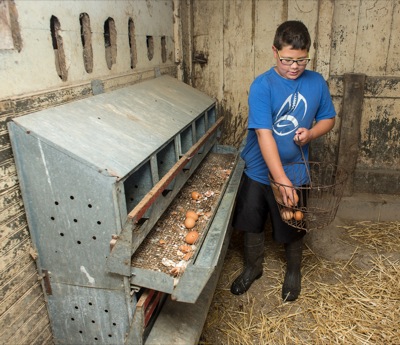 CELINA - Lucy Rose hopes to squash the competition at this year's fair with her famous jelly and canned foods.
For more than two decades she's entered her homegrown and homemade goodies - pies, cakes, candies and freshly canned items - at the Mercer County Fair. This year won't be any different, she said.
"It makes it more interesting to go to the fair when you enter," said the rural Celina woman who hesitantly admitted being in her 70s. "It's good for the community."
Fair manager Cara Muhlenkamp is worried that Rose and others like her are a vanishing breed. The number of entries submitted by residents for baking, gardening, photography, crafts and other talents fell about 5 percent last year, she said.
"I personally think that families have gotten busier and the trades of years ago have not been taught to the kids," she said. "We now have so many electronic things to keep the kids busy or they are involved in every sport imaginable."
Rose said her first submission in 1991 was a pecan pie, which earned her the "Best of Pies" award and a $50 savings bond. She sheepishly acknowledges she's had a successful run ever since.
"I can't complain," she said.
The number of items she submits each year often hinges on the success of her garden. A summer without much rainfall doesn't produce good-looking or best-tasting vegetables or fruit, she said.
Auglaize County Fair Secretary Fred Piehl said entries continue to climb and have prompted an expansion this year in the fine arts building.
"We've seen a major increase," he said. "We've been pleasantly surprised."
Piehl credits the growth to changes in categories made the past few years. The first year was "a bit of a challenge," he admitted, but it's paid off.
Ohio State Fair officials are happy to report a mostly upward trend in project entries, spokeswoman Alicia Shoults said.
"For us, the entries ... significantly increased from 2012 to 2013," she said.
Shoults said 415 exhibitors submitted 2,663 entries in 2011, compared with 470 exhibitors and 3,351 entries last year. She did note a dip in 2012 with 2,129 entries, but could offer no explanation.
She believes two things keep Ohioans entering items at the state fair.
"The first is tradition. While some of our exhibitors may not have been entering for decades, their parents or their grandparents have," she said. "The second is pride. Who wouldn't love to say they make the best chocolate chip cookies or apple pie in the state?"
Alice Wycuff, of Erastus, has entered items in the Mercer County Fair since she got married 40 years ago.
"I enter almost every category," the 63-year-old said proudly, adding her specialties are candy, canned goods and breads such as a Swedish tea ring and cinnamon rolls.
She has served as an advisor for the household category, which includes baked items, for about 13 years.
"Cookies are always the most popular entry. Chocolate chip. They're everybody's favorite," she said. "Then it's probably zucchini bread."
The number of projects entered in the canned goods division isn't what it used to be, Wycuff said.
"Now most people go buy the stuff that's already packaged up," she said.
The Smith family of Maria Stein started entering items in the fair about five years ago. Karen Smith said her children work on projects of all kinds during the summer and sometimes enter artwork created during the school year.
"I brought the fair book home Friday and my oldest (Maddie) started highlighting categories to do," said the mother of four. "They get such a sense of pride and accomplishment."
Smith said her children - ages 7 to 14 - can't wait to see how they did after judging.
"It really doesn't matter if you win or not. You entered something in the fair and people can come and see it," she said. "We're hooked."
Muhlenkamp said a classification exists for just about everything.
"If you think it is neat, bring it to the fair," she said. "We will find a category to enter it under."

Fair entry deadline nears:
Deadline for entries in the Mercer County Fair - Aug. 8-14 - is 5 p.m. Aug. 1. More information can be found at mercercountyohiofair.com.
It costs $20 to enter a project at the Mercer County Fair; in exchange, entrants receive a pass that allows them weeklong admission. Entries are judged per category and age range; ribbons and modest cash prizes are awarded for first, second and third places.
Deadlines vary for the Auglaize County Fair scheduled for July 25-Aug. 2. Details can be found at auglaizecountyfair.org.