Wednesday, June 25th, 2014
Small town to small screen
Rockford native to appear on Discovery Channel reality series
By Colin Foster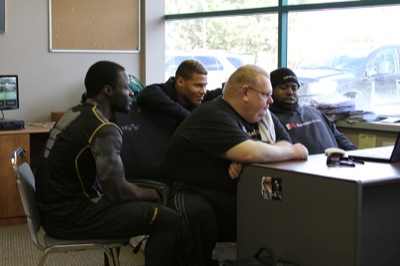 For a kid from the small town of Rockford, Rob Rutledge has done some rather big things with his career.
Rutledge, nicknamed "Dusty," was a football standout at Parkway High School in the 1980s and went on to work under head coach Rich Rodriguez at Michigan from 2008-2011 as director of external operations manager. Before that, Rutledge was part of Rodriguez's staff as video coordinator for the West Virginia University for six years. Prior to that, he had had a three-year stint as special assistant to head coach Cam Cameron at the University of Indiana from 1997-2000.
"For people in Rockford, it was okay to chase your dreams. It was okay to dream big," Rutledge said. "It was really neat that I lived in a place where my heroes lived. I didn't have to watch TV to see my heroes, whether it be my father (Bob) or my grandfather (Jake) or my uncle Keith.
"I give most of the credit for my work career to being raised in a small town."
Starting July 9, though, that kid from the small town can be seen on the small screen in the premiere of Discovery Channel's new sports-based reality series "American Muscle."
Rutledge will be a regular in all eight episodes scheduled for the first season of the show, which follows his boss, Mike Barwis, and his team of trainers as they work with world class athletes at the Barwis Methods Training Center just outside of Detroit. Athletes from all around the world and people of all ages/ walks of life make the trek to train with Barwis - who is widely considered to be one of the best strength training coaches in the world.
"Mike has probably the biggest name in strength," Rutledge said. "I think he was voted the No. 6 most influential strength coach of all time, and four of the guys above him are dead and the others are Russian. He's pretty well known in the strength world."
The show will feature some of the best athletes on the planet in each episode - including Richard Sherman (of the Super Bowl champion Seattle Seahawks), Ndamukong Suh (Detroit Lions), Nick Swisher (Cleveland Indians), UFC star Rashad Evans, DeAndre Jordan (Los Angeles Clippers), former NFL star Shawne Merriman, former NBA player Baron Davis, Pierre Garcon (Washington Redskin) and Arizona Cardinals' free safety Tyran Mathieu, more popularly known as "Honey Badger."
Rutledge said clients had told them that Barwis Methods Training Center would make a great set for a reality show. As fate would have it, the President of Production for Funny or Die, Mike Farah, showed up to train at the facility a few years ago and the idea was hatched.
A crew from Funny or Die, Will Ferrell and Adam McKay's production company, went to they gym two years ago and shot a sizzle reel, which is basically a trailer to help pitch the project. From there, the company shopped the reel around to various networks and the Discovery Channel took interest.
Discovery filmed a pilot episode and took it to test markets in Las Vegas and Philadelphia. The show scored high enough in those markets and Discovery bought seven more episodes. Crews from the network returned to Barwis Methods Training Center in January and shot for 12 weeks.
At first, Rutledge said he couldn't stand having cameras follow his every single move on a daily basis, but said he got more comfortable with the process after three or four weeks.
"You'd go to the bathroom, and you'd think 'Oh boy. I'm wired up here. I've got to be careful,' " he joked.
Also featured regularly on the show will be gym manager Dan Mozes, a former center for the Minnesota Vikings and Rimington Award winner at West Virginia, along with trainers Eric "Tank Dog" Potis and Deeds.
Rutledge began his football coaching career in 1989 as an offensive line coach at Fairmont State College, where he also played on scholarship, and then moved to Glenville State College in 1994 as defensive line coach and special teams coordinator.
Barwis, who was the strength coach at Michigan and West Virginia, and Mozes decided to open a gym after Rich Rodriguez's departure from Michigan, bringing Rutledge on board to help out.
Rutledge said he had every intention of going with Rodriguez on his next venture but decided it was time to plant some roots with his family. Rutledge has a wife, Jennifer, and two step daughters, Maegan and Elizabeth, both of whom are academically gifted and envisioned landing at good colleges.
"I'm thinking I've lived life and I've been chasing my stuff around," said Rutledge "I might as well let them go about and chase their dreams."
Proud Parents
Bob and Kathy Rutledge have seen their son on television many times, standing on the sidelines at West Virginia and Michigan football games.
They're in for a whole other ball game when "American Muscle" premieres at 9 p.m. July 9.
"We're excited about this, but we've seen him on TV so many different times when he played football and when he was on the sidelines with different coaches," Kathy said. "But this is completely different."
Bob and Kathy have remained close with their son over the years. Bob has been to seven college football bowl games to watch his son coach and has mingled with many professional athletes and big-name coaches such as Cam Cameron (former Indiana head coach) and Rodriguez. Bob and Kathy have also gotten a chance to know Rob's co-workers very well and have seen first-hand what Barwis is capable of.
"It's a different atmosphere at Barwis Methods," Bob said. "When they say intense, it's very, very intense. They do some wonderful things for people that would otherwise be in wheelchairs today. Thank God that he can do this and continue to do this."
The proud parents, who still reside Rockford, are sure that "American Muscle" will be a success.
"Everything we've seen, everything we've heard, I think people are going to be impressed," Kathy said. "I think what's going to grab the women is what they do for little kids. What they do for people who have been hurt, not just football players, basketball, hockey, they reach out to everybody and I hope that's what catches the eye."