Thursday, June 26th, 2014
'Riders turn up offense late, take down Panthers
By Colin Foster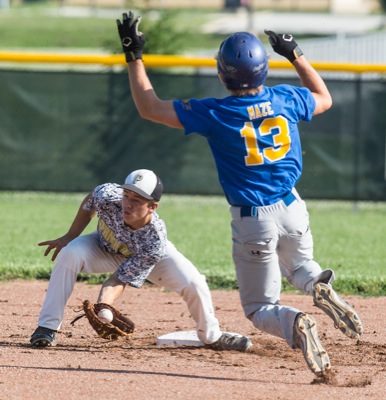 ROCKFORD - Coaches typically worry about their players maintaining focus and staying sharp after long rain delays.
St. Marys ACME coach Chad Laman had no issues with that Wednesday night against Parkway.
The Roughriders scored 11 runs over the final three innings to come away with a 13-2 victory at Don Black Field.
After a 40-minute rain delay in the bottom of the fourth, St. Marys (6-1) took the lead for good on Michael Harbaum's RBI ground out in the fifth and followed with four runs in the sixth and six more in the seventh as Parkway ran out of arms in the bullpen.
"We went out and had three quick outs (in the fifth)," Laman said. "I told them, 'Guys, this is time to step up.' When you get three quick outs like that, that's a good chance to rebound on the next at-bat. That's what we did. We put up four runs that inning."
Matthew Douglas was the man at the plate for St. Marys, going 2-for-3 with an RBI double and a solo home run in the third and also scoring four times. Colin Burke finished 3-for-3 with a pair of RBI, Marshall Lininger went 3-for-5 with two RBI, Austin Quellhorst ended up 2-for-5 with an RBI and scored two runs and Dustin Howell had multiple hits plus scored twice.
After St. Marys scored in the first, Trace Walls' grounder tied the game at 1-apiece in the second inning. Walls scored on an RBI single by Bailey Rodriguez to knot the score again in the fourth.
But the Panthers missed golden chances to score runs in other innings - most notably in the third when they had runners on second and third with only one out.
"We got lackadaisical after the rain delay," Parkway coach Taylor Bates said. "I'm not going to make excuses because we had guys out. We just didn't help ourselves out at all on defense. We didn't help our pitchers out; pitchers didn't help us in relief. We just hurt ourselves there. But we've got a game against Coldwater (at home today). We'll be ready."
Lininger took a no-hitter into the fourth, before Walls broke it up with a single. The St. Marys starter allowed three hits, two runs and struck out six in 5 1/3 innings of work.
"He was more of a reliever, kind of a closer during the season. He came in and he showed starting stuff," said Laman of Lininger's effort. "He had a couple rough patches where he got a little wild but he's going to have that. He likes to pitch inside."
Parkway (5-6) got a good stint from junior ACME call up Derrick Mosier, who allowed nine hits and struck out two in five plus innings of work.
"He threw well, well enough to win," Bates said. "I was impressed. Our defense didn't do the greatest job helping him out."
St. Marys is scheduled to take on Auglaize County rival Wapakoneta tonight at K.C. Geiger Park. Parkway will host Coldwater in a battle of Mercer County teams.

St. Henry 14, Celina 3
St. Henry wrapped up the top seed of the St. Henry ACME baseball sectional with a 14-3 win over Celina on Wednesday at the Wally Post Athletic Complex.
The Redskins collected 20 hits on the evening and took advantage of three Celina errors.
Ryan Mikesell picked up the win. C.J. Kimmel took the loss for Celina.
No other information was provided.