Saturday, June 28th, 2014
Working on a hot streak
County's jobless rate is even better than it appears
By Shelley Grieshop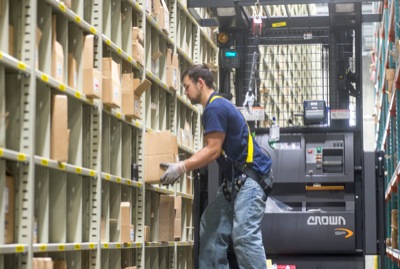 CELINA - Mercer County has held the lowest unemployment rate in the state for 2 1/2 years - a feat no other Ohio county has achieved in more than 24 years.
The latest report released Tuesday showed 3 percent unemployment in May. One economist said the fiscal reality is even better than the jobs number indicates.
Rudy Fichtenbaum, an economics professor at Wright State University in Dayton, said unemployment numbers can be meaningless if they are the result of declines in labor-force participation. But that's not the case locally, he said.
"As it happens, the labor force in Mercer County has been growing in contrast to the labor force in Ohio, as a whole," he said.
From the start of the Great Recession in December 2007 through last month, Ohio's labor force - tallying the employed and unemployed - shrank by 3.7 percent, he said.
"Mercer County is different," he said. "Employment has actually grown over the same time period by 3.4 percent, and the labor force has grown by 2.4 percent."
The data shows the unemployed have become employed, and employment is growing.
"So the labor market is much stronger in Mercer County than in the state of Ohio," he said.
Fewer available workers in the last seven years have led to fatter paychecks in Mercer County, Fichtenbaum said.
"With lower unemployment, (workers) are generally in a better position to demand higher wages," he said.
Wages for local residents swelled 9.8 percent from 2006 to 2013 - much higher than the statewide increase of 3.9 percent, Fichtenbaum stated.
Rhonda Bergman, local operations manager for Westaff in St. Marys - a temporary staffing company - said a smaller pool of employable people often "makes it more difficult for businesses to recruit."
"But I believe the employers in our small towns are very strong, and they get by," she said.
She's recently noticed an influx of younger people returning to the area to find work.
"I think they're coming back to fill the good jobs we have, and that's helping," Bergman added.
Mercer County Community Development Director Jared Ebbing more than a year ago launched the online Hometown Opportunity website to help match companies and employees. It's drawn a lot of interest, he said.
"We've posted 3,500 jobs in a year and a half," he explained.
Ferguson distribution center plant manager David Simons discovered firsthand that low unemployment doesn't necessarily mean fewer available workers. The company late last year received more than 600 applications to fill 65 jobs.
"We saw several different scenarios: some were returning to the workforce after being out for a while and others were just out of school and looking for a job," Simons said.
Hometown Opportunity helped draw many of the job seekers, he added.
According to Angela Terez, spokeswoman for the Ohio Department of Job and Family Services and its Bureau of Labor, the state defines the unemployed as "anyone without a job and who is able, available and looking for work."
She said Mercer County's modest unemployment rate is partly due to local residents who work elsewhere.
"In 2011, about 52 percent of those employed commuted to other counties for work," Terez said.
She also noted that about 10 percent of the county's industry is considered food manufacturing, which is not as strongly affected by recessions as the durable goods market.
Dale Borger, director of Mercer County's JFS office, doesn't doubt the low unemployment figures are accurate. He's witnessed a 16.3 percent decrease in the local distribution of Supplemental Nutrition Assistance Program benefits - formerly called food stamps - from $4.9 million in 2010 to $4.1 million last year.
"And I expect this year's to drop even more," he added. "It means most people here are working. I don't know how anyone can see that as a negative."
Borger believes Mercer County's unemployment status should be turning heads in Columbus.
"I think we have something to teach the state," he said.