Monday, June 30th, 2014
Wildcats, Cardinals move on
ACME District 4 Tournament: Minster Sectional
By Colin Foster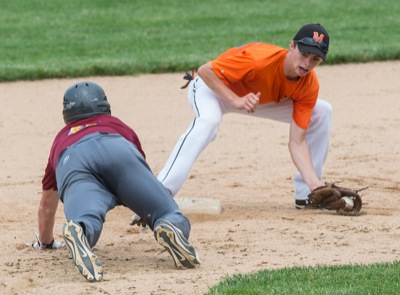 MINSTER - Minster and New Bremen are alive after two days of ACME District 4 Minster Sectional tournament play.
Both teams, however, will have to go through the losers bracket to earn a spot in the finals.
After beating New Bremen Saturday, the Wildcats lost to Russia 2-0 Sunday and the Cardinals rebounded with a 13-10 victory over Botkins at Hanover Street Park.
Minster will face Houston today at 6 p.m. and New Bremen will take on Anna in the nightcap at 8:15 p.m.
SATURDAY
Minster 8, New Bremen 0
Minster starter Matthew Trushaw struck out 13, scattered three hits and allowed no runs in six innings of work in an 8-0 victory.
Trushaw, who threw a no-hitter during the spring season, carried a no-no into the fourth before Trey Naylor broke through with a single. Trushaw also went 2-for-3 at the plate with an RBI and scored a run.
"Against St. Henry (a loss) he did not get ahead in the count, but today he got ahead in the count with his fastball and he hit spots very well. Matthew did well for us," Minster coach Mark Wiss said.
"He's got a good curve ball," said New Bremen coach Eric Nelson, whose team looked much better Saturday than it did in an earlier season run-rule loss to the Wildcats. "I think he keeps you off balance with his curveball and he's got decent speed on his fastball. We showed we could hit him. We had a couple nice hits where they made good plays. They fielded it, but we hit the ball hard."
Peter Falk scored on a wild pitch to make it 1-0 Minster in the first. In the second, Trushaw smacked a single into left field and reached second base on an error. He later scored on a passed ball.
Trushaw hit a batter and walked Michael Largent in the top of the third but rebounded by striking out the final hitter to end the threat. Trushaw struck out seven of the first 12 batters he faced.
In the third, Drew Ripploh's single scored Falk, who was hit by a pitch, stole second and advanced to third on an infield hit by Bryce Schmiesing. Trushaw's RBI single later put the Wildcats up 4-0.
Trushaw and New Bremen pitcher Trey Naylor combined for seven strikeouts in the fifth inning - with Trushaw getting four in the top half and Naylor striking out the side in the bottom.
But Trushaw struggled with control in the sixth, as Ben Schwieterman's infield hit and consecutive walks loaded the bases. After a meeting at the mound, though, the Minster ace came back to strike out Tanner Hindall to keep the shutout intact.
"We were just a little under-manned today," Nelson said. "If we had some more guys, some more subs to help out, maybe we could have got a couple of guys to pinch hit and maybe we could have gotten some runs on the board."
Minster added four in the bottom of the sixth. Sam Bornhorst had an RBI ground out, Blake Mallory scored on a passed ball, an infield hit by Falk scored another and Ripploh's hit plated the final run.
Naylor went the distance for New Bremen on the mound, recording seven strikeouts and allowing 10 hits - with half of them coming in the final Minster at-bat.
"Trey pitched a really nice game," Nelson said. "He kept us in the game for the most part. He kept some of their hitters off balance. They still hit him some. We made some plays on 'D' and he had a couple nice pickoffs that helped out."
"Their pitcher had a really nice ballgame," Wiss said. "He really messed us up, had a really nice curveball for an out-pitch. We were complacent at the plate and really didn't attack him. We got down in the count and we let him get us with the curveball - and he's got a very nice curveball."
SUNDAY
Russia 2, Minster 0
Jonah Counts threw a complete game five hitter while two early runs by Russia held up in the win over the Wildcats.
The win puts the Raiders in the winner's bracket finals where they will play Shelby County League rival Fort Loramie.
The Wildcats put pressure on Counts and the Russia defense a few times but came away empty handed. They had two in scoring position in the fourth, but Counts struck out Sam Bornhorst to end the threat. Minster had two on with one out in the sixth, but once again Russia escaped as Jordan Gariety fielded a hard-hit grounder by Trushaw and started a 6-4-3 double play.
Russia scored in the first inning on an RBI sacrifice fly by Zach Sherman and added another run in the third, courtesy of Jacob Pleiman's fielder's choice. Gariety led the way for the Raiders on offense, going 3-for-3 and scoring twice.
Drew Ripploh (3 2/3 innings) and J.R. Nixon (3 1/3 innings) held Russia to five hits. Bryce Schmiesing led the way offensively, finishing 2-for-3 with a double and stolen base.
"Here again, we run into a very good pitcher from Russia and he didn't walk any batters. No free passes," Wiss said. "They played very good defense. I told our guys that Russia is a very nice ball club. Other than them getting some runs off of Drew on some early walks, we pitched well. But those two runs they got early held up. It was great defense by both clubs."
New Bremen 13, Botkins 10
The Cardinals jumped all over Botkins early with nine runs in the first two innings and later added some insurance.
Owen Luegers threw the first four innings for Bremen and gave up one hit and two earned runs. Greg Parker and Naylor had control problems during the stints on the mound, which allowed Botkins to creep back into the game late. The Trojans had the go-ahead run at the plate in the seventh but Naylor got the final out to put an end to the 2 1/2 hour long game.
Leading the way for the Cardinals at the plate were Sam Wisvari (3-for-4 with a pair of RBI), Jacob O'Neill (two hits, three RBI), Naylor (two hits, three RBI) and leadoff hitter Nick Gusching (two hits and a stolen base). Luegers and catcher Ryan Selby contributed RBI doubles in the five-run, second inning.