Saturday, July 5th, 2014
New chapter unfolds in history of quaint Dayton Island
Coldwater couple buys Grand Lake landmark property
By Shelley Grieshop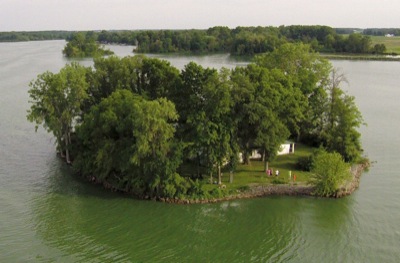 The modest, white cabin surrounded by towering trees and the waves of Grand Lake seemed like a lavish resort when Greg Westbrock was a kid.
He spent many summer days and nights fishing, water skiing and grudgingly performing chores for his parents during numerous visits to Dayton Island, near Montezuma.
"It was the only place we ever went on vacation. We'd spend most of our summer there," said Westbrock, 70, a lifelong Dayton resident.
In 1995, the state declared the real estate, about a quarter mile from the state wildlife preserve, a "surplus property." Westbrock - who retired from his family's funeral home business - and a friend, Pat Elder, purchased it with the blessing of then Gov. George Voinovich.
The isle, also known as Anise Island, is the only privately owned island in the 13,500-acre lake, local officials have confirmed.
Unable to continue the upkeep, Westbrock and Elder several weeks ago sold the island to Coldwater residents Gary and Jean Osterfeld.
"We always wanted a vacation property on the lake but never found the right thing," Gary Osterfeld said. "It's a one-of-a-kind property with remarkable views, very relaxing and quiet."
The local Boy Scout leader said he was captivated by the island's history and lured to ownership by his love of the outdoors. Jean and his children, Isaac, Brennan and Shannon, happily embraced the idea.
Osterfeld said he plans to renovate the cabin, which was built with trees that grew on site.
"I intend to reuse as much of the wood as I can," he said.
An electrical engineer, he wants to modernize the cabin and island, which currently has no running water, electricity or clean water supply.
"It's completely off the grid," he said, adding he'll use solar power to solve some of the issues.
Documented history of the island begins in 1901 when a group of Dayton-area men formed "The Bing Club" and began leasing the secluded site from the state. It became a "man cave," of sorts, a place to drink and play cards, fish, trap shoot and duck hunt, Greg Westbrock explained. His grandfather, Ben Westbrock, joined the group in 1903.
"He fit right in as he was a big card player and fisherman," he added.
Ben Westbrock - also a funeral director - was a memorable sight to lakeside neighbors, his grandson said. He never wore blue jeans or shorts, even with a fishing pole in hand, he said.
"He always wore his 'funeral suit,' " Gary Westbrock said. "I'd go fetch him a galvanized bucket and he'd sit in this small channel catching fish all afternoon in his tucks and tails."
Decades ago the island was "hitched by spit" to another pair of islands that have since eroded away, he said.
"We (Greg and his three siblings) would hang out on the third island when we got into trouble with our parents," he said with a laugh.
He recalled as a kid taking a big boat to the nearby wildlife reserve to hunt frogs - something he knew was prohibited on the state-protected land.
"The old game warden had a house there at the time and he'd come out looking for me," he said. "I"d hide the boat in the lily pads until he left."
By 1930, club members began dying off and the island went to fallow, Westbrock said. In 1944, his father, Bill Westbrock, obtained permission to start a new club with his fishing buddies, and 10 new families began enjoying the private getaway.
Greg Westbrock said his mother, Edna May, would visit the island on weekends.
"She'd crawl out of the boat onto land because there was no dock at the time," he said. "She had to stay with us in this 'god-forsaken cabin.' She never questioned my father's decisions about anything before, but she did then."
Greg Westbrock said he was thrilled to gain ownership of the island in the '90s but soon learned there was plenty of work at his paradise retreat. In 2002, he and Elder hired a local man to place 900 tons of rock around the shoreline to prevent erosion that had shrunk the property to about one acre - less than half its original size.
Westbrock said he hated to sell the serene escape.
"It's just gorgeous, quiet ... very peaceful out there," he said.
His daughter and two sons recently accompanied him to the island for one last visit before handing over the deed, he said.
"We had a picnic and told stories," he said. "My daughter was crying. I got a little emotional, too. There's a lot of memories out there."