Monday, July 7th, 2014
Wenning travels world with eyes to the sky
By William Kincaid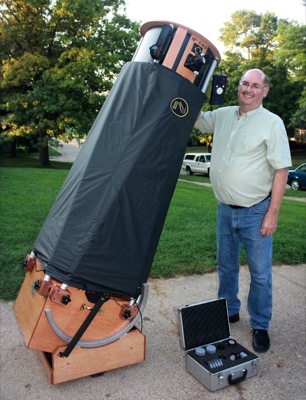 NORMAL, Ill. - Celina native Dr. Carl Wenning's fascination with the night sky began when his grandfather, Edward "Frank" Feltz of Sharpsburg, pointed out Venus to him in the summer of 1957.
Wenning, 61, an academic who spent a majority of his career at Illinois State University as a physics and astronomy lecturer, planetarium director and program director, has since seen countless celestial bodies.
Decades of stargazing hasn't shed light on the mystery of the genesis of life for Wenning. He no longer craves the "big" answers - he's simply appreciative of all the untold, spectacular sights he's seen in galaxies far, far away.
The 1971 graduate of Immaculate Conception High School is one of 153 master observers, a designation conferred on those who complete an observing program though the Astronomical League, a national organization of amateur astronomers.
"As a group we have all observed hundreds of stars including variable and binary, galaxies, bright and dark nebulas, planetary nebulas, open and globular star clusters, asteroids, comets, supernova remnants, constellations, planets, moon, sun and more," he told the newspaper. "Anyone who is part of this program will have likely observed considerably more than 1,000 distinct objects in the night sky."
Though semi-retired, Wenning, who lives in Normal, Ill., with his wife, Carolyn, is as busy as ever. In addition to part-time teaching, advising and assisting the new leadership of the university's physics department, Wenning works to strengthen a new generation of physics teachers near and far.
The developer of many undergraduate courses and author of innumerable scholarly articles just returned from a two-week stint in Indonesia, his third trip there. In November he will spend several weeks in Brazil and Chile assisting teachers in astronomy, earth and space science, chemistry and biology.
He is more concerned about the nature of teaching than the content of teaching and promotes inquiry-oriented methods over traditional telling.
"My international travels to promote better preparation of teachers is now my avocation," he told the newspaper. "It is something that I do for the satisfaction despite the fact that it is a tremendous amount of work."
Wenning has been to 40 countries and will visit 15 foreign lands this year.
The exotic excursions have given Wenning new access points, such as the Andes Mountains, to observe primordial objects in the night sky.
Ever since that life changing moment when he was 5, Wenning has been hooked on astronomy. A voracious reader as a lad, he said he devoured book after book at the former Carnegie library, which he credits for fueling his curiosity in science.
He received a few toy telescopes from his mother, Agnes Wenning, who ran Ed's Dairy Store on Brandon Avenue for several years, before saving his money working as a delivery boy for The Daily Standard to buy his first serious telescope at 12.
In his backyard, Wenning spent evenings looking at the moon and bright star clusters, a largely solitary endeavor.
"It was just interesting to kind of (observe) how constellations change throughout the year," he said, adding he used a star guide to find objects in the sky with his telescope, with its poor magnification and narrow field of view.
His enthusiasm for astronomy continued and he enrolled at The Ohio State University. His mother supported him but his father, Edward Wenning, who died in 1974 when Carl was 21, thought his son was wasting his time and money.
Wenning went on to earn degrees from The Ohio State University, Michigan State University and Illinois State University.
In the early 1980s, Wenning wrote a monthly column called "Stars Over Ohio" for The Daily Standard, pointing out when and where to look for meteor showers, eclipses, constellations and planets. For several years, he fielded calls about UFO sightings from local law enforcement officers and citizens.
"The public wants to know, and they want some sort of answer," he said about unknown objects in the sky.
Wenning said 75 to 80 percent of the time he could offer an opinion, with some confidence, as to what the sightings might be: Venus, Jupiter, the autokinetic effect, etc.
Most of the time people don't know what they're looking at because they're so disconnected from the outdoors, a condition further exacerbated by light pollution that obscures observation of stars and planets, Wenning said.
Wenning dubbed some reports as inexplicable.
In spring 1982, Wenning spotted what looked like a flying disc with red lights movings in a particular fashion. The sighting, according to Wenning, was independently reported all over the United States and he still can't explain it.
Life on other planets is possible, Wenning said, but he wouldn't say if he believes in extraterrestrials.
He admits he has no idea how life started, even after ample study, research and contemplation of the cosmos.
"I do believe firmly in the Big Bang and evolution while holding deep religious beliefs," Wenning said. "I see no conflict between religion and science so long as both are properly understood."
No empirical evidence has been submitted that proves God doesn't exist, Wenning argues.
Wenning's love of science is being carried on by the high school teachers he works with and his two daughters.
His daughter Rebecca Vieyra, 28, is a Cary-Grove High School science teacher in Cary, Ill., who has written academic journal articles, consulted on apps for mobile devices and led workshops at universities throughout the world. She was named an Albert Einstein Distinguished Educator Fellow and will work with NASA's Aeronautics Research Mission Directorate, a year-long program in which she will consult for government agencies' educational outreach programs and learn about federal policies and initiatives surrounding STEM (science, technology, engineering and math), according to a press release from the high school.
Father and daughter also co-authored a textbook called "Teaching High School Physics."
Teresa Wenning, 23, just completed a medical lab science degree at Illinois State University and began working at OSF Saint Joseph Hospital in Bloomington, Ill.