Tuesday, July 8th, 2014
Russia upends Parkway
Panthers' season ends in 1-0 defeat at district tournament
By Colin Foster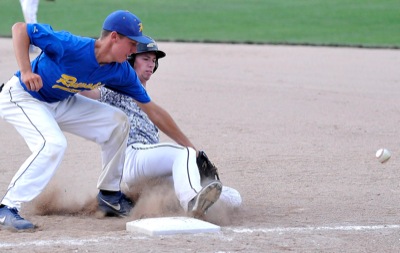 COLDWATER - Parkway knocked on the door quite often.
But Russia never let them in.
And when the dust settled Monday at Veterans Field, the Raiders, despite being three-hit by Parkway hurler Brandon Gibson, got a clutch two-out, bases-loaded hit from Jordan Gariety in the bottom of the fifth that propelled them past the Panthers 1-0 in the loser's bracket final of the ACME District 4 Tournament.
The Raiders (13-3) will meet Coldwater (17-1) in today's title game at 6:30 p.m. Russia needs two wins over Coldwater today in order to advance to state.
The Panthers end their summer with a record of 9-11.
"We had a great summer," Parkway coach Taylor Bates said. "I'm very pleased with the guys. I'm proud of the guys. They're close to being a real great team. They've just got to work on the little things."
It was the little things that may have cost the Panthers on Monday.
Twice the Panthers loaded the bases - in the second and the fifth - but had nothing to show for it. Parkway also left two runners on base in the sixth after whiffing on back-to-back sacrifice bunt attempts that would have moved the runners over.
Brody Adams had a one-out single in the second. After a flyout by Trace Walls, Shay Pond and Caleb Heindel had singles to load the deck for Taylor Bates, who ended the inning by flying out to right.
The Panthers put their first two batters on in the fifth, as Heindel led with a walk and Bates had a bunt single down the first base line. Alec Schoenleben moved both over with a bunt and Wyatt Felver was intentionally walked. But Russia starter Jacob Pleiman, who allowed six hits and struck out two in six innings of work, forced two flyouts to get out unscathed.
"We struggled," coach Bates said. "We didn't execute on bunts tonight. We couldn't string hits together ... You'll have those nights. It (stinks) it has to be now."
Jonah Counts pitched the seventh for Russia and officially shut the door on Parkway, forcing two flyouts and striking out Hayden Abromavich to end the game.
Gibson wasn't overpowering but he was effective. He got the ball across the plate for the most part, only issuing two walks, both of which helped set up Gariety's game-winner.
"Gibby pitched great," coach Bates said "It's too bad. We just couldn't string together hits tonight."