Thursday, July 10th, 2014
Reds honor Post, local Hall of Fame chapter
By Robb Hemmelgarn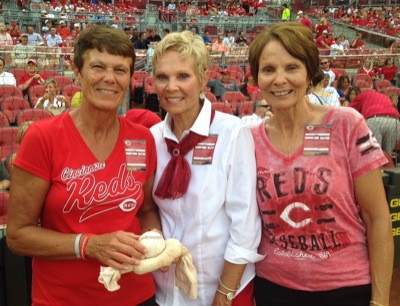 CINCINNATI - Wally Post hasn't belted a tape-measure home run, gunned down a runner at home plate from right field or posed for a Topps baseball card in more than a half-century, but his spirit was undoubtedly felt in Great American Ball Park Wednesday night in Cincinnati as the Reds came through with a 4-1 win over the Chicago Cubs in front of 32,810 fans.
Among those filling the seats was a local contingent from the Wally Post Chapter of the Cincinnati Reds Hall of Fame and Museum, on hand to honor the Chapter's namesake, who would have celebrated his 85th birthday that day.
"I am amazed at the turnout for everything here tonight," commented Randy Evers, founder and president of the local chapter. "We were hoping to sell 100 tickets when we initially started this process, so to see that we surpassed that or maybe even doubled it, is remarkable."
Post, who passed away on January 6, 1982, debuted with brief stints for the Reds from 1951 to 1953, but he became a household name for Cincinnati fans from 1954 through 1957 before he was traded to the Philadelphia Phillies. He was a regular for the Phillies for two-and-a-half years but returned to the outfield grass at Crosley Field in 1960. The Reds advanced to the World Series the following season where Wally excelled on the big stage by batting .333 with six hits, a pair of RBI, and a home run, as the Reds fell to the New York Yankees in five games.
"Wally Post was one of my favorite players growing up," explained Reds President and CEO Bob Castellini as he addressed the Chapter prior to the game. "Wally and the guys he played with here in the 1950s. Those were my heroes. No one in Cincinnati knew where St. Henry, Ohio was but they sure all knew about Wally Post. Our organization takes great pride in preserving our rich history, and I welcome everyone here tonight to honor one of the greatest hitters to ever wear a Reds uniform."
By 1964, after quick stops with the Minnesota Twins and Cleveland Indians, Wally retired from professional baseball after finishing his 15-year career with 210 home runs and nearly 700 RBI. His most remarkable season unfolded in 1955 when he batted .309, slugged 40 homers and knocked in 109 runs. He was one of the most notable Cincinnati outfielders of the 1950s, and his legacy still resonates with older Cincinnati fans to this day.
"It is so neat and humbling to see everyone who still remembers Dad and what he did as a ball player with the Reds organization," remarked his youngest daughter, Cindy Huelsman. "There are times when fans tell me how much they loved watching Dad play and I am just flabbergasted because like I said, to us he was just our dad. Looking back now, it is neat to see some of his records and accomplishments, and we are proud to know how hard of a worker he was at his job."
Following Castellini's welcome from the Hall of Fame theater room, Huelsman and her sisters Mary Beyke and Sue Hoying were escorted to the field where the trio delivered the game ball to the mound prior to Reds' starter Alfredo Simon's first pitch.
"Wally's family has been outstanding to work with. They are so humble about their father and that is really neat," Evers complimented. "When I told Cindy that they were going to deliver the game ball to the mound, I don't think she was very cracked up on the idea and said it would be embarrassing. They are all just so down-to-earth, but I know they appreciate all of the admiration that so many Reds fans have for Wally and for what he did for Cincinnati while he was in a Reds uniform."
Earlier this week, Reds right fielder Jay Bruce surpassed Wally on Cincinnati's all-time home run list and at this point in his career, Bruce's numbers are eerily similar to what Post, also a right-fielder, accomplished in his ten seasons with the Reds. Before last night's game, both had played in 902 games, plated 525 runs, boomed 17 triples and owned on-base percentages in the 320's. In nearly 300 more at-bats, Bruce has scored 35 more runs and stood at the plate 36 more times, but he also has over 300 more strikeouts in three fewer years than Wally.
"I was looking at the teams' all-time numbers just the other night and saw my name just above Wally on the home run list," Bruce said following the game.  "I am familiar with his numbers while he was in Cincinnati and it is great to be up there with such a revered player in Reds history."
Strolling near the backstop prior to the game flooded Post's daughters - Wally's only son, John, could not make it back from Florida for the event, but will be in Mercer County next week for the annual Wally Post Open golf tournament -with memories from their childhoods.
"It was always neat to go to Crosley Field when we were kids and see all of the players and watch the game," commented Huelsman. "I don't think any of us kids at the time really appreciated the experience for what it was until later in life, but that is how it is with a lot of things. Everything with this event tonight is very neat, and our family owes so much gratitude to Randy Evers for his efforts with getting the chapter started, as well as to all the members for coming to the ball park with their many fond memories of our dad. We are truly honored."