Saturday, July 12th, 2014
Outdoor dining trend growing
By Doug Drexler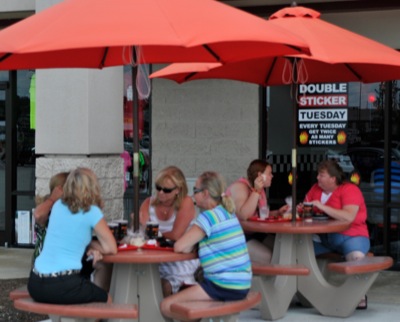 CELINA - A night out on the town is taking on a new meaning in Celina.
While patios and outdoor dining have long been a staple along Grand Lake's shores, several restaurants and night spots in town have recently added outdoor areas. Despite the scenery often being just the side of a building and passing traffic, business owners say customers enjoy just being outside and enjoying the fresh air. The outdoor areas also create feelings of activity and fun, they say.
"I love all the outdoor patios," Celina-Mercer County Chamber of Commerce Executive Director Pam Buschur said. "I think it is a national trend. It makes the businesses and the city look very fun, inviting and festive."
Besides pulling in more people to the business, Buschur said, outdoor areas provide more seating space.
"When figuring revenue, the more seats, the more revenue," she added.
Four Celina friends said they enjoyed being outside as they shared a recent lunch at the newly opened Hot Head Burritos. The restaurant has four outdoor tables under bright red umbrellas with room for 32 diners.
"I feel like I'm in Florida or California," Joyce Hierholzer said. The patios also allow smokers to enjoy dining out, she added.
The outdoor atmosphere is also a welcome break from being penned up inside, said Mary Jo Alig, noting the experieince gave her the feeling of a "lunch-time vacation."
While the new concrete and umbrellas were costly, they serve an important role, Hot Head Burritos owner Jim Miller said.
His restau-
rant sits a distance from Havemann Road. The patio lets people know the restaurant exists and is open and active, he said. It also creates a welcome, comfortable feeling.
"It's a draw for people," he said. "You want to make your restaurant feel comfortable."
One of the first places to add outdoor space inside Celina was Club 211. Owner Ben Amstutz said the club opened a 20-by-80 patio behind the club mainly to accommodate smokers when Ohio banned smoking inside businesses. It has since added a front patio with room for about 10-12 people.
The patio gives "a little more of an urban feel ... a cosmopolitan feel," he said. "Downtown has improved so much, there's something to look at."
Patios also add an air of sophistication, Java Nation owner Kim Nation said.
"It's a European thing that's coming here," she said. "I think it adds charm to our town. It makes us look more quaint. It's a good thing."
Nation said she spent a couple thousand dollars adding seating for 24 and fencing in the alley next to her establishment. She plans to spend more on lighting and possibly add plants and increase seating to 35.
She sought to help beautify downtown by turning a barren alley filled with cigarette butts into a vibrant area.
"It provides a different dining experience," she continued. Even in the downtown area, people feel closer to nature.
"Being outdoors is always back to nature," she said.
La Carreta Mexican Grill and Cantina manager Rafael Delgado said a patio with seating for 27 was added about three weeks ago, fulfilling a request customers have had for years.
"We just want to give customers something different," he said. "We've been thinking about this two-three years."
The cost of pouring concrete, erecting fences and buying patio furniture delayed the plan, he explained.
Mayor Jeff Hazel said the trend toward outside dining enhances the city's appeal.
"I believe our local restaurants' outside dining areas provide an enjoyable alternative to being inside and demonstrates the vitality of Celina in general with very visual activity," he said. "It makes Celina appear more trendy for visitors and travelers that decide to stop."