Thursday, July 17th, 2014
Wenning hits field for Ravens' camp
By Gary R. Rasberry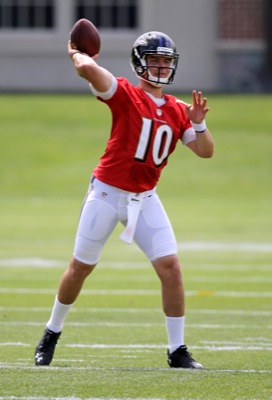 Keith Wenning had about three weeks to himself between workouts in mini-camp with the Baltimore Ravens and other considerations for the NFL.
That break ended Wednesday when the former Coldwater and Ball State quarterback reported to training camp in Owings Mills, Md. with the other rookies. The veterans report next week.
"I think I'm ready to get back into the swing of things," Wenning said in an interview before heading to camp. "People say it's grueling and all that stuff, but I'm looking forward to it. I'm just anxious to get there and get it rolling."
The post-draft mini-camp had Wenning learning the offense with veteran quarterbacks Joe Flacco and Tirod Taylor under new offensive coordinator Gary Kubiak, who was the head coach at Houston for seven seasons before joining the Ravens.
"He's a great coach and coordinator," said Wenning, who was a sixth-round pick of the Ravens in the NFL Draft. "Just learning his system and everything he brings to the table takes time. I'm still learning piece by piece. I had done a lot of the same routes and concepts, but a lot of the terminology is different, the footwork is different. That's the big thing I'm trying to get down and work on. I think it's only to get better with time and reps. At training camp, that's something I will focus on."
After camp and the NFL rookie symposium held near Cleveland in Aurora, Wenning and his fiancée Katie Lefeld traveled to San Diego where his friend, San Diego Padres pitcher and fellow Mercer Countian Cory Luebke, got him tickets for games. Wenning kept in shape by working out with some pro players while out west.
"I went out to San Diego to train with some NFL guys like I did last summer," Wenning said. "Then back here in Coldwater, I tried to work out everyday, whether that's running or throwing. I was just trying to relax with family and friends and finish up some last-minute things before moving to Baltimore to get ready for training camp. That was a big thing. I was moving things back from Muncie and doing stuff around here in Coldwater. I just tried to relax and hang out with my fiancée, my family and her family as much as I could while staying in shape."
Practices at Owings Mills will go on through August, with the preseason opener set for Aug. 7 when the Ravens host San Francisco.
Wenning cannot wait to get his chance to play under the lights at M&T Bank Stadium, but he knows there will be a lot of long hard practices between now and then.
"There's going to be a lot of practice before then, but I'm looking forward to (the preseason opener)," Wenning said. "I'm excited for the opportunity and I'm sure there's going to be a lot of adrenaline and excitement. The opportunity is going to be awesome."