Friday, July 18th, 2014
Thompson ready for training camp
By Colin Foster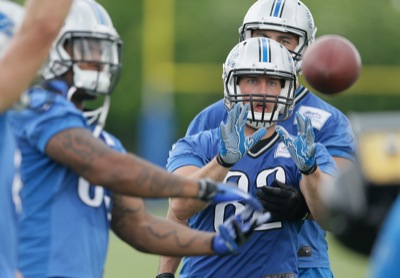 Jordan Thompson believes he can play in the National Football League.
Thompson felt that way during his tryout with the Kansas City Chiefs in 2013, which ultimately didn't work out, and he has felt that way ever since.
"When I was in Kansas City, I felt like I belonged," Thompson said. "That was the biggest thing. I believed I could play in the NFL. It was just the matter of getting an opportunity that was the right fit, the right situation."
The former Parkway High School standout may have found that with the Detroit Lions.
Thompson, a 6-foot-3, 250-pound tight end who played his college ball at Ohio University, signed with the Lions in April after participating in a veterans mini-camp. He will report to Detroit Lions training camp on July 22.
"I was off for almost a year and just hoping to get another opportunity to get back in, and a lot of that comes with continuing to train at a high level," Thompson said. "When you're on the outside looking in, it's a tough position to be in, but you've just got to have faith and hopefully you get an opportunity and take advantage of that opportunity when it comes."
In March, Thompson was invited to take part in Ohio University's Pro Day, where NFL scouts were invited to watch seniors and graduates work out in drills. His performance there earned him a shot at the mini-camp in April. Thompson was one of three players out of 18 who were awarded contracts by the Lions, with wide receiver Naaman Roosevelt and center Sherman Carter being the other two chosen. Thompson said being able to pick up on concepts and plays quickly was something that worked to his advantage.
"They throw a lot on your plate, so it's pretty much sink or swim," Thompson said. "That is one of the things I pride myself on that I'm able to retain information fast. It's one thing to be able to study and look over the stuff and know it, but then it's another thing to be able to do it on the field when the play's called in the huddle. I think throughout those four practices I went through, being able to carry what we were learning in the meeting room onto the field and being able to execute it definitely worked in my favor."
Thompson spent most of April, May and June participating in Detroit's mini-camp and organized team activities. During that time, Thompson was able to familiarize himself with and pick the brains of players like quarterback Matthew Stafford and All-Pro receiver Calvin Johnson.
"There's a reason why they're so good," Thompson said. "They definitely work on all the small things, and just getting to be around them, getting to see what they're doing and being able to take tips from them and listen to them and just talk with them ... I mean, they're definitely good guys to look up to and they set an example, not only on the field but off the field. It's fun to be a part of it and get to know these guys on a personal level."
The Lions have five tight ends under contract. Brandon Pettigrew, a five-year starter for the Lions, signed a four-year contract this offseason. Joseph Fauria led all tight ends on the team last season with seven touchdowns, Michael Williams, a seventh-round pick out of Alabama in 2013, is healthy after spending his rookie season on injured reserve with a hand injury. Detroit also has Matt Veldman, who is back after spending part of last season with the team.
"I can only take care of the things that I can control," Thompson said. "There's definitely a lot of luck involved. But ultimately, I think it'll all come down to how things go in training camp. Staying healthy is a major factor. If you're not healthy, you can't help them win."
Thompson had 60 catches for 666 yards and six touchdowns during his career at Ohio. He was team captain during his junior and senior seasons. His final season, however, was cut short when he tore his Medial Collateral Ligament (MCL) during a game against Buffalo. It took him roughly six months to recover from the surgery. Thompson graduated with an engineering degree in the spring of 2012 and went through rehab at Bommarito Performance in Miami Beach, Fla., following the Bobcats' bowl game in hopes of being drafted.
Thompson has a three-year, non-guaranteed contract with the Lions. The contract does not promise him a spot on the roster and can be terminated at any point. Essentially, he is fighting for his job day in and day out.
"There's 1,800 players in the world that play in the National Football League. There's a lot of people trying to get into it. It's just one of those things where you know that you can't ever take a day off or take a play off or anything like that because it may be your last. You kind of run with it in the back of your mind that you can't give them an excuse to why they would let you go. It's competitive. There's no doubt about it.
"I'm thankful and grateful for the position I'm in and I'm looking to make the most of it."