Saturday, July 19th, 2014
Mercelina Park ball diamond no longer needed; new uses eyed
City officials working on long-term parks plan
By William Kincaid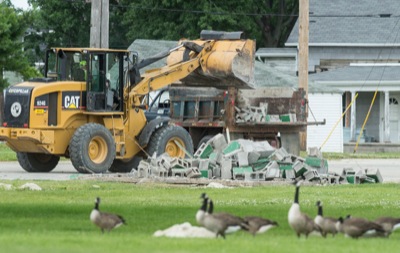 CELINA - City crews this week tore down and removed dugouts and fence from the diamond at Mercelina Park that is no longer used for officially sanctioned sports.
Celina Mayor Jeff Hazel said the work was part of a clean-up effort that will eventually result in more green space for the city.
Years ago, the site was Celina's only park, he said.
"Now we have multiple ball fields," Hazel added.
Officials say most of the city's newly purchased property along Lake Shore Drive could become a venue for various events after mobile homes are removed from Mercelina Mobile Court and the former Versa Pak building is demolished.
The city earlier this year made a $1.5 million down payment on a $2.94 million acquisition of the two properties.
Tenants in the mobile home court have until the end of the year to move out and many trailers already have been removed. The former Versa Pak building reportedly will be razed by the end of the year.
City officials are in the midst of developing a long-term plan for all its parks. Hazel said a new park committee comprised of city officials and citizens likely will be formed by next spring to determine how to develop Lakeshore, Mercelina and Pullman Bay parks into one venue.
Funding set aside in the state capital budget bill will allow the city to expand Eastview and Westview parks. Celina was awarded $285,000 toward $472,000 in baseball field upgrades at Westview, and $150,000 toward a $478,000 upgrade at Eastview.
At a parks and recreation committee meeting this week, safety service director Tom Hitchcock updated city council members on developments at Westview Park. Much of it will be converted into four diamonds for girls softball and Little League baseball, he said. The city will build three new diamonds, and the Jim Hoess Field will be turned into a softball diamond after the Celina High School softball team raises $125,000. Their contribution and in-kind city labor will fulfill the city's match for the state grant, Hitchcock added.
"The girls are raising all the money for that. There won't be any grant money, no city funds, into converting that field," he said. "What they're raising was what allowed us to do the other three fields through the state grant."
City administrators in the coming weeks plan to bid the specifications for the three new fields and would like to see the work begin this fall, they said.
Plans have been put on hold to upgrade Eastview Park while the city focuses on the development of the three new fields. Possible renovations at Eastview Park include redoing the fields, converting diamond three to a men's softball diamond for tournaments, paving a path around the pond and building a new shelter house.
"Because if (girls softball team) can't raise their money, then they still play on field three over at Eastview, which means we can't do anything to Eastview Park until they move off," Hitchcock explained. "They have to have a place to play if they aren't out here (Westview Park)."
Hitchcock said the city can start its portion of the project regardless if the softball team secures funding.
When Jim Hoess Field is converted, it will be treated much like Montgomery Field at Eastview Park, he said.
"When the girls softball's not playing on it, we aren't scheduling rec games or anything on this field," he said. "It's pretty much just going to be for girls high school softball and JV."
The public will still have access to the field "but they would have to get permission to get into it like they do Montgomery Field," Hazel pointed out. "The high school doesn't own that because if they build it on our property, it becomes the city's, but that's what it's dedicated for since they're building it."
The Jim Hoess name will remain in some form, he said.
"I don't think we're necessarily getting rid of Jim Hoess' name because that's iconic. We need to attach that somewhere as a memorial," he said.
Upon completion of the project, softball games will be played at Westview and all baseball, other than Little League, will be played at Eastview Park, he added.