Friday, July 25th, 2014
Local boy gets his train wish
By Margie Wuebker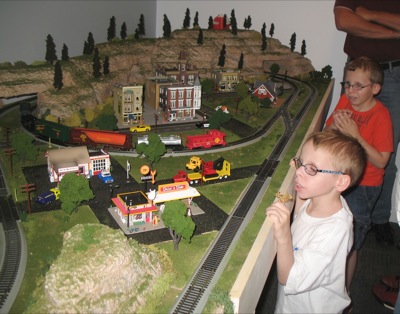 NEW BREMEN - Tyler Trejo has four wishes - to own a train, to spend every day building models with his dad in a hobby room, to be a normal kid and to live forever.
The 9-year-old, who has a life-threatening genetic disorder, was granted his first two wishes Thursday afternoon from the Make-A-Wish Foundation of Northwest Ohio.
"This is the 1,500th wish granted in northwest Ohio," program associate Abbey Sciarini said. "And it is the first time anyone has asked for a train."
More than half of the wishes granted involve trips to Walt Disney World. Other youngsters want to travel to other destinations, receive a material item, meet a celebrity or become someone special for a day.
"The foundation grants the wishes of children with life-threatening medical conditions to enrich the human experience with hope, strength and joy," Sciarini said. "Tyler has his wish today thanks to loyal donors and volunteers."
Planners listened carefully as Trejo listed things he wanted - colorful train cars, a station bearing his name, a city named after his older brother, Spencer, a valley and a lake named for his sisters, Lily and Vivian.
"We left catalogs of trains and model railroad accessories and told him to mark what he wanted," said Robert Peacock, systems administrator for Make-A-Wish. "He marked something on each and every page, so we had to pick and choose."
The amazing layout, which required an estimated 160 man hours to complete, began to take shape in Peacock's Dublin garage. It was transported in three eight-foot sections, carefully packed into a rental truck.
Work on transforming one area of the Trejo family's basement began earlier this week after family members left to attend the national Lionel Collectors Club of America Convention in Indianapolis.
"We arranged it so the magic could begin in their absence," said Mike Koenig of Wapakoneta, a Make-A-Wish volunteer for the past five years. "This family has been so wonderful."
Five volunteers worked diligently erecting a multi-level track, putting up train wallpaper borders and adding numerous detail pieces including more than 200 people, about 220 assorted trees and a fleet of vehicles including fire engines, tanker trucks, passenger cars and heavy, earth-moving equipment.
Multiple buildings, including a church, village hall, multi-story commercial operations, a lumber mill and a fire station dot the make-believe community. One of the structures resembles the Trejos' Eastmoor Court home.
Volunteers also left some things undone, such as setting up dozens of telephone poles and putting together a Christmas house.
The young boy on Thursday stood wide-eyed and silent as he tried to take in the sights and sounds of the trains.
"It's all mine," he added in awe.
Mike and Kathy Trejo are familiar with the foundation, which granted a wish for their older son, 11-year-old Spencer, in April. The family flew to the Atlantis water park in the Bahamas so he could walk on the beach, collect seashells and swim with the dolphins.
Lily, who has the same genetic condition as her brothers, also is eligible for a wish but hasn't decided on hers yet.
The children were diagnosed last year at the National Institutes of Health near Washington, D.C. No treatment is available for the condition that afflicts fewer than several hundred children nationwide, Kathy Trejo said.
"We went years without a diagnosis," she said. "Spencer was the first to be diagnosed with the condition that involves abnormal brain development. I think we knew what was coming before Tyler and then Lily were diagnosed."
Despite their children's prognosis, the parents remain upbeat.
"We take one day at a time and do not dwell on what tomorrow might bring," Kathy Trejo said.