Saturday, July 26th, 2014
Self-test breath machines hit area taverns
Bar owners say checks raise awareness, others contend it's just game for patrons
By Shelley Grieshop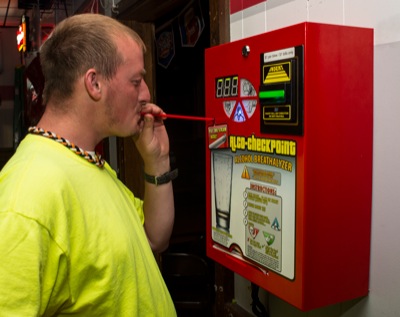 COLDWATER - Hanging on a wall in a local watering hole, several feet from suds-sipping patrons, is a device that could save a life.
The self-serve, blood-alcohol analysis machine inside McSober's Saloon has one purpose: to deter customers from drinking and driving.
"It's about knowing where you're at," bar owner Mike Moorman said. "If you're too drunk, you better knock it off before you do something stupid."
In Ohio, it is illegal for motorists to drive with a blood-alcohol content of .08 or above. For $1, customers can blow into the solid-steel Alco-Checkpoint unit - similar to a Breathalyzer used by law enforcement - to learn their estimated BAC.
Moorman said the machine was placed about 20 feet from the front door prior to the Fourth of July weekend. The manufacturer installs them for free, calibrates the units every three months and collects 100 percent of the profit.
Moorman's sole purpose for having one is to bring "awareness" to the issue of drunken driving, he said. The reaction from customers has been mixed, depending mostly on age, he said.
"Older ones seem to understand why it's here. Younger ones just think it's cool," Moorman said.
The most frequent users have been 26- to 40-year-olds, he added.
The machine includes a waiver statement that explains its limitations. It does not record results and cannot be used in a court of law to defend or prosecute anyone.
The digital equipment, according to manufacturers, place no liability on businesses. St. Marys attorney Ken Hitchen, who has represented several area bars for years, said the machines are not certified and are strictly for "entertainment" purposes.
"They had these machines around years ago," he said.
Hitchen said the wall units - often surrounded by pool tables and juke boxes - have the same flaws he sees in the ones used by law enforcement, even when tested in controlled settings.
Mercer County Sheriff Jeff Grey said he hopes the public doesn't take the results of the Alco-Checkpoints too seriously.
"I certainly don't think anyone should rely on one to make a decision about driving," he said.
Michelle Homan, owner of Shockers Bar & Grill near Montezuma, said she worries some customers will use her new machine to see who can register the highest BAC.
"I didn't put it in for a binge-drinking game," she said. "We'll discourage that."
Her Alco-Checkpoint was installed near the bar three weeks ago. She believes it's a "bartender's tool" to help people determine if they should be getting behind the wheel. Often patrons believe they're in better shape than they are, she said.
"Some people need to see it," she added.
She encourages customers to use it, especially those who appear tipsy, she said.
"We do everything we can do ... We call someone to come get them, take their keys, arrange rides," Homan said. "We've even taken people home."
Tom Hendricks of Celina believes the wall-mounted breath testers are worthwhile.
"(It) only needs to save one person to be a success," the 49-year-old said.
Casey Pond, 34, also of Celina, agreed.
"People will drink and people will drive drunk, regardless," he said. "But giving people a tool to figure out if they're too drunk to drive can only lead to positive results."
Not everyone feels it's a good idea.
"If you think you need to use it to check, consider yourself too drunk to drive," 44-year-old Frank Petersen said, calling the equipment a "gimmick."
Most people will use it, then dismiss the results, said the Celina man.
"This isn't something that people will use that are out for dinner," he said. "This is targeted at the people who came with their friends to the bar. It's now 2 a.m. and someone's trying to figure out who's taking everyone home."
Petersen said he understands bar owners want to do everything possible to help people make the right choice, but the end result is "you're taking a risk."
"The one thing that I can guarantee works every time - have a driver or ask the bar to call you a ride," he said.