Wednesday, July 30th, 2014
Japanese exchange students get taste of what life is like in Mercer County
By William Kincaid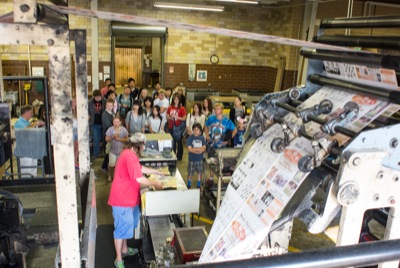 CELINA - Visiting exchange students are discovering Mercer County somewhat resembles their hometown of Minamiawaji, Japan.
Ten exchange students and their three adult chaperones travelled across an ocean and thousands of miles to live like locals for a week in Mercer County, lodging with host families and touring businesses, restaurants, government facilities, schools and other sites.
"What better way to learn about another culture than to live in their home just like them for a week," Michelle Huber, president of Grand Lake International Association, which oversees the student exchange project, told Celina Rotary members Tuesday afternoon.
The students, who speak minimal English, introduced themselves to the Rotary members and received a miniature Rotary flag and other items.
Two of the chaperons are well-versed in English. The students, who began learning English at the age of 13, rely on electronic translators during their stay.
The teens and their adult supervisors are finding the county and their homeland share a similar agricultural-based economy and landscape, Huber said.
"They even commented 'Celina looks very similar,' " she said. "If you travel to Awaji Island, you see lots of rice fields, and you see soybean fields, and you see single- or two-story buildings. It's not Tokyo ... it's like here, it's just a Japanese version - different crops, houses look a little different, but they tend to have pets like we do. They have stores similar to Walmart."
The Asian sojourners on Monday met Celina Mayor Jeff Hazel, toured a farm, enjoyed the YMCA and ate at Bella's Italian Grille; on Tuesday they toured The Daily Standard, the Mercer County Public Library, walked through a high school and dined with Celina Rotary members.
The students today will visit Fort Recovery and on Thursday will tour CAPT in Celina. On Friday, they'll go to the Bicycle Museum of America in New Bremen and play putt-putt golf before sitting down to a farewell dinner.
"There is no cost for the Japanese or Americans while they are here. We take care of everything for them as an organization," Huber said.
Garry Mosier, a Rotarian and CEO of Mercer Residential Services, said he has housed three exchange students in the past, one of whom eventually enrolled and graduated from Bowling Green State University.
"I think once they get kind of that taste of what life is like, especially once they get used to the school system, they really do love it here," Huber said.
Huber has been with Grand Lake International Association for several years and has travelled to Japan three times. The association was originally founded in 1993 as the Celina International Association to provide social, educational and cultural interaction between the youth of Celina and other countries, and now oversees the student exchange program.
"We've actually been an organization for 20 plus years at this time. However, we had started out as a businessman organization where businessmen travelled from Celina to Japan and Japan to Celina, but we've now become a student organization."
The groups alternate visits. One year a delegation of Japanese visitors comes to Mercer County, and the next year a delegation of local students journey to Japan.
"We're very blessed in our community because we have so many companies that are Japanese-based, offering services at no charge," she said.
The ultimate goal is to foster lifelong friendships between the people of each country, Huber said.
"They (local students) are going to think as they grow as businessmen or women or teachers that this has changed their life somehow. Maybe they're going to think about culture differently or they're going to be more accepting," Huber said. "Some of them have shown that they would at some point love to live in Japan to do something while they're there."
In spring 1996, Celina and Nandan-cho, Japan, became sister cities through agreements signed at ceremonies in each community after four previous years of exploration and introductions.
Nandan-cho's economy was similar to Celina's, based on industry and agriculture, and included rural development, coastal fishing, resort areas, farms and villages.
A group of Celina politicians, community members and agriculture professionals traveled to Japan several years ago before the project became a youth exchange.
In 2005, Nandan-cho merged with other towns to form Minamiawaji - a city with a population of about 50,000 people.
"Japan went through a major reconstruction of their country because it was too expensive to run their government as it was," Huber said. "So it would be like Celina joining with St. Henry and Coldwater, and instead of having a county, per se, we would now become a new city."
After the consolidation, the student exchange program was opened to all of Mercer County.
"Instead of just being Celina's sister city, we felt we needed to make it countywide ... it seems to be more reflective," Huber said.