Friday, August 1st, 2014
Cattlemen, pork producers square off
Friendly competition waged at Auglaize fair
By William Kincaid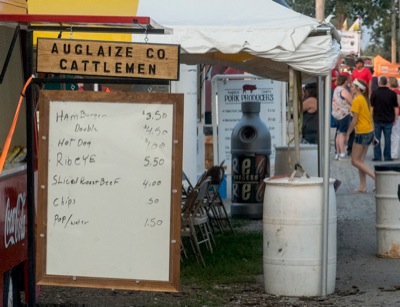 WAPAKONETA - In the battle of the bulge - the belly bulge, that is - two rival food producers satisfy the hunger of thousands at the Auglaize County Fair.
On one side of a yellow-and-white tent near the Junior Fair Board Pavilion sits a white trailer hosting the Auglaize County Pork Producers. On the other side is its competitor, the Auglaize County Cattlemen, housed in a red trailer.
By design or circumstance, the two vendors have been situated next to each other for decades.
Larry Winkler, 52, runs the cattlemen stand and Mike Ruppert, 65, does the same for the pork producers. Both men are from Wapakoneta.
"We just rib each other, give each other flak all week long," Winkler said on Thursday afternoon. "But it's all in good fun. If they (the pork producers) need help, I'll go over there and help (them) out, and if I need help, (they'll) help me out."
Drew Sutherland, 35, was working the beef site, like he does every year, with his parents, Charles and Diane Sutherland.
Serving hamburgers, double burgers, ribeye and roast beef, the trio of cattle producers were in an especially good mood after they learned Drew's daughter this week had won the born-and-raised steer competition.
"We help each other and kid each other (but) we got the better product," Ruppert quipped to the newspaper this morning.
The superiority of the products was debated by both groups and customers.
"It's nutritious and lean and just good to eat," said Bill Schlenker, a pork producer who was grabbing a bite to eat with his wife, Peg, after attending the fair for their grandchildren.
But the couple both admitted they enjoy equally pork and beef.
"We raise hogs ... so we have enough pork at home," Peg Schlenker said.
Winkler said beef is the natural red meat.
"A lot of producers here, everybody, cares about the quality," he said. "We all want to see a good product."
He, too, admitted most fairgoers seem to enjoy beef and pork.
"They may come here one day, they'll go there (pork producers) the other day, just for variety; they know they're supporting local organizations that pour money back into the 4-H programs," Winkler said.
Winkler has been in charge of the cattlemen stand for the last several years, securing volunteers to cook and serve as well as ordering and picking up about 3,000 pounds of meat from two Auglaize County vendors.
"Promoting beef is number one," he said about the cattlemen's mission. "All our money goes to support livestock and non-livestock 4-H groups that are here this week."
Winkler encourages adult volunteers to bring their children with them "just to learn the whole process - handling food, making change, condiments, cleanliness."
"Because we do need the younger generation to carry on," he said.
Ruppert this year ordered about 500 pounds of pulled pork, 400 pounds of pork loins and 110 pounds of hot dogs.
The pork producers have had a really good week so far, he told the newspaper this morning.
Shelly Core, a pork producer volunteer, said pork is just as popular as chicken and pointed out commercial pork operations in Auglaize County are growing.
Winkler said beef producers in Auglaize County are having a good year.
"(Demand) bounces around," he said. "Out West especially, two drought years in a row (and) out in the Dakotas where they had the surprise snow storms that wiped out like 18,000 heads before they brought them all out of summer pastures, I know beef prices are going to be up this year and us (locals) can't produce enough to keep up with demand."