Saturday, August 2nd, 2014
Coldwater grad set to lead parade as everyday superhero
By Doug Drexler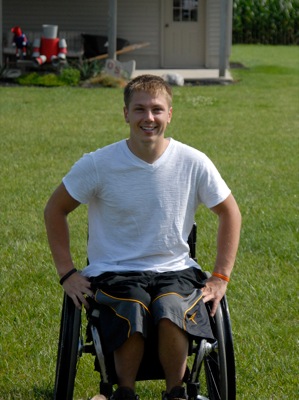 COLDWATER - It's been years since Todd Reigelsperger has been in the Coldwater Community Picnic parade.
The 22-year-old said he was in the parade several times as a youngster when he was on the community swim team before switching over to Little League baseball.
He'll be the star of the show this year as grand marshal of the parade which starts Sunday at 1 p.m. and has a theme of "Super Heroes Come in all Shapes and Sizes."
"I was really surprised and honored when Greg Homan asked me," he said.
"We chose to honor Todd as our grand marshal this year not because of the significant hardships and challenges that he has faced, but because of his perseverance, positive attitude and dedication to reach out and serve as a positive role model for the next generation," Homan said. "Coldwater is a community that prides itself on a spirit of hard work, service and strong faith. Todd Reigelsperger is an outstanding example of what makes Coldwater great to live, work and raise a family."
Reigelsperger was a senior at Coldwater High School when his car slid off a slushy Siegrist-Jutte Road Dec. 29, 2009, he said. He lost the use of his legs due to a spinal cord injury suffered in the crash that saw his car flip end over end before coming to rest in a farm field.
After graduating from Coldwater that spring, he spent two years undergoing rehabilitation at The Center for Neurological Development in Burkettsville while attending Wright State University-Lake Campus. In 2012, he transferred to Wright State's main campus in Dayton where he's working toward a degree in mass communications. He expects to graduate about a year from now. He's working at the campus newspaper and radio station while trying to figure out his future.
"I'm just trying to keep my options open right now," he said. "I definitely have a few ideas ... I guess it's a work in progress."
Among the options he's considering are pursuing a job with ESPN or returning home to join his father Mark in working at Heritage Insurance Services, Reigelsperger said. He's been busy with school, taking a trip to Windsor, Ontario, with friends and taking a research trip to Miami, Fla., with Miami Valley Fair Housing, Reigelsperger said.
"I have a busy, full schedule," he said.
Wright State has an adaptive recreation program he takes part in, Reigelsperger said. He also plays with a traveling basketball team from Moraine that visits cities including Cincinnati, Columbus, Cleveland, Detroit and Indianapolis. He hopes to be able to squeeze in several tournament appearances this year as time allows.
"I haven't been back to see everyone in a long time," he said. "It'll be a good experience. It'll be good to see everyone."
The festival allows him to see the most people at once, he said.
"Everyone's together, you don't get that too often," he said.
His friend V.J. Westerheide will drive him around during the parade and throughout the picnic weekend, Reigelsperger said.
The picnic brings back good memories of "always playing blackjack" and competing in various contests, including the year he and Eric Lefeld won the 2-on-2 basketball tournament, Reigelsperger said. Through the years, he also competed in the Punt, Pass and Kick contest and spent a lot of time at the picnic.
"I always look forward to the CCP every year," he said.

Picnic schedule:
Today
8:30 a.m. - Buzzards Glory Classic 5K, Cavalier Stadium
11:30 a.m. - Buzzards Glory Slam-N-Jam 2-on-2 basketball, basketball courts
11:30 a.m. - Sidewalk sales, downtown and at the mall
12:30 p.m. - Big Wheel races, corner Elm and Vine streets
1-8 p.m. - Lucky the Clown, park
  2 p.m. - K9 demonstration by Mercer County Sheriff's Office, TBA
2 p.m. - Kiddie tractor pull, Shelter House No. 3
2-5 p.m. - Face painting, park
2-10 p.m. - Ride wrist bands, park
3 p.m. - Punt, Pass and Kick contest, Diamond 7
  3-5 p.m. - Singing by Amanda Livingston, near beer tent
6-9 p.m. - Music by Nightfall, main stage
  8 p.m. - Picnic table auction, main stage
9 p.m.-midnight - Music by Clark Manson, main stage
Sunday
1 p.m. - Parade
2-8 p.m. - Glass blowing by Kenyon's Creations, park
3 p.m. - Coldwater High School Band, main stage
3 p.m. - Horseshoe pitch, Shelter House No. 1
3-7 p.m. - BBQ chicken by Nelsons, Shelter House No. 3
3-10 p.m. - Ride wrist bands, park
  3:30 p.m. - This is America - tribute to the veterans, park
3:30 p.m. - Dodgeball, park
  4-6 p.m. - Strolling magician, park
  4-6 p.m. - Strolling stilt juggler, park
4 p.m. - Talent contest, main stage
4:30-6:30 p.m. - Face painting, park
  6-9 p.m. - Music by Empty Tank, main stage
6-7 p.m. - Donkey plop, park
9 p.m. - 50/50 drawing, main stage
9 p.m.-midnight - Music by Nashville Crush, main stage