Tuesday, August 12th, 2014
Local teen treasures time with her horses
By Kathy Thompson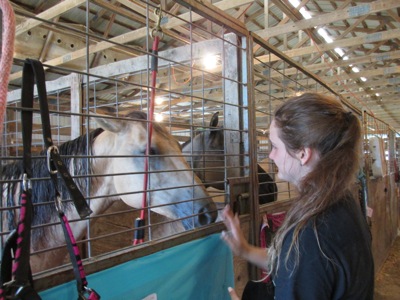 CELINA - Long, flowing tails are mostly what visitors see when passing by the horse stalls of Woody and Bonnie. The pair ignore the stream of people in and out of the horse barn at the Mercer County Fair until they hear their owner, Shelby Prenger, quietly enter. Then they do a quick turnabout and eagerly await a rub and a few kind words from the 16-year-old Celina girl.
"I know a lot of people like the thrill of the show and winning," Prenger said. "But I just like being with the horses."
She loves the connection she has with her animals and feels a "true bond," she said.
Prenger got 2-year-old Woody - named after the character from her favorite movie, Toy Story - when he was still weaning from his mother, so he likes to nibble on her fingers, she said with a laugh.
Bonnie, on the other hand, has a very different personality. Prenger had to put a sign on her stall door warning visitors that she bites.
"But only when I bring her to the fairs," she said, laughing, as she gently stroked the horse's nose and neck. "We got her from a ranch and think she may have been abused. She won't bite me, but she'll take one out of other people. She's the polar opposite of Woody. He's friendly, but she's a little grumpy."
Bonnie, 2, competes in barrel racing because "she's such a quick learner," Prenger said.
"She's really fast, too," she added.
Both horses like peppermint treats so Prenger always makes sure she has some on hand.
"They're like my best friends," she said.
The teen has been riding horses since she was 3 years old and used to come to the fair just to watch the horse events, she said.
"It was the best part of the fair for me," Prenger said with a smile. "I knew then and there, even though I was pretty little, that this is what I wanted to do."
Carley Boeckman, 12, of Mendon - who recently won reserve grand champion in the 9- to -13-year-old class of barrel racing at the Ohio State Fair - said she'd rather spend time with her horses than people. They've taught her "patience, responsibility and character," she said.
"I think they're a lot more loyal than most people," Boeckman said as she exited the horse arena.
On Monday, she earned first place in the lunge line competition.
Boeckman said she really loves what the speed horses can achieve during the barrel-racing competition. She participates in the event at contests around the state and surrounding region such as The Congress in Columbus, she added.
"Those are fun," she said of the contests. "But I like coming to the fair, too. You get to see your friends and be with all the other horses. And the food is great."
Aubrey Rammel, 16, of St. Henry, was pleased to win first place during the senior showmanship competition Monday. She rode Dawson, a 12-year-old horse that has the "attention span of a 5-year-old," she said.
Rammel and Dawson are just getting to know each other. She got him just in November.
"But he's learning and doing well," she said. "He used to show at the fair in Allen County, so I know we're going to be fine."

Mercer County Fair schedule:
Today (Veterans/Senior Citizens Day)
• 3 p.m. - rides and games open
• 4 p.m. - senior citizens bingo (entertainment tent)
• 5:30 p.m. - diaper derby (entertainment tent)
• 6 p.m. - veterans' ceremony and Civil War re-enactment (grandstand), open swine show followed by men/women/pee wee showmanship (Coldwater Young Farmers Arena), hot shot tournament (front of grandstands)
• 6:30 p.m. - kids' paper airplane contest (entertainment tent), cat show (Junior Fair tent), rabbit showmanship (Adrian Debrosse Arena)
• 7 p.m. - livestock scramble (grandstand), doubles horseshoe tournament, cat show (Junior Fair tent)
• 8 p.m. - Grove Hill (beer garden), American Kings (entertainment tent)
• 9 p.m. - The Fire Junkies (horse arena)
Wednesday (Kids' Day)
• 8 a.m. - gates open, admission charged
• 8:30 a.m. - dog show (Adrian Debrosse Arena)
• 10 a.m. - kiddie pedal tractor pull (front of grandstand), tug of war (entertainment tent)
• 11 a.m. - Hoof It! Scavenger Hunt (Farm Bureau tent)
• 11:30 a.m. - Mr. Potato Head contest (entertainment tent)
• Noon - Mama's Wranglers (Junior Fair tent), showman of showmen (Adrian Debrosse Arena), followed by showman of showmen continued (Coldwater Young Farmers Arena)
• 1 p.m. - rides and games start, Popsicle frame craft (Junior Fair tent), coloring contest (entertainment tent)
• 1:30 p.m. - cookie contest (entertainment tent)
• 3 p.m. - bubble gum blowing contest (entertainment tent), Mama's Wranglers (Junior Fair tent)
• 4 p.m. - mom calling contest (Junior Fair tent), cupcake decorating contest (entertainment tent)
• 5:30 p.m. - Mama's Wranglers (Junior Fair tent)
• 6 p.m. - open steer/heifer/feeder calves show (Adrian Debrosse Arena), what not to wear fashion show (entertainment tent)
• 6:30 p.m. - frog jumping contest (Junior Fair tent)
• 7 p.m. - high school band show (grandstand)
• 7:30 p.m. - Skidsteer Rodeo (horse arena), make a fan craft (entertainment tent)
• 8 p.m. - Mama's Wranglers (Junior Fair tent), Saw Creek Band (beer garden), flamingo ring toss (entertainment tent)
• 9 p.m. - auction of Bear Hollow Wood Carvers' masterpieces (beer garden)