Wednesday, August 13th, 2014
Rhoades gets life for Grube murders
Second suspect awaiting sentencing in double homicide
By Margie Wuebker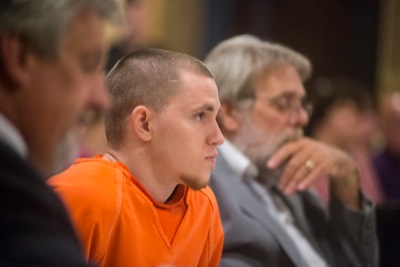 CELINA - Bryant L. Rhoades will likely spend the rest of his life in prison for the November 2011 deaths of Robert and Colleen Grube of Fort Recovery.
A three-judge panel on Tuesday handed down two consecutive life sentences without the possibility of parole after Rhoades entered guilty by way of Alford pleas to two counts each of aggravated murder with a gun specification, aggravated robbery and aggravated burglary.
The Alford method allows the defendant to maintain his innocence while admitting the state has sufficient evidence for a conviction.
Rhoades initially faced the death penalty for charges in a 27-count indictment.
Mercer County Common Pleas Judge Jeffrey Ingraham and visiting judges Jeffrey L. Reed of Allen County and Randall L. Bassinger of Putnam County on Tuesday waived more than $100,000 in fines, court costs and assigned legal fees.
Rhoades showed no emotion during the more than three-hour proceeding, even as Grube family members tearfully recalled happy times - vacations, birthday parties and a final Thanksgiving gathering days before the murders.
Rhoades - at the request of the Grube family - received the maximum penalty allowable by law in the negotiated plea: life in prison without parole on each of the murder charges and 11 years on each of the other charges with the time to run consecutively. The gun specification adds another mandatory three years. Rhoades also faces three years in prison in a related obstruction of justice case.
Several family members spoke in court.
"Dad and Colleen were defenseless when the defendant walked in ... and even more defenseless when they (the intruders) bound them," Robert Grube's daughter, Angela Allard said. "He could have walked out of the house and left them there. He didn't give them a choice so he should not have any either."
Cherie Gehle, Allard's sister, noted Rhoades was able to make a plea deal to avoid the death penalty.
"Dad and Colleen didn't deserve the death penalty but that's what they were given by the defendant," she added. "It is beyond our comprehension how a person could do this to another human being."
Adrian Grube, another sibling, battled emotions while talking about the deaths of his father and sister. Rhoades appeared to listen as he rested his head against a clenched hand and momentarily closed his eyes.
"He walked in, tied them up and shot them ... an elderly man in a wheelchair and a 47-year-old defenseless woman ... with no regard for anyone but himself," Adrian Grube said as he wiped away tears. "My father and sister were not eligible for the death penalty, but that is exactly what they received."
Michelle Stammen, also a sibling, said her father and sister would not have done anything but protect each other. They would have willingly surrendered all their earthly possessions, she said.
Another sibling, Tracy Grube, spoke of having her life placed under a microscope when investigators initially questioned her about committing the murders. She was asked at one point if she would take a lie-detector test to prove her innocence, she said.
She called Rhoades a remorseless, calculating, cold-blooded killer.
"The defendant refusing to admit his own guilt is like throwing salt into our already gaping wounds. Bryant Rhoades is pure evil and it would be a travesty of justice to allow him to ever again be free," Tracy Grube said.
Mercer County Prosecutor Matt Fox said the defendant's criminal history with successive immoral and illegal acts led to the Grubes' deaths on the night of Nov. 29-30, 2011.
"No remedy is adequate to address his conduct," Fox said. "Life in prison without parole might come close."
Lead defense counsel William Kluge explained he and co-counsel Robert Gryzbowski wanted to call witnesses on Rhoades' behalf but they honored his request not to.
Kluge described his client's family as dysfunctional and said Rhoades was plagued with drug problems from an early age. His mother died while the case was pending. A brother visited him just once in jail, the attorney added.
"Bryant more than likely will never see the outside of prison," the attorney added. "I ask the court to show some mercy."
Rhoades continued to maintain his innocence during Tuesday's hearing despite entering the plea.
"The truth always prevails," he said. "In this life or the next, I will be proven innocent. I know I'm innocent and God knows I'm innocent."
Rhoades said the only thing he is guilty of is lying. He said he made up a big story for investigators about being at the Grubes' Burrville Road home. He added the whole case is based on lies.
"It was stupid. It was senseless for me to make up a story about the crime. I cannot imagine the pain this family went through, but I am not responsible for the pain. I did not pull the trigger," he added.
In addition to voicing hope the Grube family will forgive him for lying, Rhoades said he had doubts about the guilt of co-defendant Trevin Sanders-Roark, who has pleaded guilty to similar charges and awaits sentencing.
"The people who did this are still out there," he said.
Rhoades on July 15 backed out of a plea deal after expressing concern over one section of the stipulation of facts dealing with a description of a detached garage at the Grube home. Fox claimed Rhoades had taken tools and a chainsaw from the building.
The stipulation of facts, which Rhoades signed prior to Tuesday's sentencing, included intimate details of the murders that Fox said only someone at the scene would know. It identified Rhoades as the person responsible for Robert Grube's death due to multiple gunshot wounds to the head and Sanders-Roark as the person who shot Colleen Grube.
In response to questions Tuesday from the three-judge panel about the change of plea, Rhoades indicated he wanted to proceed and not take a chance on receiving the death penalty if the case went to trial.
The co-defendants and at least two unidentified people who have not yet been charged, reportedly went to the Grube home to commit robbery. The stipulation of facts indicates they smoked methamphetamine en route and feigned car trouble before forcibly entering the home, searching for valuables and killing the Grubes in the living room. Fox said the father and daughter were bound with duct tape while the intruders searched the home and found a gun that became the murder weapon.
Sanders-Roark also faces life in prison without parole but not the death penalty because he was 17 at the time of the murders. His next court date is an Aug. 19 attorney conference. Two previous sentencing dates were delayed as negotiations with Rhoades continued.