Thursday, August 14th, 2014
Gasoline leak forces Celina street closing
By William Kincaid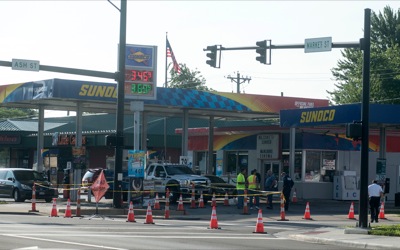 CELINA - City officials overnight closed off the 100 block of South Ash Street after determining gasoline had seeped from the Sunoco Gas Station into a nearby 12-inch storm sewer line.
The Celina Fire Department isolated the contaminated storm sewer line from the gas station to Domino's Pizza, both on East Market Street, by plugging each end with inflatable blocking devices. Officials said they don't believe the gasoline spread beyond that stretch.
According to fire chief Doug Wolters, the storm sewer empties into Beaver Creek. The city's water lines were not affected, he added.
Wolters at press time today was awaiting the arrival of a clean-up company from Columbus to remove the gasoline from the storm sewer line. He didn't know how much fuel had leaked into the line, he added.
The gas station is closed. A section of Ash Street also was closed as a precaution but may reopen later today, Wolters said this morning. No one in the area was evacuated.
Mike Robbins, director of the local Emergency Management Agency, was on the scene. According to Ohio EPA media coordinator Dina Pierce, the local EMA office notified the state agency about the leak at 1 a.m. today.
"There is gasoline in the storm sewers, but it is contained between two catch basins," she told the newspaper this morning. "A vacuum truck is en route to clean it up. He says they don't know how much gasoline spilled, what caused it or how it got to the storm sewer."
An investigation will be conducted to prevent further release of fuel, according to Pierce.
"We have notified the State Fire Marshal's office, which (oversees) the Bureau of Underground Storage Tank Regulation program and they are on the scene as well," she said.
About midnight, police officer Mark Burgoon noticed an odor of fuel near the gas station and immediately alerted the fire department. Fire officials arrived on the scene and discovered gasoline had leaked into the catch basin and that fuel was in a portion of the line.
Wolters believes the gasoline sprang from underground piping - not a tank - at the gas station. There also is a possibility of gasoline saturation under the pavement of the Sunoco station, he said.
Celina Mayor Jeff Hazel said the gas station had trouble with one of its pumps a week and a half ago.